TVA is upgrading oxygen diffuser systems at several of its large power-producing dams, which will benefit fish and mussels, and may allow for the reintroduction of some threatened and endangered species.
SEPTEMBER 20, 2017—TVA's Reservoir Release Improvements (RRI) program is out to save lives. Sure, they're little lives; in some cases, tiny ones. But in the grand scheme of the Tennessee Valley's ecosystem, aquatic invertebrates, mussels and fish are each a vital link. In TVA's view, with the running of dams on the Tennessee River system comes the responsibility of caring for their destinies. And that means adding oxygen to the tailwaters below the dams it uses to generate power.
These waters are, by nature, cold and deep, and—particularly during times of warm weather—liable to become depleted as water with a higher oxygen content remains in the upper layers of the water column in a natural process called thermal stratification. Bottom layers become increasingly starved for oxygen as they are used by organic materials or swept into the reservoir during the process of generation. For bottom-dwelling aquatic life, or for fish that live and/or spawn in cold water, conditions can grow increasingly hostile.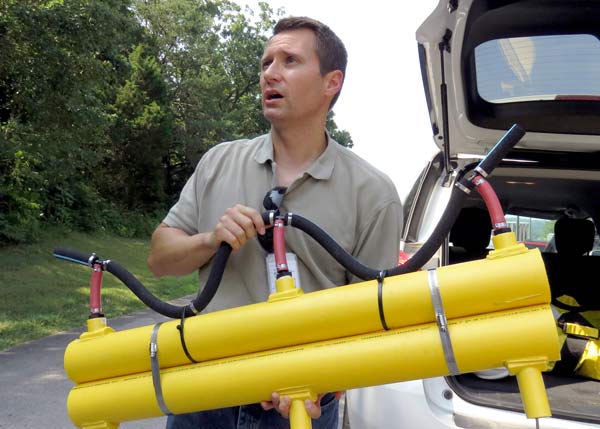 Reservoir Release Improvements program manager Jeff Ogden holds lengths of diffuser line, which will be installed on lake beds to infuse oxygen into the water below TVA dams.
Jeff Ogden is program manager of TVA's RRI Program, and he can tell you flat out: There is no federal requirement that TVA do anything about this situation. There's no mandate for a remedy. And yet, Ogden is overseeing a massive effort to improve oxygen diffuser equipment currently in place at nine of TVA's power producing dams and one non-power producing dam. And he's passionate about collecting and sharing data with state agencies that also care about water quality.
"Taking care of the environment and keeping our reservoirs healthy is an important part of our operations—they go hand-in-hand," he says. "Both are part of our mission, and we are doing our part to be good stewards of the environment to improve water quality."
It's All About the Oxygen
TVA has devised many ways to add oxygen back to the water, including:
Aerating Turbines: Dedicated turbines add oxygen to the water during generation.
Surface Water Pumps: These pumps, which look a little like large ceiling fans, are positioned above a dam's intakes and push oxygen down to the turbine intakes prior to generation.
Aerating Weirs: These are small dams designed to mimic waterfalls, adding oxygen as water tumbles over their walls.
Low-Pressure Blowers: As advertised, these aerators blow oxygen into the water as it flows through the dam.
Oxygen-Injection Systems: A system of oxygen tanks feed tubing that lies on the lakebed (not unlike garden hoses) and diffuses oxygen into the water prior to and during generation.
It is the latter of these aeration technologies that TVA will begin installing at Cherokee dam in FY18. Similar projects are currently underway at Watts Bar and Hiwassee dams. All three are oxygen-injection system replacement projects in which diffuser line is welded together and installed in the reservoir.
These are large projects with highly experienced personnel both supporting and performing the field work. "This technology was developed at the TVA Engineering Laboratory in Norris," Ogden says "TVA is a leader in oxygenation technology. We designed this technology and have made design and construction process improvements through the years." In fact, so great is TVA's leadership in the field that it advises the U.S. Army Corps of Engineers on oxygenation at the dams it manages. The RRI program has a Wildlife Habitat Council conservation certification as a result of the ongoing efforts to create a healthy environment for aquatic habitat downstream of its dams.
Once in place, oxygen diffuser technology is managed to keep dissolved oxygen levels in the water at 4-6mg/L; without the intervention, levels would likely be 0-3 mg/L—far less likely to sustain life. Moreover, the TVA's combined oxygen improvement efforts affect up to 300 miles of river downstream from TVA dams.
Species that have benefited from oxygenation efforts include the vulnerable boulder darter (which lives mainly below Tims Ford Dam) and the formerly endangered lake sturgeon (pictured at top of page), which has enjoyed a system-wide comeback in recent years, as well as many varieties of fish, mussels and other aquatic invertebrates, including mayflies, stoneflies and caddisflies.
All told, that's a lot of lives saved. Perhaps the Tennessee Valley's most vulnerable aquatic wildlife can breathe a little easier knowing TVA has their back.