TVA River Management continues to perform critical functions amid the COVID-19 outbreak due to ongoing above-average rains.
MARCH 24, 2020 — As we enter the last week of March, Valley rainfall for the month is averaging 5.7 inches, which is 2 inches above normal. Much of the central Valley has seen 2 to 4 inches since last week, with some heavy storms bringing another 1 to 3 inches this week.
James Everett, senior manager of TVA's River Forecast Center, said TVA is still managing impacts from last month's second wettest February in Valley history, and above normal rainfall is expected to continue into April.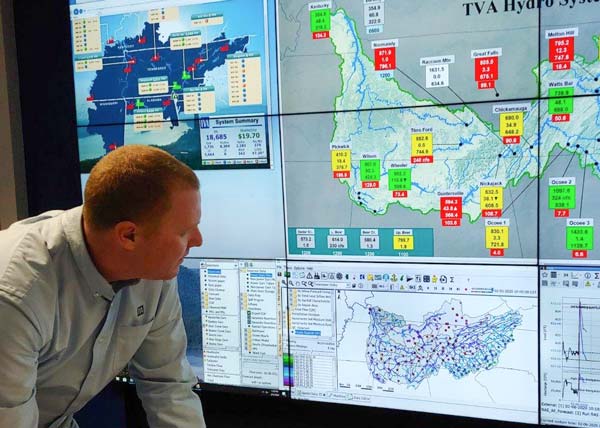 "Many Valley locations are already above flood guide due to above normal rainfall this month, as well as lingering impacts from February," Everett said. "Residents experienced rising lake levels along the tributaries and main river the entire month of February and should be prepared for the possibility for more of the same throughout this week."
Managing the Tennessee River System is an essential function at TVA. Everett said employees in TVA's River Forecast Center are practicing recommended coronavirus prevention behaviors, including social distancing and health practices, and will continue to effectively manage the Tennessee River system throughout this outbreak.
Currently, TVA is spilling at all nine of its mainstem Tennessee River dams at increasing rates this week, and storing water at tributary dams to reduce downstream impacts. Flows from Chickamauga increased Tuesday above the threshold for a navigation closure of the Nickajack Gorge.
Flood control operations at Kentucky and Barkley reservoirs continue with Army Corps of Engineers. Kentucky Lake is expected to exceed summer pool levels late this week and continue rising into early April. The Tennessee River at Chattanooga is expected to remain below flood stage this week, but Savannah and Perryville, Tenn., and Whitesburg and Florence, Ala., are either already above flood stage, or expected to approach or exceed flood stage this week, depending on rainfall.
For more information and updates on TVA lake levels and river management activities, download TVA's Lake Info app; visit TVA.com; or follow TVA's Facebook, Twitter and other social media sites.