November 30, 2020 – Despite unprecedented challenges from the pandemic, TVA delivered cost savings and community support totaling more than $40 million for the people of Memphis so far this year.
In addition to some of the most competitive energy costs in the nation, TVA provided these specific benefits to the people of Memphis, including those hardest hit by the COVID-19 economic downturn:
$20 million in bill credits for MLGW customers as part of TVA's pandemic relief program – beginning in October and throughout 2021
$400,000 to match MLGW's efforts to provide 550,000 meals through food banks and utility bill support during the pandemic
$16.5 million in tax-equivalent payments for Memphis and Shelby County; TVA returns a percentage of power sales revenues from the previous year in the form of payments in lieu of taxes
$3 million for energy efficiency training and workshops, and $350,000 for a mobile weatherization lab to train contractors to perform home energy upgrades
$325,000 to the NAACP in Memphis and $245,000 for the Urban League for building improvements and energy upgrades
$200,000 to the Greater Memphis Chamber
$100,000 to support holiday needs for Latino Memphis, Alpha Omega Veterans Services and others.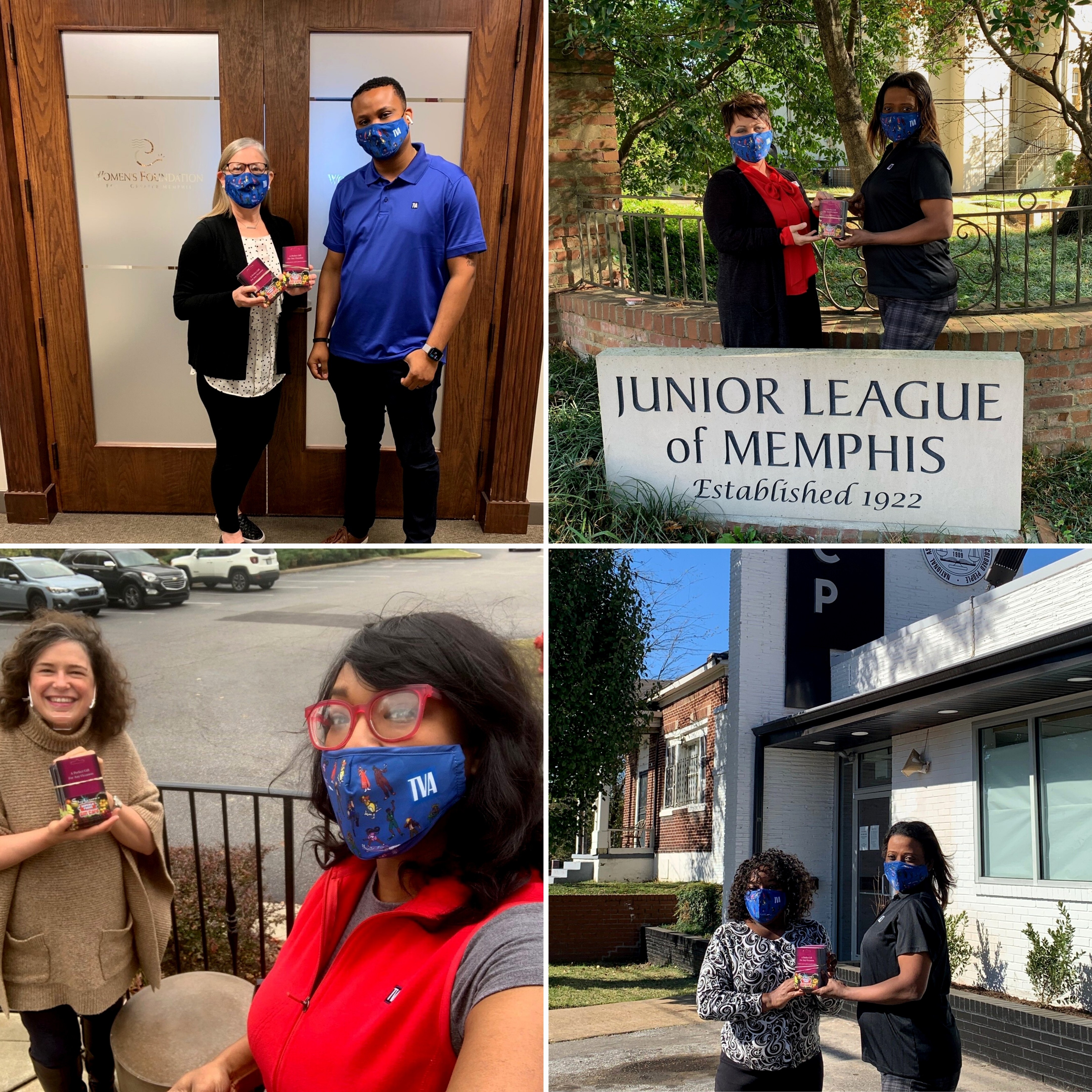 Top Left: Terry Hamilton (Executive Assistant), Women's Foundation for a Greater Memphis and Brian Malone (Community Relations Program Manager, ALF)
Top Right: Tabitha Glenn (President), Jr. League of Memphis and Angela Austin (Construction Manager for Allen Fossil Plant)
Bottom Left: Shali Atkinson (Chief Development Officer), Latino Memphis and Latrivia Welch (Community Relations Program Manager, ALF)
Bottom Right: Vickie Terry (Executive Director), NAACP Memphis Branch and Angela Austin (Construction Manager for Allen Fossil Plant)
In addition, TVA employees are actively engaged in volunteering throughout Memphis and Shelby County. Most recently, employees worked with Shelby County schools to provide educational materials, books and meals.
"We appreciate the participation of TVA volunteers and their support for Shelby County Schools. Our Boo for Books event provided each child with a new book and introduced them to new superheroes who do great things around the city – and, these superheroes look like them," said Ileanette Rosado-Wilson, Shelby County Schools community engagement specialist.
The "superheroes" are characters in a new coloring book produced by TVA and distributed to children and families throughout Shelby County and beyond this year.
"We are committed to Memphis and are always looking for impactful ways to support the community," said Jeannette Mills, TVA executive vice president for External Relations.
"Our partnership with MLGW demonstrates the strength of the public power model – which is here to serve the people – by helping non-profits like MIFA and Mid-South Food Bank, and assisting homeowners to make energy upgrades to save money on their power bills."