Middle Tennessee Electric Membership Corporation (MTEMC), the second-largest electric co-op in the nation, is building a cleaner future by eliminating solar barriers for their members. Learn more.
SEPTEMBER 18, 2018—The verdant tree-covered hills of middle Tennessee are a landscape artist's dream. But for those who want solar energy, the lush greenery presents an abundance of challenges.
And there are others. According to renewable energy think tank SOLSTICE, roughly 80 percent of the rooftops in America cannot install solar due to geography/shade, pitch or covenant restrictions. Layer in the up-front cost of installing solar—$16,000 to $20,000—there's a huge market excluded from solar.
But that did not slow down the crew at Middle Tennessee Electric Membership Corporation in Murfreesboro, Tenn. "When our members ask about renewable energy, 99 percent of the time it is about solar," says Brad Gibson, chief cooperative business officer at MTEMC. "Our mission is to eliminate solar barriers such as not owning a home, restrictive homeowner association rules or having 100-year-old trees you can't cut."
Solar Made Simple
So how did the second-largest electric co-op in the nation solve the solar problem for their members?
"Cooperative solar eliminates the barriers of geography, shade, cost and homeownership," says Gibson. "Plus the cost of cooperative solar makes economic sense in our region when you can install 3,000 panels at one auspicious location."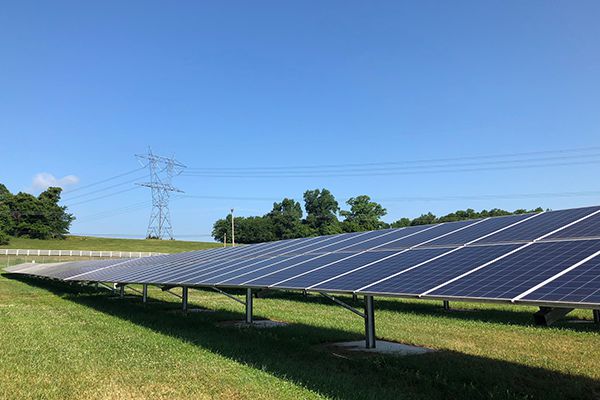 Cooperative solar (a play on words from community solar) is a solar power plant run by MTEMC in partnership with TVA, with electricity is shared by more than one household.
"We've seen tremendous support for cooperative solar because it provides our members clean energy and it gives them pride knowing that green power is generated right here in MTEMC's service territory," Gibson says.
MTEMC's one megawatt facility became operational in 2016, and in the first month they added more than 100 solar block subscribers. Today, the 550 blocks that are available stay nearly sold out.
"The tremendous support for cooperative solar shows that we are helping our members make cleaner energy choices now and into the future," Gibson says.
Valley Renewable Energy
With the help of TVA, renewable energy in the Tennessee Valley has grown exponentially—from five solar locations in 2000 to over 3,800 locations in 2018.
According to TVA, these renewable energy locations are part the utility's diverse generation mix, which is currently 55 percent carbon free. Moving forward TVA's goal is to reduce carbon dioxide emissions by 60 percent below 2005 levels by 2020.
"MTEMC's cooperative solar facility shows that solar can be an investment in a cleaner future across the Tennessee Valley," says Tammy Bramlett, TVA director of Business Development and Renewables.
Unlike a rooftop solar installation on a house, cooperative solar programs like MTEMC's benefit all their members. It's a model that is being adopted by other local power companies around the Tennessee Valley.
"Right now about 1.4-million electric power customers can choose community/cooperative solar in the Tennessee Valley," says Bramlett. "MTEMC is a great partner, and their vision has shown that we can eliminate many of the solar adoption barriers."
TVA reports that there are currently 10 community solar facilities operating or currently in development across the Tennessee Valley providing solar power access to 14 percent of the region's population of 10 million.
Bramlett explains that solar programs like MTEMC's gives their members an energy voice because they can tailor renewable offerings that best meet their member's needs.
"Solar power has a bright future in the Tennessee Valley," says Bramlett. She should know, because TVA is planning to invest around $8 billion in renewable energy over the next 20 years.