NOVEMBER 13, 2016—Traffic. It's the worst, right? You sit there in your car, idled, frustrated. You've got things to do! People to meet! Places to be!
Then—lightbulb—you remember your smart phone's mapping capability and its ever-present possibility of alternative routes. With any luck, you're soon on your way again. Back in business, crisis averted.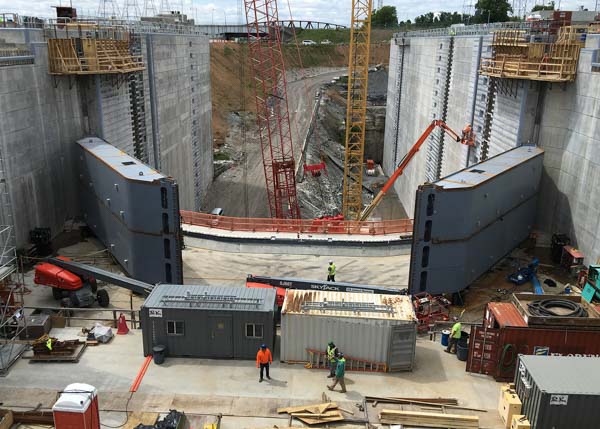 Now imagine you're a towboat operator pushing a tow of 15 hopper barges up the Tennessee River, aiming for the Ohio. You're idled on the river at Kentucky Lock—with several other towboat captains, also pushing barges up the river. There's nowhere to go, no way to outsmart this traffic. You're truly stuck, and you'll wait your turn to pass through the small 600-by-110 foot lock.
"If you go to Kentucky Lock, it's not uncommon at all to see traffic stretched upstream and downstream waiting to get through," says Michael Morrison, senior program manager in Dam Safety at TVA. "It's tough in both directions."
So tough that the average towboat operator will wait for about 10 hours for a turn at the lock, then face a three-hour process of breaking that tow into two pieces small enough to move it through—a tricky and sometimes dangerous process, according to Don Getty, project manager for the U.S. Army Corps of Engineers.
"Traffic at Kentucky Lock is the most congested of any of the 262 locks in the country," Getty says. "It typically has the longest delays."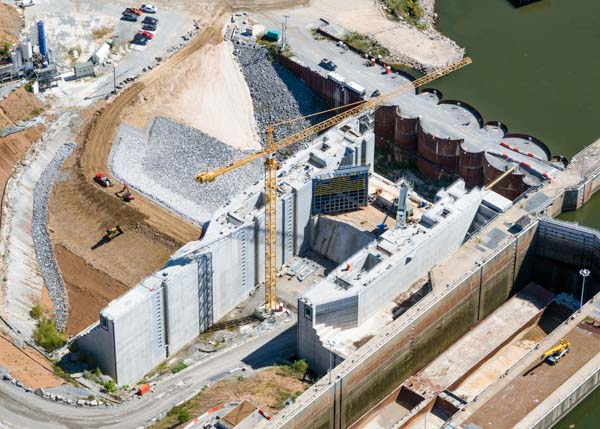 Righting the Ship
But an effort is underway to right the ship, so to speak. Both Morrison and Getty are engaged in the Kentucky Lock Addition Project, a new lock that will be built adjacent to the standing lock—but will be significantly bigger: 110-by-1200 feet, built to accommodate modern-day barge traffic. TVA and the Corps are joined at the hip in the effort to design and execute the project, with the Corps taking the lead on design, construction and funding, and TVA acting as consultant and owner.
This is not exactly new news—in fact, the project has been underway since 1998. And major progress has been made. A highway was rerouted to make room for the lock; a railway, too. Four 375-foot transmission towers were moved to accommodate the new lock. And that was just the undoing that had to happen before the doing could start.
But federal funding has come, as it so often does, in fits and starts—and so progress on the Kentucky Dam Project, too, has proceeded in fits and starts. Until recently, that is, when Congress began to release funds from the Inland Waterways Trust Fund, which is fed by a tax on diesel fuel on the barge industry and intended to maintain the nation's navigable waterways—a precious resource and economic driver.
Now the Kentucky Dam Project, which had been on track for completion in the 2040 timeframe, is planned to open in 2023 at a project cost of $874 million.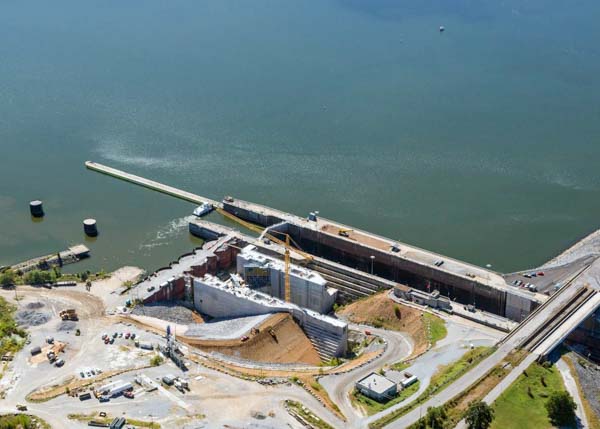 Making Progress
"We are picking up steam," Getty says. "We have had continuous construction, but we haven't had efficient construction. Now we'll really get to work to modernize the lock. It will make it more efficient, which is good for our region and good for our country."
An upstream cofferdam is already in place. That's a temporary dam situated alongside the main dam that will allow an area to be dewatered so that construction can take place on dry land. "It just makes sense to build submerged structures in the dry—it's very undesirable to undertake underwater construction," Morrison says. "Cofferdams also afford a double line of protection, which you always want whenever there is construction near a dam."
And construction is happening. Nine monoliths—the concrete building blocks of lock walls—are in place, as are the miter gates on the upstream lock and an embankment connecting the new lock to the eastern shore, according to Morrison.
A contract was awarded in September 2016 for construction of a downstream cofferdam that, when completed, will permit excavation for the remainder of the new lock. When the lock is complete, it will be the largest on the Tennessee River. "The trend in the navigation industry is to go with longer tows," Morrison says. "This will keep us up with modern navigation trends." And, he notes, the old lock will remain in service, too.
Economic Upgrade
Effectively, Kentucky Lock will go from the ultimate bottleneck to a souped-up superhighway. And that's a good thing, says Morrison. "It fits with our economic development mission," he says. "As navigation spends less time waiting, navigation hauling rates get less and less expensive. If a barge operator spends less time going down the Tennessee, it gives the manufacturers who rely on barges a considerable advantage."
There are good reasons to bump up the barges. "Barge transportation costs less than rail, is safer for hazardous cargo, and is more fuel efficient," Morrison says.
"Typically our inland waterways are the cheapest form of transport for large bulk commodities such as coal, sand and rock; harvested grains like wheat; and higher value cargo like gas or specialty chemicals," says Getty. "By having more efficient transportation it makes us more competitive in the global marketplace.
"It's a hidden gem," he concludes. "Most countries would give their eye teeth to have anything like our inland waterways." Making them better by modernizing the strategically located Kentucky Lock just makes sense.