New Board Member Joins TVA in West Tennessee
APRIL 3, 2019 — John Ryder of Memphis, Tennessee, recently assumed his role as a member of the Tennessee Valley Authority board of directors, after recently taking the oath of office.
Ryder was nominated by President Donald Trump on January 18, 2019 and was confirmed by the U. S. Senate on February 28. He was sworn into office by Chief U. S. District Judge for the West District of Tennessee Thomas Anderson.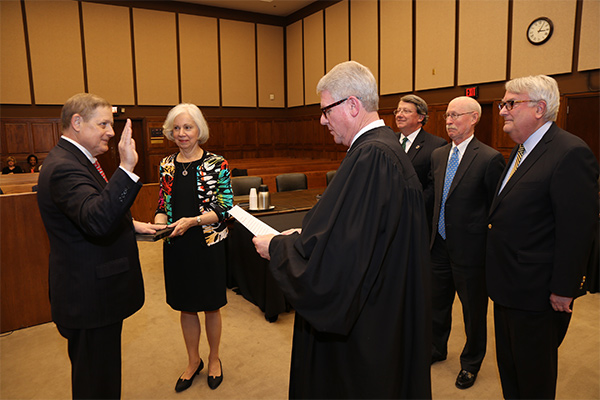 "TVA's priorities remain a critical part of the formula that drives success in the Tennessee Valley: reliable energy at low cost, responsible stewardship of public lands and waters, and being an active partner in economic development," said Ryder. "It is an honor to join TVA's dedicated team in their ongoing mission of service."
A long-time Memphis resident, Ryder has most recently served as the general counsel for the Republican National Committee, while maintaining his role as a leading bankruptcy and election law attorney with the Harris Shelton Law Firm in Memphis. Throughout his career, he has remained active in the community, serving as chair of the board of trustees for Opera Memphis, secretary for Memphis Rotary and a board member of the local YMCA.
Ryder completed his undergraduate education at Wabash College and earned his Juris Doctor degree at Vanderbilt University, where he has served as an adjunct professor.
Ryder fills one of two open positions on the nine-member TVA board of directors. He will join current Board Chair Richard Howorth (Oxford, Mississippi), Chair Elect James "Skip" Thompson (Decatur, Alabama), and Directors Kenneth Allen (White Plains, Kentucky), A. D. Frazier (Mineral Bluff, Georgia), Virginia Lodge (Nashville, Tennessee), Jeff W. Smith (Knoxville, Tennessee), and Ronald Walter (Memphis, Tennessee) at the board's next meeting on May 9 in Franklin, Tennessee. Ryder's term will expire on May 18, 2021.
William Kilbride of Chattanooga has been nominated to fill the final board position and is awaiting confirmation by the U. S. Senate.
​ ​
Share this story:
​