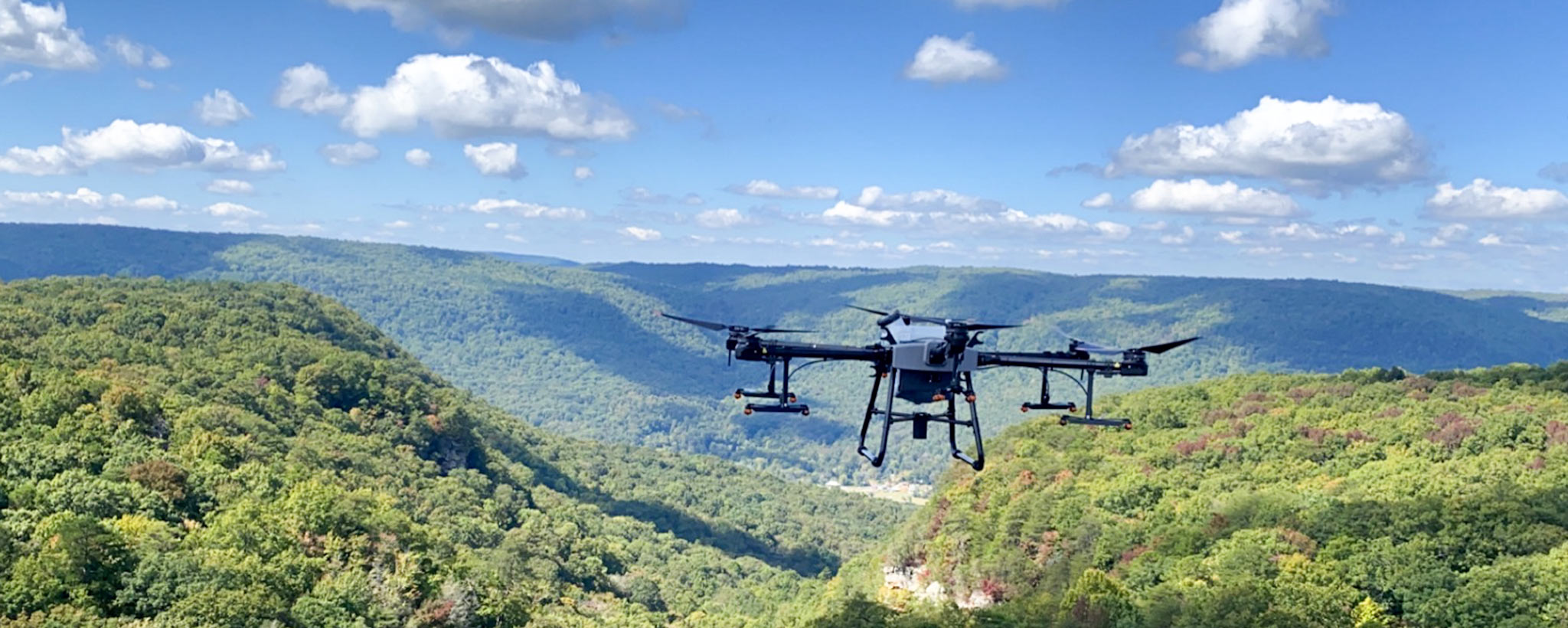 New Opportunities for Drone Technology
TVA drones show promise for controlling vegetation on hazardous embankments
A team comprised of personnel from TVA Unmanned Aircraft Systems (UAS), Dam Safety, Facilities Management, and GP&FS Environmental Support recently completed a pilot project at the Raccoon Mountain Pumped Storage Project (RPS) to test the efficacy of a drone-based herbicide application system to control vegetation growth on embankment dams. Initial results have been promising.
"Vegetation control at embankment dams is crucial, as the root systems of trees and heavy brush on and near embankment dams can create potentially hazardous dam safety issues," said Matt Huebner, senior geologist for Dam Safety and technical lead for Dam Safety on this project. "The west and south embankments at RPS have been of particular concern, as this is such a vital piece of the TVA system for ensuring successful and consistent delivery of power to the people of the Valley."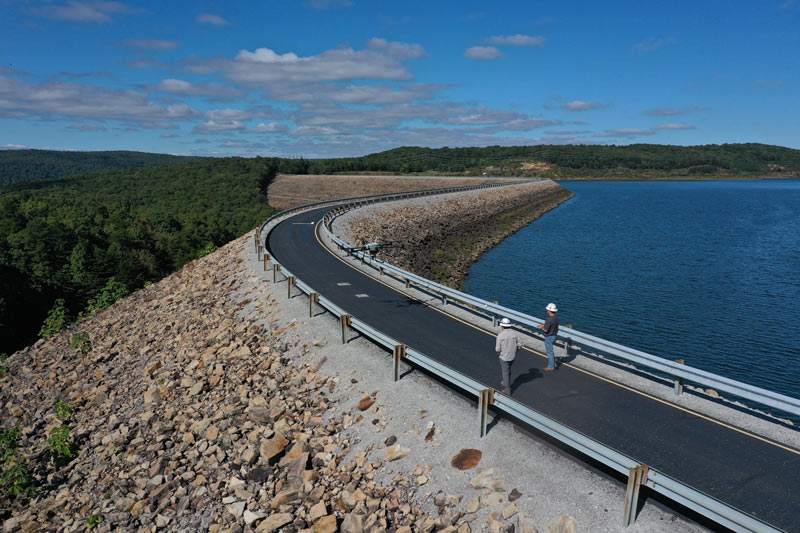 The size of the rockfill embankments at RPS, and the coarse riprap exposed on the downstream face of the embankments, have historically presented challenges to vegetation control – most notably regarding safety. In previous years, vegetation management required personnel equipped with heavy backpack sprayers to walk the face of the dam, and it often took a team of Facilities personnel several days to complete.
"These embankments are not only steep but also contain loose, large rocks, as well as other biologic hazards such as stinging insects and venomous snakes," said Huebner.
Hand removal of vegetation was completed in early FY22. Still, vegetation control with periodic herbicide spray is necessary to control future regrowth and to prevent vegetation from becoming so large that hand removal becomes necessary. As a continuous improvement effort, Dam Safety teamed with multiple business groups across TVA to develop a plan to utilize drone-based herbicide application as the method to periodically control vegetation regrowth on dams. This proof-of-concept project at RPS is the first step in testing the viability of this technology.
The successful drone-based herbicide application at RPS was completed in FY22, covering approximately 35 acres in four workdays.
"The drone used to complete the herbicide application is equipped with an 8-gallon tank and includes a variety of cutting-edge safety features, such as geofencing and a full 360-degree obstacle avoidance system," said Timothy Land, program manager for UAS Operations and Training.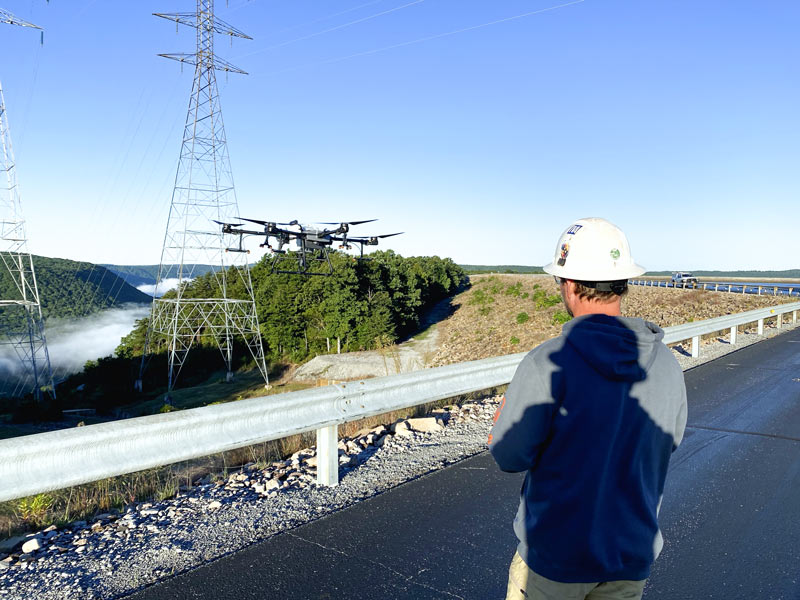 Accurate spray coverage is ensured by flow rates that automatically adjust based on the speed of the aircraft to meet the predetermined coverage/mix concentration. To further ensure appropriate coverage, the drone uses a terrain-following system that maintains altitude throughout the flight. Consistent spacing is achieved by transitioning a predetermined number of feet in accordance with the set spray swath.
"Ample planning, research, and coordination went into choosing the correct drone for the task," said Land. "We could not be more pleased with the performance of the aircraft and look forward to the continued use of this new technology."
"We're excited about the future positive impact this technology can have on TVA employees' safety and overall vegetation management at facilities across the Valley," says Huebner. "In addition to alleviating the obvious Dam Safety concerns, drone-based herbicide application is efficient, cost-effective, and will reduce risks to personnel safety. We're already thinking about where we can go next."
​ ​
Share this story:
​