APRIL 19, 2021 — Tennessee Valley Authority fisheries biologists are bringing sportfish to the surface of seven Tennessee River reservoirs as part of a spring survey to establish baseline data on the past spawns of black bass and crappie. The effort is TVA's first spring sportfish research initiative since 2014.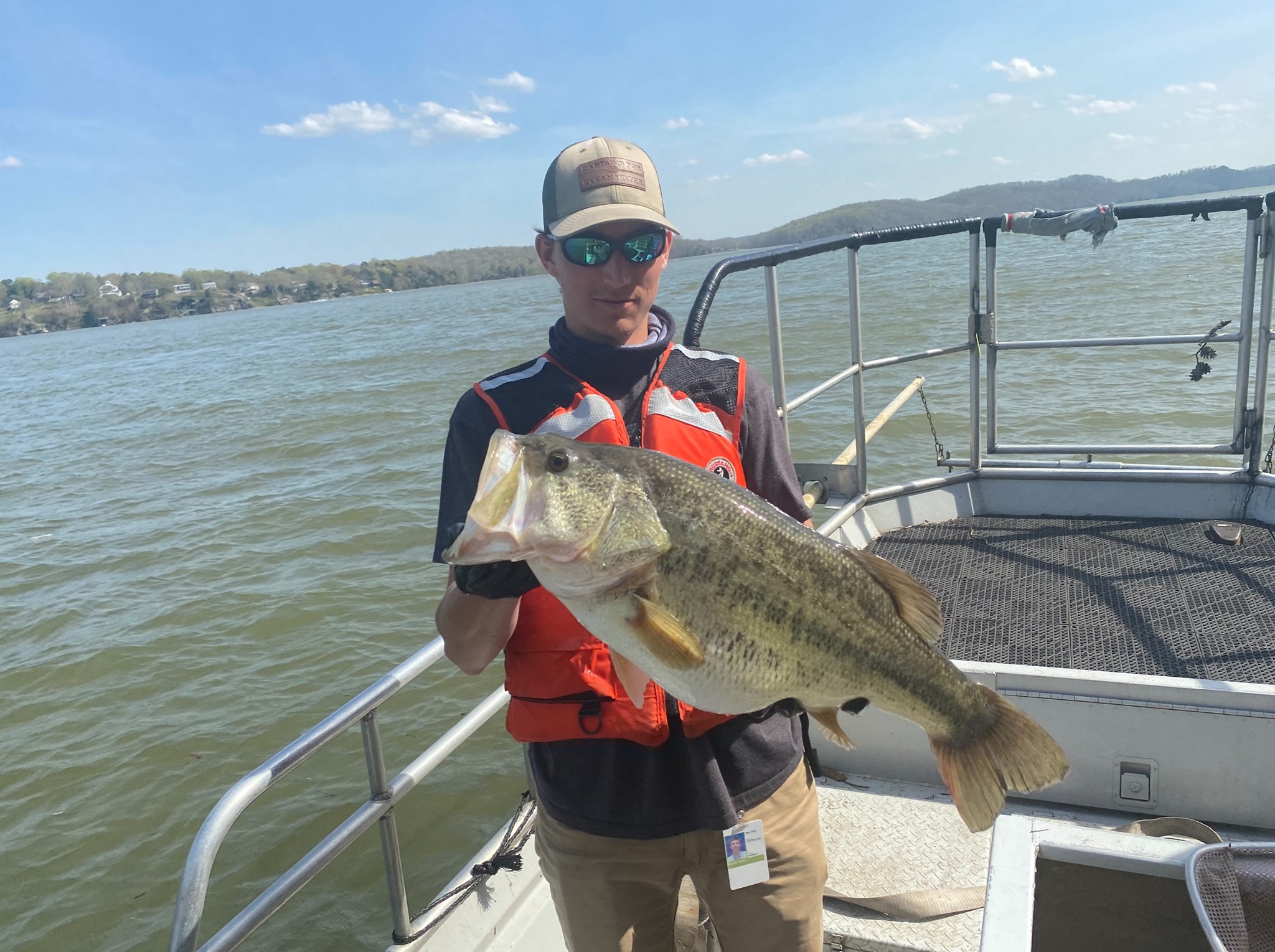 The survey is also providing the added benefit of tracking Asian carp past known strongholds throughout Pickwick and Kentucky reservoirs. To date, alleged sightings of silver carp in fisheries upstream of Wheeler Reservoir remain unsubstantiated by TVA, Alabama Fisheries or the Tennessee Wildlife Resources Agency. If silver carp are swimming in above upstream of Wheeler, their sparsity is such that identifying one remains unlikely.
Dennis Baxter, manager of TVA's River and Reservoir Compliance Monitoring, says TVA is using the data to compare several years of sportfish classes against corresponding weather trends. By overlaying the two graphs, TVA's fisheries biologist can determine how spawn strength is impacted by fluctuating water levels, as well as current and historical weather patterns.
"This information is going to let us understand what the structure of the sportfish population looks like in our reservoirs," Baxter said. "It's also one of the tools that will let us know if invasive species have any effect on sportfish."
Stunning Specimens
Electro-fishing sportfish is simple. It takes a long dip net, a generator and two fiberglass tubes that jet from the front of a boat. The long poles work like a crappie angler's spider rig, except these hollow rods aren't lined with 4-pound Sufix. They're threaded with galvanized cable and 120 volts of zap.
That's pretty much it.
The boat travels parallel to the riverbank and the white bellies roll. Any fish that hits the submerged 12-foot field is temporarily stunned and floats unharmed to the surface. White and black crappie, smallmouth, largemouth and spotted bass (better known as a Kentucky) are netted by a TVA fisheries biologist. Each specimen is measured, weighed, evaluated for physical abnormalities like hook injuries and parasites and then returned to the water.
"We like to start in late March and quit in early May before the fish start really hitting their beds," Baxter said. "This reduces the amount of stress on the fish during pre-spawn."
Regardless, fishing Chickamauga, Nickajack, Guntersville, Wheeler, Wilson, Pickwick and Kentucky reservoirs before nature's buzzer sounds requires several regiments of TVA fisheries biologists. The multiple-boat blitz is floating mud banks, riprap and drop-offs throughout a Tennessee River fishery that's yielding lunkers.
Chickamauga bubbled an 11.82-pound largemouth, Nickajack chalked a 9-pounder, Pickwick popped a 2.7-pound slab crappie and Wilson floated two smalljaws that pulled the scale springs to 6.5 and 4.5 lbs.
These trophies are why Bass Anglers Sportsman Society has held 32 big-money tournaments on TVA reservoirs in the last five years — not to mention Guntersville, Pickwick and Chickamauga are ranked among Bassmaster Magazine's "Top 25 Best Bass Lakes of the Decade."
Despite the accolades, the Tennessee River's honey holes aren't kept secret. All a weekend line-wetter needs is a cellphone to find one.
TWRA marks every crappie condo, concrete reef ball, wooly booger and five-star fish city it submerges. Anglers who want to fish these manmade structures can go online at tn.gov and get the waypoints that are noted on the state's Fish Attractor Maps.
Another tackle-box essential is the TVA Lake Info app. The free resource forecasts reservoir and tailwater elevations, discharge currents and if applicable, the generation schedule of most every dam in the Tennessee Valley.
But there's still a potential hurdle: pressure.
TVA reported that every seventh bass surveyed on Chickamauga had a hook injury and TWRA's fishing-license sales confirm the trend. Tennessee sold 311,349 hunt/fish combos in 2019 and 386,230 in 2020. The great outdoors can likely thank COVID's social-distancing requirements for the 24-percent bump.
Florida Strains and Hybridization
The size of Chickamauga's bass are no happenstance. These aquatic monsters are a result of a TWRA experiment that introduced the Florida-strain largemouth to the reservoir. The project began in 2000 by dumping hundreds of thousands of bass fingerlings into the water.
After waiting 10 years for magic, voila. The Florida-strain genetics hybridized with Chickamauga's native largemouth to produce a passel of scale-tipping hogs — including a 15-pound, 3-ounce Moby Dick that angler Gabe Keen hooked in 2015. The fish shattered the previous 61-year-old state record.
Today, TWRA is repeating the Chickamauga pilot at Nickajack, Fort Loudon, Watts Bar and Kentucky reservoirs. The program's full rollout launched in 2015 and the agency expects results no sooner than 2025. In the last three years, TWRA has stocked Nickajack with 253,000 fingerlings; Fort Loudon with 201,000; Watts Bar with 689,000; and Chickamauga with an additional 414,000. The agency plans to continue adding 150,000 Florida-hybrid fingerlings to Kentucky annually.
"Now that we've got these genes in the river, it won't be long before we'll start seeing some big fish harvested from our reservoirs," said TWRA's Frank Fiss, chief of fisheries.
Debunking the Dead Sea
Talk to locals around Kentucky Reservoir, or loiter around a boat dock, tournament weigh-in or any place that sells home fries and omelets with a 20-mile earshot of the river. You'll hear a conversation that's been the same for five years.
"Kentucky Lake's done. It's been this way ever since the carp showed up and ruined it."
But the theory is just a skunked angler's favorite crutch. People have even moved away from the region because of the conspiracy, and the fallout is apparent. The number of big bass tournaments are down, lakefront property is for sale and many of the small businesses flanking the waterfront are either crippled or boarded.
It's a big deal for a region whose cash crop is tourism.
In 2015, Kentucky Reservoir's bass numbers did in fact decline, but Baxter says public perception isn't factoring in Mother Nature and her back-to-back years of 100-year rain events in 2018 and 2019. The two gully washers rocked the 90-mile straight stretch between New Johnsonville and Kentucky Dam with ripping currents that set records.
The second blue-moon blowout was the biggie. It sent bass numbers plunging to their 2019 low.
On March 3, 2019, the river rose 8 feet above summer pool and dropped five days later when all 22 of Kentucky Dam's spillway gates pulled the stopper on the reservoir. The force of the 437,368-cubic-feet-per-second turning plow uprooted milfoil and submerged grasses from I-40 to the Barkley Canal.
In short: The Grinch who stole Kentucky Reservoir's mojo was the unprecedented current that swiped 70,000-acres of fish habitat and blew it into the Ohio River at a rate of 656 tanker trucks per second.
"Our reservoir levels are constantly fluctuating as part of TVA's flood-control priority. They go up and down, but fish eggs don't have to be left high and dry on the bank to have a negative impact on a year-class of fish," Baxter said. "With flooding and muddy water, those beds getting silted over will do the same thing."
Still, the agency's biologists want to be certain the Kentucky Reservoir fishery, which is now trending upward again, experienced a normal weather-based drought. The spring sportfish survey is a way to verify, but there's also another benefit as TVA had already conducted the same research annually until seven years ago. Between its springtime databank and the agency's ongoing fall aquatic-community monitoring, TVA has a critical data set for silver carp.
"We have the trends before Asian carp arrived and now we're using this survey to fill in the gaps," Baxter said. "Once we put all this information together, we'll be able to prove whether carp or weather effect sportfish populations in the reservoirs we manage."
Carping About Carp
TWRA's Michael Clark understands the anglers' frustrations. He's the state biologist assigned to Kentucky Reservoir.
"People are sick of it from Danville to the state line," Clark said. "Everyone wants to blame it on the carp when there's a crash, but it's not the carp. They just aren't doing it."
Clark points to another example of proof with a recent electro-fishing study TWRA conducted north of Paris, Tennessee, in Cypress Cove. He said the run turned up mostly carp the first time they shocked it. Two weeks later, they shocked the same stretch again. No carp. Only sportfish.
"Both crappie and bass fisherman have had to change their strategies," Clark said. "You can't fish Kentucky the same way you did 10 years ago and be successful. It's an entirely different reservoir now."
Garry Mason, Bethel University's head bass-fishing coach, agrees.
"When a bully walks into a restaurant, you're gonna go someplace else to eat. It's the same way with carp. They'll relocate a bass," Mason said. "All the reports of it being a Dead Sea out there are completely false. The fishery is showing out this year. Anybody who doesn't believe that needs to come get in the boat with one of my guys."
Commercial Catching
Kentucky Reservoir is the last fishery on the Tennessee River chain and the frontline target for Asian silver carp migrating from the Ohio. In 2015, a large influx of the species traveled upstream and entered the fishery through Kentucky Dam's navigation lock, which moves more than 3,000 commercial vessels and 30 million tons of commodities each year.
The impact was widespread.
Today, silver carp pose a trickle-down threat to the recreational and economic health of the entire Tennessee River, which according to a 2017 TVA report, supports 130,000 jobs and snags an estimated $12 billion in annual revenue.
The big problem stems from a well-known safety issue: silver carp jump in large schools and are a hazard to boaters when stimulated by watercraft vibrations. It's why the U.S. Fish and Wildlife Service, Kentucky Department of Fish & Wildlife and TWRA are leading a carp coalition to stop the spread of silver carp throughout the river's other fisheries. The taskforce is comprised of multiple State and Federal agencies, including TVA.
One of the coalition's mitigation strategies is an acoustic sound barrier that is now thwarting the spread of the invasive fish through the Barkley Canal at Pickwick Dam. The goal is to repeat the success throughout the river's lock-and-dam systems. The taskforce is able to verify the barriers' success by tracking the migration of more than 600-tagged silver carp. To date, none of the tagged specimens have migrated past the Pickwick impoundment — the reservoir directly upstream from Kentucky.
Another initiative is a newly hatched carp-fishing industry that provides subsidies and an active carp market to guarantee commercial anglers about 15 cents per pound. For reference, catfish prices hover around a quarter.
In total, more than 14 million pounds of Asian carp have been harvested from Kentucky waters in the last two years. Harvested carp are sold to table-fare markets, ground into fertilizer, shipped to animal-food manufacturers and even purchased by Northeastern crabbers who bait their pots with Kentucky Reservoir's catch. The New England crabbing demand requires about 40,000 pounds per week.
Mason is already seeing results, but not just on the water with Bethel's bass fishing team. The head coach also serves as the director of tourism for Northwestern Tennessee.
"We know what to do now. Everyone has gotten on board and catching these things is working," Mason said. "We have to keep a commercial fishing market because we've had a tremendous amount of lost tourism because of these Asian carp."
Mason says Benton County is feeling the sting. Henry County, which is the annual host of the World's Biggest Fish Fry, is in the same boat. Both their tax structures and property values have dropped, but Mason says the fishery is rebuilding and the two Tennessee counties are aiding its comeback.
In addition to TWRA's 10-year plan to continuing dumping those 150,000 annual Florida-strain fingerlings into Kentucky Reservoir, Benton and Henry counties are adding to the pool. The two counties have committed a combined $150,000 to inject an additional 900,000 Florida-bass fingerlings into the river by the end of 2022. Between the TWRA and local efforts, the projected total of one-day wall-hangers will tally an estimated 2.4 million by 2025.