November is National Native American Heritage Month
TVA partners with 18 federally recognized tribes on a government-to-government basis. Here's the story of one of them.
NOVEMBER 20, 2018—For Bryant Celestine of the Alabama-Coushatta Tribe of Texas, every day is one to celebrate and share his cultural history. He is the tribal historic preservation officer for his people, and it's his job to work with TVA to ensure tribal relations are a continual part of the organization's outlook.
The Alabama-Coushatta Tribe of Texas is a relatively small tribe now based in Livingston, Tex., with 1,200 members. Approximately 45 percent of those members live on the Reservation, while the others live close to the Reservation or are scattered across the country.
Although the Tribe may live far away today, the Valley is important to Celestine and his people because this area is part of their homelands. He explains: "The islands, water, and trees along the Tennessee River are part of who we are. We want to maintain interest in where we came from and to preserve what the areas occupy that once belonged to our ancestors. Our history isn't dead, and our culture is still very much alive."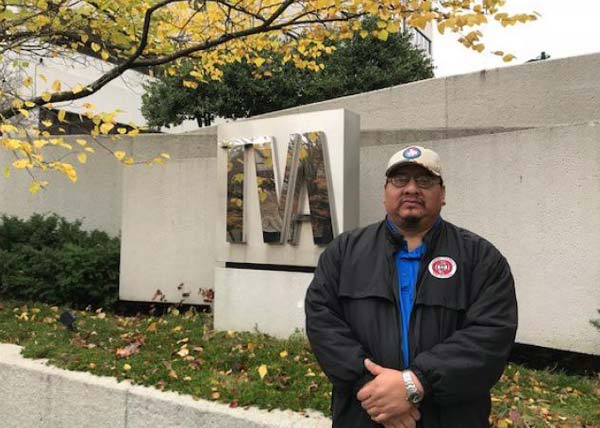 Celestine and other liaisons representing tribes with ties to the Tennessee Valley work with the TVA cultural resources staff to ensure numerous federal requirements are met regarding consultation with federally recognized Indian tribes. TVA established an official Tribal Liaison position in the early 2000s to improve relationships and tribal involvement and to ensure TVA maintained a government-to-government relationship with federally recognized Indian tribes.
"It is important that we build trust and realize that we can learn from our tribal partners, says Marianne Shuler, TVA senior specialist, archeologist & tribal liaison. "Part of our job is to help the tribes preserve significant cultural resources in their ancestral homelands."
Celestine accepted his position in 1997 and benefitted from the knowledge of his grandfather, whom he grew up living with as an elder and teacher. "Oral history is a trust and responsibility so that our history is passed down," he says. "It is imperative that people understand that what they read in history books or hear in mainstream media is not always correct. I look at every day as a teaching opportunity."
Additionally, TVA works with tribes like the Alabama-Coushatta Tribe of Texas to preserve cultural resources across the Tennessee Valley. For example, historically, the Tribe would decorate graves as a sign of respect. The graves were decorated with china, a favorite tea set, shells, a bible, etc., by family and friends. Today, when unearthed, these artifacts are being returned to their tribes for ceremonial restoration.
November—National Native Heritage Month— is a time to reflect and gain understanding. Celestine represents his Tribe daily through the emails, calls, and letters he responds to. He shared, "November is a great time for us to showcase our culture. But we try to do this throughout the year to keep our history alive."
​ ​
Share this story:
​
A Time For Celebration
November is National Native American Heritage Month. At TVA, we take pride in preserving cultural resources discovered within the Valley that are linked to Southeastern tribes. November was chosen to be National Native American Heritage Month at the turn of the century to recognize the significant contributions that first Americans made to the establishment and growth of the United States. The month provides a platform for Native Americans to share their culture, music, crafts and traditions with others. It also serves as an opportunity to educate and raise public awareness about tribes and the unique challenges American Indians have faced historically and currently.