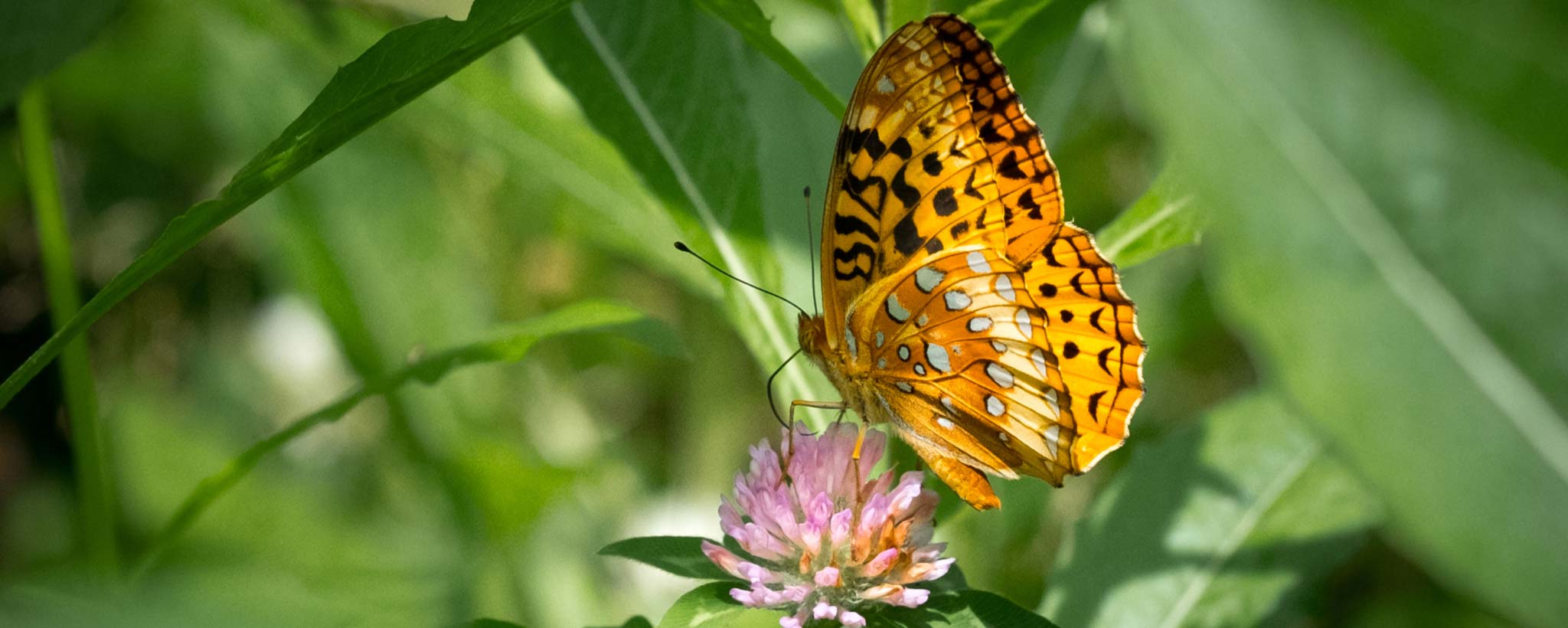 One Bee at a Time
A project in a transmission right of way at Trotter Bluff can make positive changes, one bee at a time.
OCTOBER 28. 2020 —Trotter Bluff Small Wild Area is a perfect place for a short, wooded hike along the water. It soon will have another claim to fame as a home to colorful flowers and grasses that will help feed hungry pollinators.
"That will be an exciting day," says Heather Hart, specialist in TVA Natural Resources. "It will mean that we have successfully restored ten acres of pollinator habitat in the adjacent transmission line corridor and reintroduced important wildlife into the utility landscape at Trotter Bluff."
Located on TVA's Douglas Dam Reservation in Sevier County, Tennessee, this is a phased project, which means it will take a while to see results—but it's just a matter of time.
Time is an important component of this and similar projects worldwide, because the clock is ticking for pollinators like bees and butterflies. Many of these populations and species are in decline, primarily due to habitat loss, disease, climate change and pesticide use. However, there may be a way forward, and TVA is in a good position to help that cause.
Why are pollinators important?
It's no secret that pollinators are vital to the production of the food we eat. They assist in reproduction and support productivity in natural and agricultural landscapes. A decline in pollinator populations is expected to have a large impact given the critical roles that these species play in supporting healthy ecosystems that improve air quality, stabilize soils and support other wildlife. Some of the foods we eat are vitally dependent on pollinators.
TVA Natural Resources is working to help slow, or even reverse this trend, by restoring, maintaining and enhancing habitat, using methods that promote pollinator richness and diversity. What makes this project and others like it so compelling is two-fold: these plots are on TVA lands, specifically transmission line right-of-ways, or ROWs, and their progress can be viewed by the public.
"Who hasn't noticed these wide swaths of acreage below transmission lines? We believe these strips of land could serve a larger purpose," says Hart.
The Trotter Bluff project is one of several sites that TVA is developing. It is the second project near Douglas Dam, where a 35-acre plot of pollinator and native grasses has been established on the other side of the French Broad River below the dam's visitor center. Partnering with TVA for these efforts are the Tennessee Wildlife Resources Agency and the local power company, Sevier County Electric System.
An encouraging trend
TVA Botanist Adam Dattilo is encouraged by this trend. He is currently monitoring a project on TVA ROWs at Rock Island State Park in Warren County, Tennessee. "Emerging research tells us that the power line corridors are critical to the conservation of pollinators and plants," he explains. "The data gleaned from these projects will provide vital information on how and where to protect and expand these important habitats."
It won't happen overnight, but when it is complete, the Trotter Bluff project will not only benefit pollinators and wildlife, it will serve other purposes as well. First, managed correctly, these ROW projects can reduce management costs over time by reducing the need for mowing and weed control. And second, the flowers and grasses will eventually create an ever-changing field of color that hikers will enjoy viewing and photographing. Who knows, perhaps they will take this idea home to sunny spots in their own back yards.
"That would make the folks at TVA Natural Resources very happy," says Hart. "I think the public will start seeing more pollinator project installations on public lands. It's a great way to demonstrate to people that local, site-specific actions can add up to significant change."
​ ​
Share this story:
​