Knoxville Utilities Board issues resolution highlighting the partnership with TVA on COVID-19 response in support of Valley residents and businesses.
The Board of Commissioners of the Knoxville Utilities Board today adopted a resolution acknowledging the partnership between TVA and local power companies on COVID-19 pandemic relief efforts in support of Valley residents and businesses. Resolution 1424 highlights the assistance TVA and KUB are providing to KUB customers facing hardship due to the pandemic.
"KUB exists to serve its customers, and never has that been more important than in 2020, when the pandemic has caused so many of our customers to be in financial distress. The business flexibility and financial support we've received from TVA is making possible unprecedented levels of customer utility bill assistance, and we're very grateful for TVA's proactive approach during these very difficult times."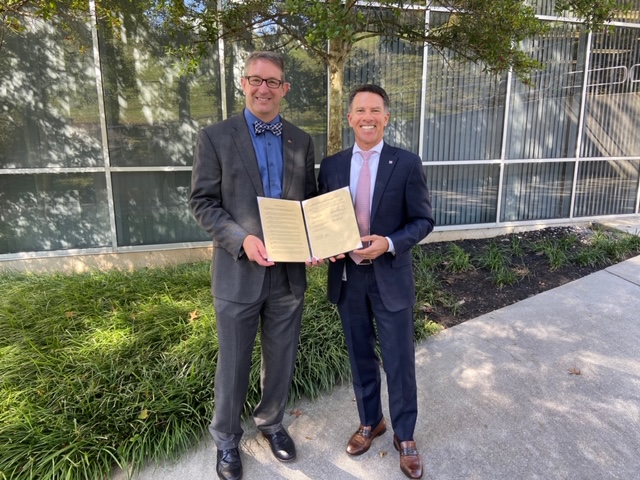 Gabe Bolas, KUB president & CEO, and Dan Pratt, TVA vice president of customer delivery
TVA is providing a comprehensive portfolio of support and assistance programs to support families and communities during the current public health crisis. Through its Community Care Fund, TVA has donated $160,000 to agencies in KUB's service area that provide pandemic-related assistance. The fund matches the dollars that local power companies donate to help communities in this challenging time. Across TVA's service territory, the fund generated $4.8 million in combined contributions from April to September 2020. TVA has committed an additional $2 million to the Fund for 2021.
In its resolution, the KUB Board also acknowledges TVA's 2.5% Pandemic Relief Credit that will provide KUB with $7.3 million in temporary wholesale rate reductions through Sept. 30, 2021. KUB will use the reductions to help customers struggling to pay their utility bills, particularly those with past-due balances accrued during the pandemic. Valley-wide, the credit will keep $200 million in the hands of local power companies and large commercial and industrial customers over the next year. Each recipient can apply the savings in the best way possible to invest in their communities and support those they serve.
KUB is also participating in TVA's Back-to-Business credit program. This program provides financial relief to large commercial and industrial customers who have had to suspend or decrease operations due to pandemic impacts. Companies across the Valley have taken advantage of the program to lessen financial impacts to operations and get workers back on the job as soon as they could safely return. Across the Valley, $8.2 million of credits were issued from April to August 2020, supporting approximately 91,000 jobs.
"As partners in public power, we're proud to work with KUB to support their customers when times are toughest," said Dan Pratt, TVA vice president of customer delivery. "Our 80-year partnership has grown stronger through our joint efforts, and we appreciate the KUB Board's acknowledgement of what we've accomplished together."