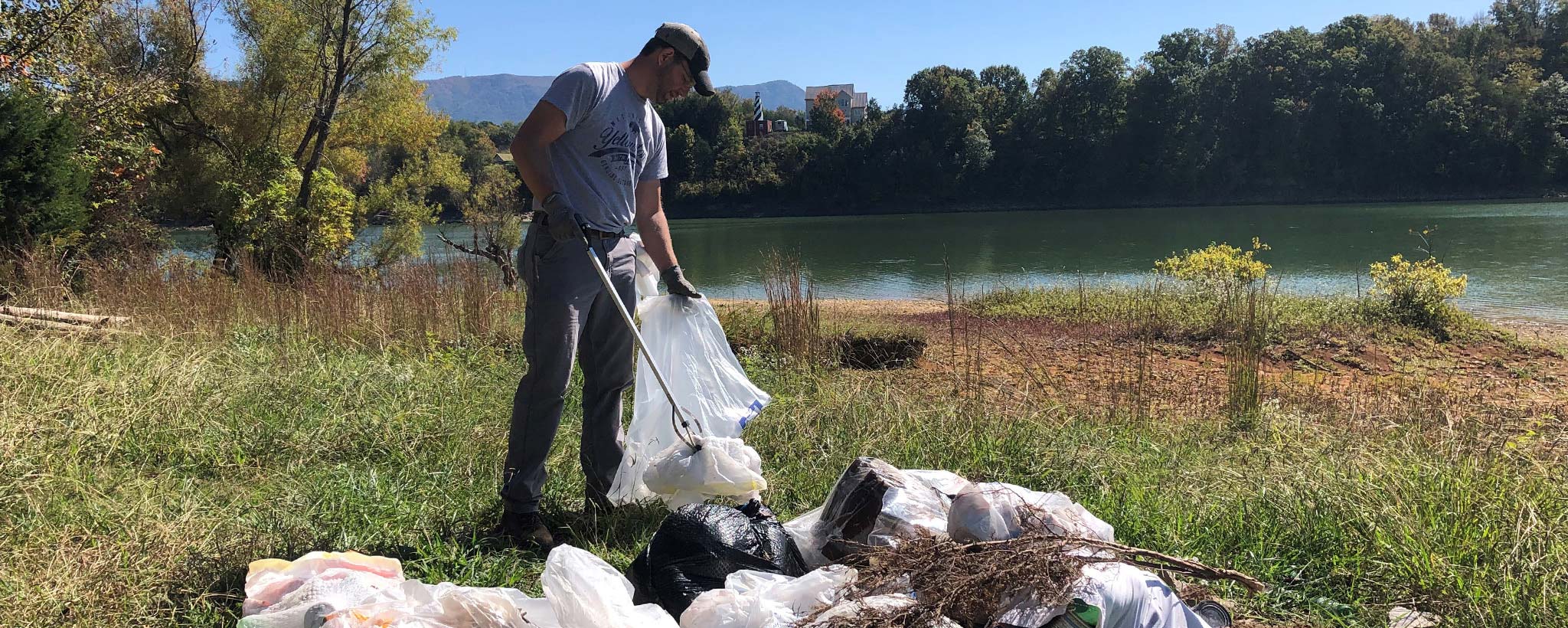 Please – Leave No Trace When You Camp
The weekend is coming, and you plan to spend it with friends at an inviting, dispersed-camping area on TVA Public Land. A little fishing, a good hike, and mouth-watering meals over the fire will be a welcome change of pace. But upon arrival, you're greeted by scattered garbage, a firepit with broken glass and a ripped tarp hanging from a nearby tree. Sadly, this is not an isolated incident, nor is it new for the Valley or the rest of the country.
In the summer of 2021, Rhea County's Jackson Island dispersed recreation area on Watts Bar Reservoir had to be closed for cleanup and other improvements. This year alone, more than two tons of garbage and personal belongings have been removed from this popular area.

One hundred miles upriver, Norris Reservoir has not one but two active litter contracts with counties that transport prisoners to pick up litter and garbage in affected areas. They work every other week and sometimes more often. It's an expensive solution, which also costs communities in lost tourism revenue as trashed sites result in negative experiences for visitors.
The eastern portion of the valley isn't the only area with these issues. Senior Program Manager, Natural Resources West Operations Damien Simbeck, along with TVA Facilities Management staff, recently cleared an unauthorized dumpsite on Pickwick Reservoir. The debris included broken televisions, pet carriers, and what appeared to be materials from a bathroom remodeling project.

What does this mean to you?
The principles of "Leave No Trace" have been available to campers and visitors for a long time, and just following these simple principles makes a world of difference in how campsites and other public lands appear to their visitors. Littering and illegal dumping don't just look bad, they create health hazards for both animals and people.

TVA continually pushes back on this ugly trend with the help of partners, including the Leave No Trace Center for Outdoor Ethics. This international organization promotes the Seven Principles of Leave No Trace, an easily understood framework of minimum impact practices for the outdoors.

The Leave No Trace Seven Principles:
Plan ahead and prepare.
Travel and camp on durable surfaces.
Dispose of waste properly.
Leave what you find.
Minimize campfire impacts (be careful with fire).
Respect wildlife.
Be considerate of other visitors.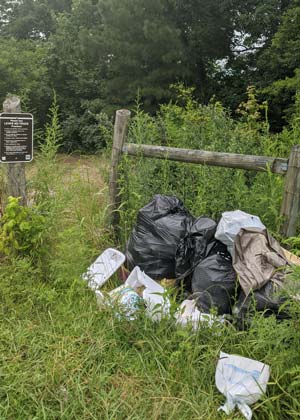 This is our tenth year to partner with Leave No Trace," says Clay Guerry, TVA recreation strategy specialist who is also a Leave No Trace master educator. "Leave No Trace Principles are imperative for outdoor enthusiasts because when they are not followed, there are serious consequences," Guerry says.

For example, wandering off the beaten path—not traveling on durable surfaces—can lead to barren areas and, eventually, eroded trails. Not disposing of waste properly is hazardous to wildlife, people, and the environment. Obviously, it's also offensive to campers who want to enjoy the outdoors.

"When you Leave No Trace, you have a positive impact on the environment," explains Guerry. "The second impact is social. When you leave a clean camping area, you positively impact the next user."

As bad as these situations may be, TVA continues to spread the Leave No Trace message because it works. "We educate the public with signage at our dispersed campsites on TVA public lands, and when we do that, the bad behavior decreases," says Guerry.

Leave No Trace principles also are promoted on TVA.com, in newsletter articles, and in TVA kiosks. "These principles are at the core of our stewardship mission to protect, preserve and improve the Tennessee River system and its public lands across the Tennessee Valley," says Rebecca Hayden, TVA Natural Resources director. "That's why we also include them in TVA's Camp-Right Campground initiative and why they are shared with Adopt-a-Trail and Adopt-a-Spot volunteers."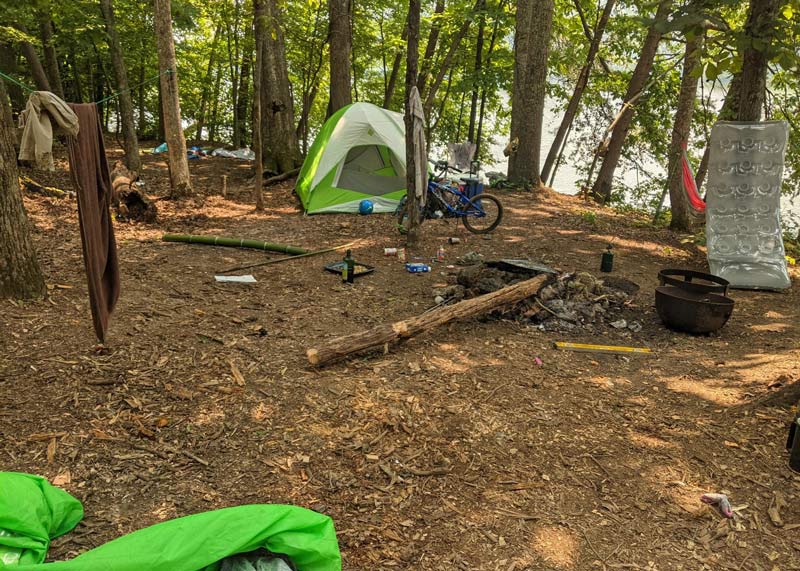 A little psychology

When TVA began using the Leave No Trace signage across the valley, Guerry conducted his own experiment at the islands on Norris, where there was a lot of trash.
"I wasn't sure if signage would create a measurable difference in the way people treated these sites, but it did make a difference, and other research proves it," he says.
Not surprisingly, psychology plays an important part in this situation." If you go to a site. There are nine soda cans, there's a great likelihood that you may toss your drink can in, too. But if there's only one can, you'll be less likely to throw yours down," says Guerry, a staunch believer in the public lands adage, "Clean areas stay cleaner, and dirty areas get dirtier."
You can help!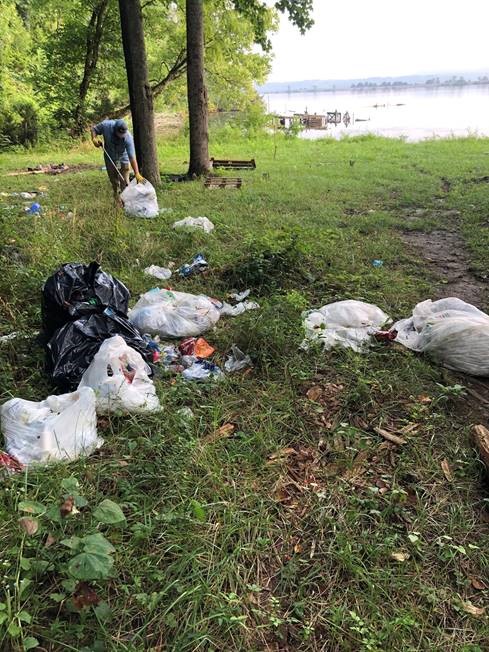 Perhaps the most impactful thing people can do is to teach Leave No race principles through their own actions. "If a friend throws down a piece of litter, be the one to pick it up. We're all public landowners and have the responsibility to treat it like our own. By using Leave No Trace principles, that's exactly what we do," he says. Guerry encourages readers to learn more about these principles in detail at Leave No Trace Center for Outdoor Ethics.
TVA appreciates outdoor enthusiasts who say something if they see something. Illegal dumping is more than bad behavior, it's a crime punishable by law. "We have littering or dumping calls every week," says Captain Jeff Johnson, TVA Police. "It's a Class B Misdemeanor punishable by fines of up to $2,500. Folks are lots better off just taking their trash with them."
To report illegal dumping, theft, or vandalism, Johnson urges individuals to call 1-800 TVA LANDS or TVA Police toll-free at (855) 476-2489. Email them at [email protected].
​ ​
Share this story:
​