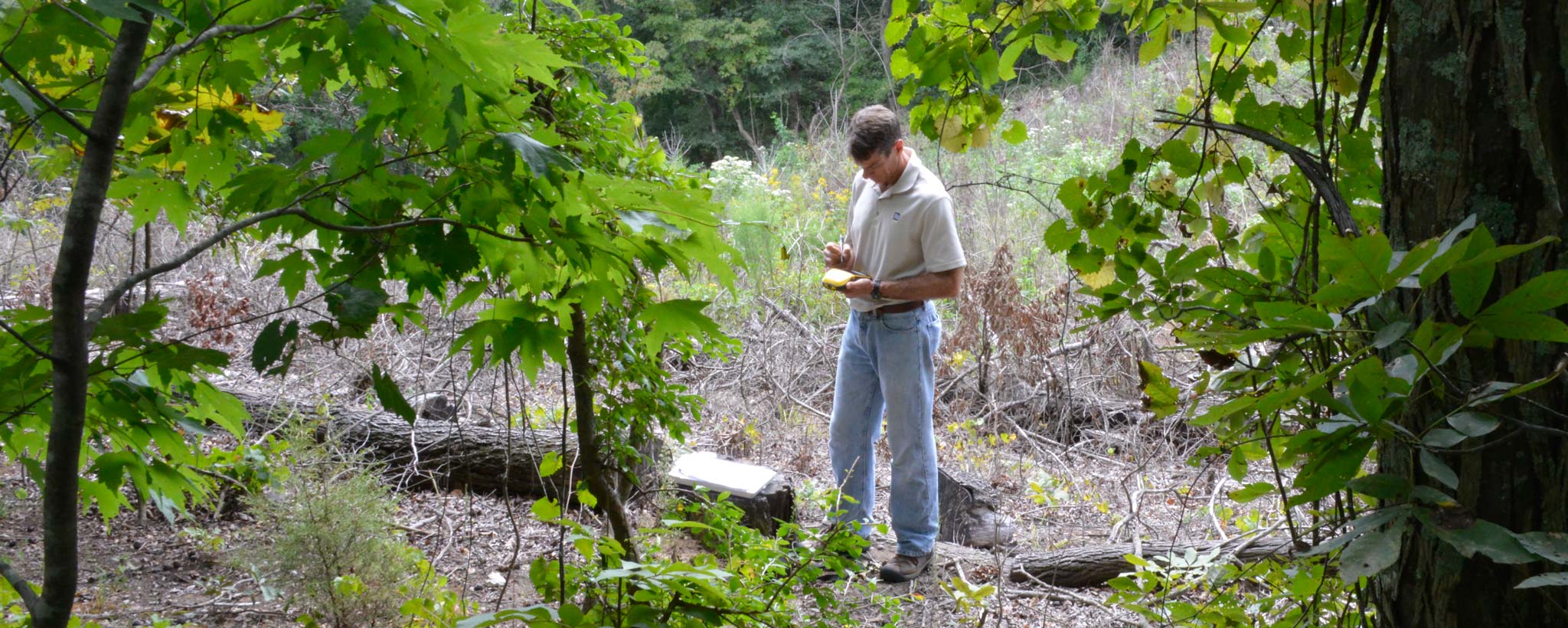 Powered by People You Know: Steve Cole
Archaeology, TVA projects, and state and federal legislation — most people wouldn't consider these subjects to be intricately connected. However, for TVA archaeologist Steve Cole, they're as related to each other as a group of artifacts within an assemblage.
Working within TVA's Cultural Compliance Department, Steve Cole partners with colleagues in Generation Construction, Power Operations, Natural Resources and Transmission to help ensure their projects respect the rich history residing within the Valley's veins.
"As a federal agency, the uniqueness of our work often presents project teams with the challenge of running into tribal artifacts and archeological sites, such as camps or burial grounds," Cole says. "It's our responsibility to handle those sites with care and consideration, in line with the National Historic Preservation Act (NHPA). This is where Cultural Compliance and I step in to help keep us compliant with this and many other state and federal laws."
Before any project breaks ground, Cole has already been working alongside the project team to survey the area for potential archeological sites, the project's progression and — should a site be threatened — alterations to the project plan and outcome.
And it's not just Native American archeological sites that he works to protect. According to state guidelines, any structure or building 50 years and older is considered to be historic. This can include items and sites belonging to the early European settlers, African Americans (enslaved or free), historic Native American populations and other groups, as well as buildings and structures that were built as late as 1970.
"There's a lot more to protect than I think people are aware of sometimes," Cole says. "Our team can be involved in anything from transmission installations to remodeling or demolishing buildings. All of the dams that TVA has built and is responsible for maintaining are considered historic structures as well, so we're also involved in any physical work on the dams."
While protecting artifacts and archeological sites is challenging, Cole admits that keeping the projects in line with local and federal legislation — all while ensuring they meet their designated timelines — is the most demanding.
"Compliance with our local and federal laws requires lots of paperwork, consultation with state and tribal governments, and time," he says. "This can be extremely stressful at times because our TVA teams want to stay on track, but they can't move forward until we have reached agreement with the tribes and the state(s) that TVA has fully complied with the NHPA. I'm often the middleman in this process between project staff and outside consulting parties, and there can be pressure to ensure things are done right, but also as quickly as possible."
B.T.E. (before TVA era)
Before coming to TVA, Cole admits he had wanted to work at a university as an archeological researcher. In preparation, he completed his doctorate at the University of Washington, doing research at the Université de Bordeaux comparing how late Neanderthals and early Homo sapiens utilized stone resources in France. But he had no success finding such a position after returning to the U.S.
"The sad thing is, it's a very small niche," Cole says. "It's not like there's a job at every university for someone who performs archaeological research on Neanderthals. So, I looked for a job for more than a year with no luck, until yielding to the wishes of my wife, Gabriel, to come back to Knoxville."
Not long after moving, Cole's wife contacted a friend of her mother who worked at TVA. The connection led them to an open position in Cultural Compliance, and Cole immediately applied. After a couple of years as a contractor, he left to teach at the University of Memphis for a year, and then worked in consulting for a few years, before returning to TVA, again as a contractor in Cultural Compliance. After working eight more years as a contractor Cole applied for and was hired as a full-time archaeologist in 2018.
"And honestly, I feel that this career path has been for the best," he says. "The more time I spend at TVA, the more interesting and fulfilling I find it to be. I'm very happy with the way it has worked out for me and my family."
Establishing historical landmarks
Throughout the past 13 years that Cole has worked with TVA as both a contractor and an employee, he has helped TVA's various departments accomplish many different feats. But there is one thing he is proudest of: Helping to establish one of TVA's earliest transmission structures as a historical landmark.
"When TVA was first established, we acquired transmission lines and structures from other companies to unify the system," Cole says. Some of these systems were built more than 100 years ago and are still around today — though it's rare because they're outdated.
"In 2016, Transmission identified a need to retire and remove a line that was built in 1913 near Rock Island State Park. This line was tied into the Great Falls Hydroelectric Station in the early 1920s and used for a century. I really hated the thought of seeing it go. Since the 1930s, TVA has been a major part of the historical development in the Valley, and I didn't want us to lose a piece of that history."
Due to the line's historic significance, TVA worked with the Tennessee State Historic Preservation Officer to find a way to preserve the line's history before it was removed. After much paperwork, consultation and effort, Cole persuaded TVA's Transmission group to preserve one of the structures. Cole then designed a Tennessee Historical Marker, which TVA installed near the structure. The marker now stands in the state park at the entrance to a nature trail, for all visitors to enjoy.
"I'm very proud of my sign," Cole laughed. "In all seriousness though, you can read about the structure and the system's previous history while enjoying the trails. To me, that's what my job is about – tying together TVA's present with the Valley's past."
​ ​
Share this story:
​