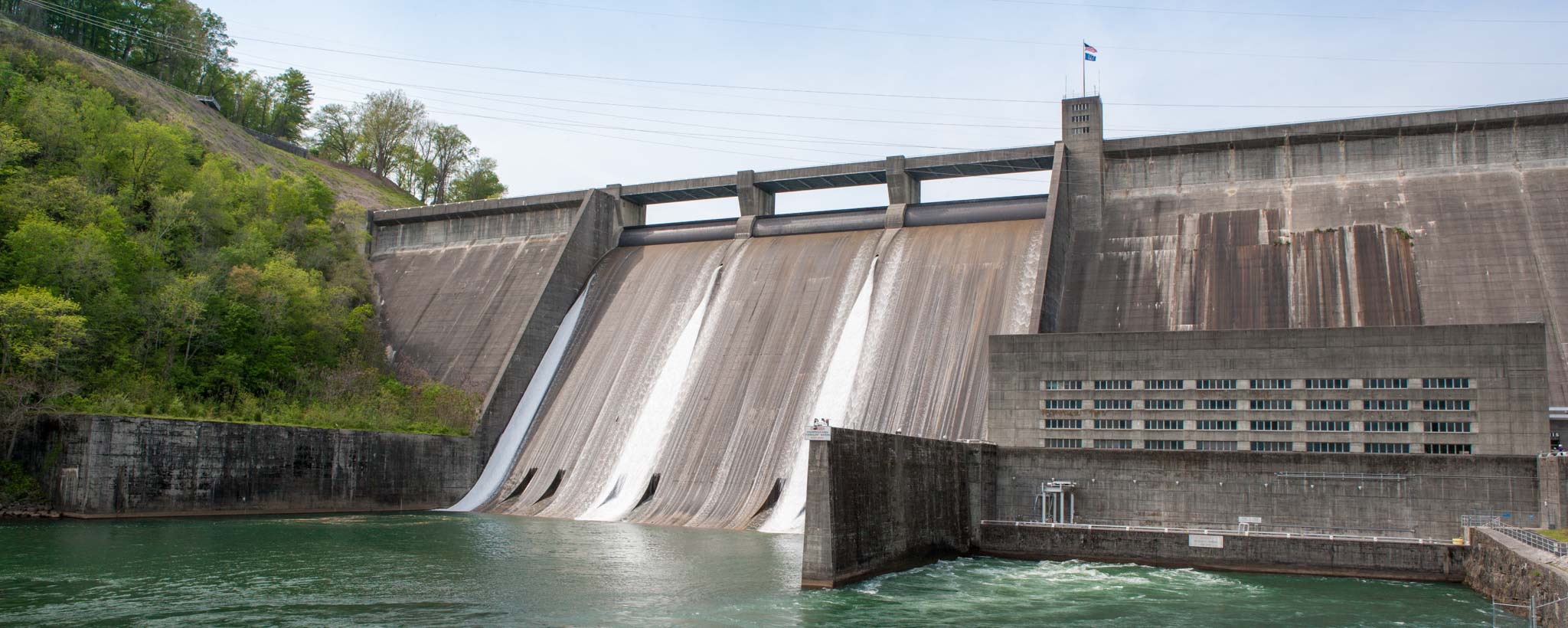 Promise and Progress
The building of Norris Dam represents the promise and progress available to Americans when they're willing to reach across the aisle for the common good, as FDR and Sen. George Norris did in 1933.
When President Franklin Roosevelt signed the TVA Act in May 1933, he had a vision of transforming the Tennessee Valley from one of the most backward regions of the United States to an area full of promise and progress. One of the first steps toward reaching this goal was to build Norris Dam.
Originally called Cove Creek, Norris was the first hydroelectric project built by TVA. The dam is named for Senator George Norris of Nebraska, a progressive Republican who shared FDR's vision of what the Tennessee Valley could be. Norris had tried for several years to get his bill outlining measures for the Tennessee Valley through Congress. It was not until FDR was elected to office that his legislation was passed as the TVA Act. Because of his efforts, Norris is known as the "Father of TVA," and the dam is unique in that it is the only facility in the TVA system whose namesake was living at the time of the dam's dedication.
Never been to Norris Dam? A new virtual tour allows you to see TVA's first, iconic dam from wherever you are. Just click play below.
Construction began in the fall of 1933, and the dam was finished in 1936. Its specifications were noteworthy: 1,860 feet long, 265 feet high, and 208 feet thick at its base. In fact, at the dam's dedication, FDR noted that it was the third largest dam in the United States and the fourth largest in the world behind Boulder, Dnieperstroi in the Ukraine, and Wilson dams. Total cost of construction including acquisition of reservoir lands was about $36 million.
Peak employment of the dam and reservoir construction was 2,750 — mostly men from east Tennessee, eastern Kentucky and southwest Virginia. It took 16 million man-hours to build both the dam and adjacent reservoir. To allow more people to have jobs, shifts were only six hours long. During the other two hours of an eight-hour shift, TVA established a formal educational program where workers were encouraged to take classes to improve their current vocation or learn new skills to enhance their quality of life —TVA offered woodworking, pottery making, welding and other craft skills to these employees.
The First All-Electric City
To house many of these workers, TVA constructed the nearby town of Norris. It was by no means a typical construction camp. In fact, the town has the distinction of being one of the first planned communities in the United States, and it was referred to as the "first all-electric city." Homes were designed to reflect regional architectural styles, such as the dog trot cabin, and there were dormitories, a cafeteria, a community building, an elementary and secondary school, a food coop — even a dairy. Workers and their families had access to a wide variety of self-improvement and recreational activities. There was a 4,000-volume library as well as softball and baseball diamonds, tennis and volleyball courts, horseshoes and other recreational opportunities.
Dedication Day at Norris Dam
When the dam was dedicated on March 4, 1936, FDR noted the ways that Norris was a success: "The completion of Norris Dam marks an important step in the program of the Tennessee Valley Authority to control the land and water resources of the Tennessee watershed." He went on to highlight those quality-of-life attributes that made Norris different, such as good labor relations, satisfactory wages, and even housing conditions in which FDR recognized the town of Norris, and TVA, for setting the standard for construction camps.
Norris Dam was evidence that President Roosevelt's and Senator Norris' vision was working. By accomplishing this first step, TVA was on its way to improving the quality of life for the people of the Tennessee Valley. A commitment that continues here every day — our service to you.
​ ​
Share this story:
​