Protecting What's Left
RaeLynn Butler is on a mission to preserve, protect and educate others about the Muscogee Creek Nation and the tribe's roots in the Tennessee Valley.
NOVEMBER 16, 2020 — For many Valley residents, the term Native American evokes images of the Cherokee tribe and its history throughout the Tennessee Valley. But there are in fact more than 20 diverse Native American tribes that once called the region home—like RaeLynn Butler's tribe: The Muscogee Creek Nation.
As a citizen of The Muscogee Creek Nation (MCN), member of the Raccoon Clan — and manager for their Historic and Preservation Department — Butler lives on the MCN reservation in Northeastern Oklahoma and works to preserve, protect and educate others about their culture and presence throughout the nation.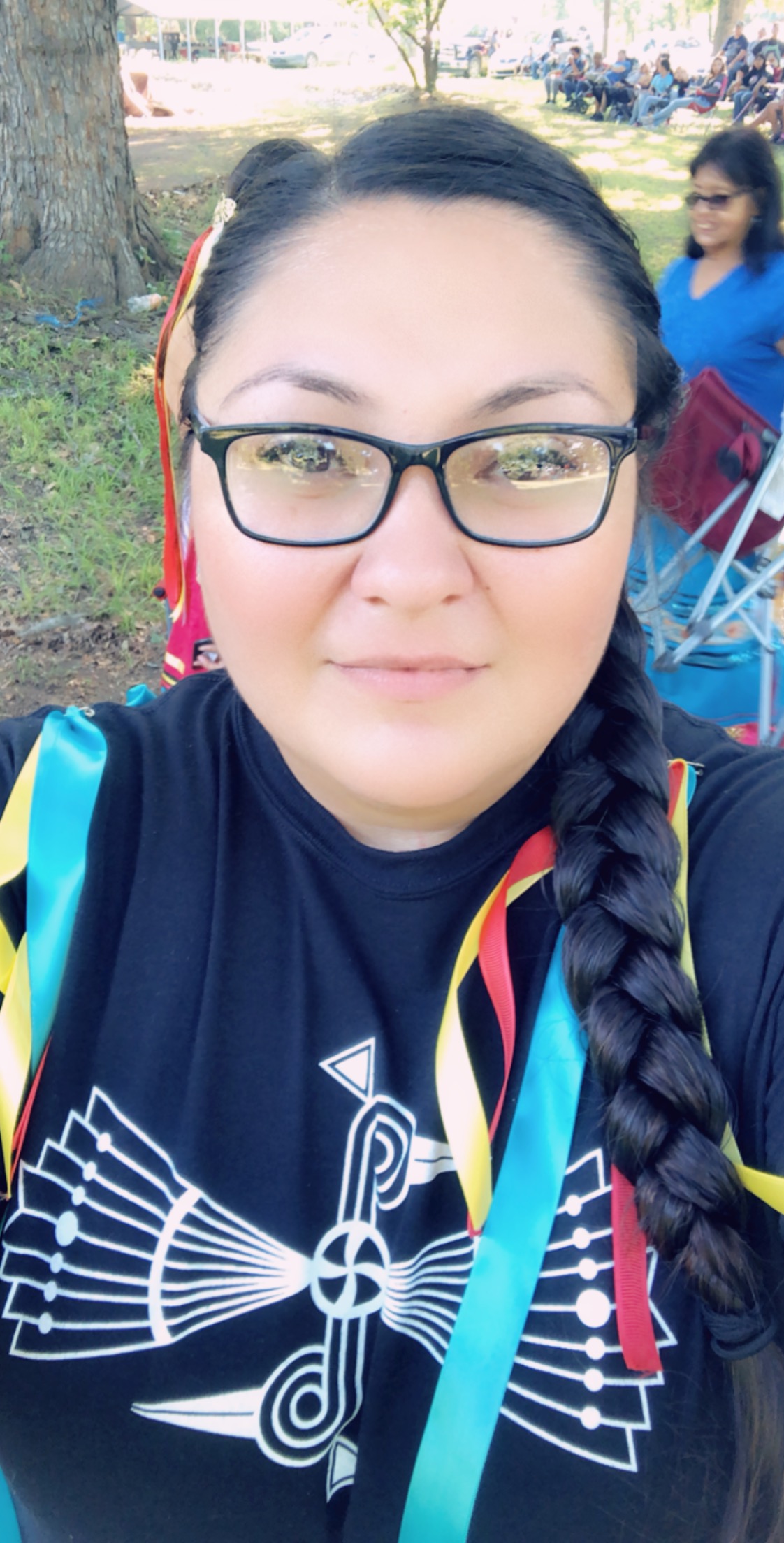 RaeLynn Butler at her ceremonial grounds in the green corn ribbon dance.
"Our tribe is originally from the Southeast," Butler said. "We have had treaty lands in several Southern states, primarily in Georgia and Alabama. Before European contact though, we originally lived throughout the Tennessee Valley. Today, we have interest in twelve states — including all of the Tennessee Valley — and we call every one of those places our homeland or motherland." The Tennessee Valley is so important to Butler that she is currently serving her second term on TVA's Regional Resource Stewardship Council committee.
Butler is the coordinator of the federal trust relationship between her tribe and federal agencies across their homeland. Trust relationships rest under the National Historic Preservation Act, the Native American Graves Protection Repatriation Act (NAGPRA), the National Environmental Policy Act (NEPA) and other laws which require federal agencies to conduct government-to-government consultations with federally- recognized Indian tribes.
The biggest role Butler and her staff have is conducting Section 106 reviews under the National Historic Preservation Act. In 2019 alone, she and her Historic Preservation staff reviewed more than 9,000 Section 106 reviews and projects.
"As a removed Tribe we rely heavily on federal trust relationships with agencies like TVA. These partnerships support our mission to preserve our history and educate residents in the Valley that tribes are still here today," Butler said. "Artifacts, archeological sites, landmarks, our culture — these are all non-renewable resources and once they're gone, we can't get them back. They're not just relics. They mean so much to people who are still alive today. That's why we're grateful for the partnership we have with TVA, because it allows us to protect what is left for the upcoming generations."
History, and Getting it Right
In addition to Section 106 reviews, Butler and her staff assist the tribe in their personal needs by overseeing the MCN's efforts in preserving cultural heritage within the reservation. She has a staff that includes a team of archaeologists that conduct archaeological surveys for the MCN. Another way her staff protect resources is by overseeing the MCN's Library Archives, which curate more than 4,000 artifacts and items that are import to the Muscogee people. The library also contains records of genealogy and anything ever written about the MCN — and it's growing daily.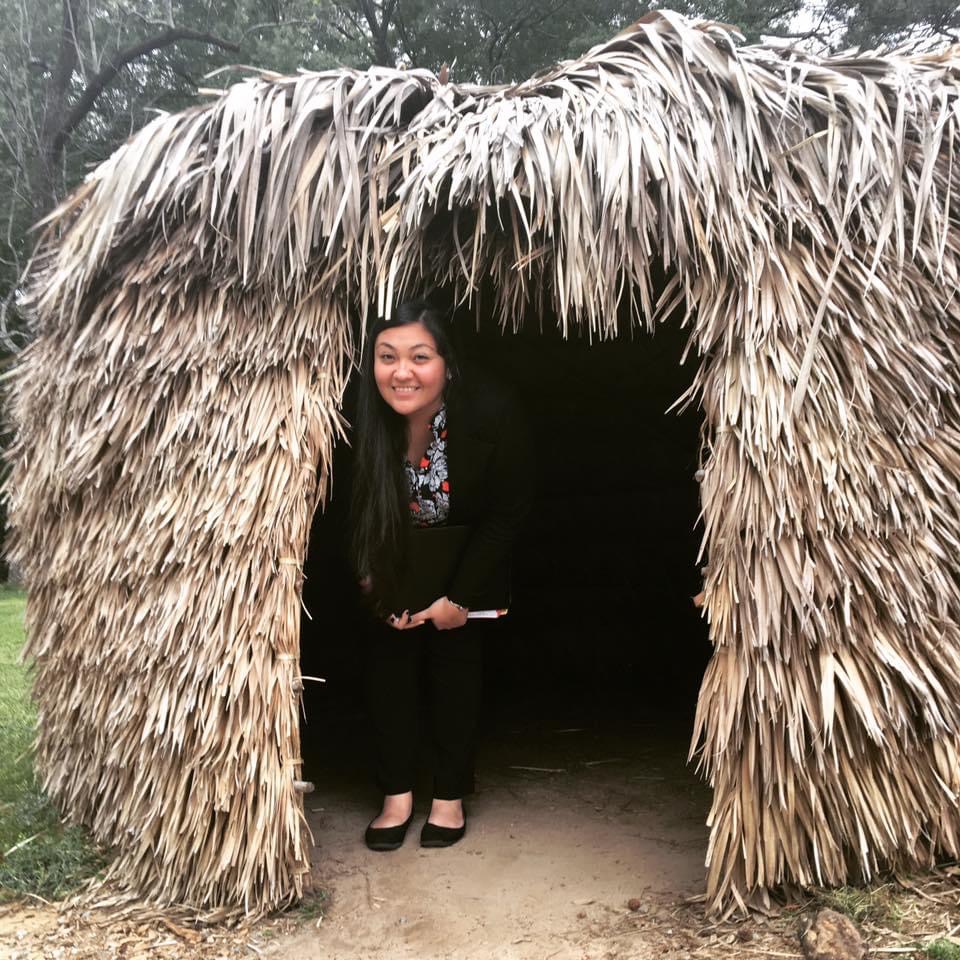 Butler at Ocmulgee Mounds National Historical Park in Macon, Georgia.
According to Butler, Muscogean history intersects with several other tribes' histories, including the Mississippian Mound Builders and the Cherokee, and many times this is misinterpreted in history books and museums. Part of the confusion stems from the Indian Removal Act in the 1800's.
"During the removal, there were many Creek citizens who ran up into the Tennessee Valley to hide out, and some lived among the Cherokee before they were all removed or attempted to be removed," she said. "We were also removed through the northern part of the Trail of Tears route that started near the Tellico Plains area. So, while many consider it the 'Cherokee' Trail of Tears, it also impacted the Muscogee (Creek) Nation. Being present with the Cherokees at that time, and as descendants of the Mound Builders — with many mounds having been built throughout the Tennessee Valley — we feel culturally connected and are obligated to be a part of writing that history and telling it correctly."
What's in a Name
Another thing Butler said that people often confuse is their tribe's name. During first contact, Europeans saw them living along the Tennessee River and other bodies of water. For this reason, they called them "the people who lived by the creek," which over time morphed into "the Creeks." She said this is not only incorrect, but it also diminishes the tribe's individual culture since most Native American tribes lived near sources of water to survive.
These details are what Butler and her tribe are passionate about documenting, as they want to inspire the next generation and ensure that they have these materials at their fingertips. This will not only enable future generations to do the same, but it also reconnects them to the motherland and their cultural identity.
"Though the tribes throughout the Tennessee Valley have been mostly removed, the place names still remain," Butler said. If you have a hard time pronouncing a bluff, a river or a creek's name, it's probably because they're indigenous — she said even names like Chattanooga have indigenous language origins.
"TVA has been a huge part in reconnecting me to the motherland of my tribe and that means so much to me, because — even though we're not physically there — we're still connected to the place and its people."
Click here to learn more about the Muscogee Creek Nation.
November is Native American Heritage Month. Learn more here.
​ ​
Share this story:
​
A Time For Celebration
November is National Native American Heritage Month. At TVA, we take pride in preserving cultural resources discovered within the Valley that are linked to Southeastern tribes. November was chosen to be National Native American Heritage Month at the turn of the century to recognize the significant contributions that first Americans made to the establishment and growth of the United States. The month provides a platform for Native Americans to share their culture, music, crafts and traditions with others. It also serves as an opportunity to educate and raise public awareness about tribes and the unique challenges American Indians have faced historically and currently.