Ready, Set, Charge
Efforts to install 200 fast chargers in the Tennessee Valley aim to ease range anxiety and introduce electric vehicle drivers to scenic towns.
For a small town, Martin, Tenn., packs a big punch.
Home to the University of Tennessee at Martin, its revitalized downtown features shops, a new library, coffee houses, and several destination restaurants, including Blake's at Southern Milling Co. and The Grind Mac-and-Cheese Burger Bar. All this is set amid the lush rural beauty of the surrounding area.
It's just a nice place to be, as Martin Mayor Randy Brundige shared. And the trick to winning new Martin lovers, he said, maybe offering a compelling reason to stop in the town and take a relaxing break.
Now drivers with electric cars will be able to do just that.
The City of Martin boasts the first electric vehicle fast-charging location in Tennessee as part of Fast Charge TN through a partnership with Weakley County Municipal Electric System (WCMES), Tennessee Valley Authority (TVA), Tennessee Department of Environment and Conservation (TDEC), and Seven States Power Corporation.
As a boon to travelers, the fast-charging site is nestled in the heart of downtown Martin near the junction of Main Street and 45E Business at 109 University St.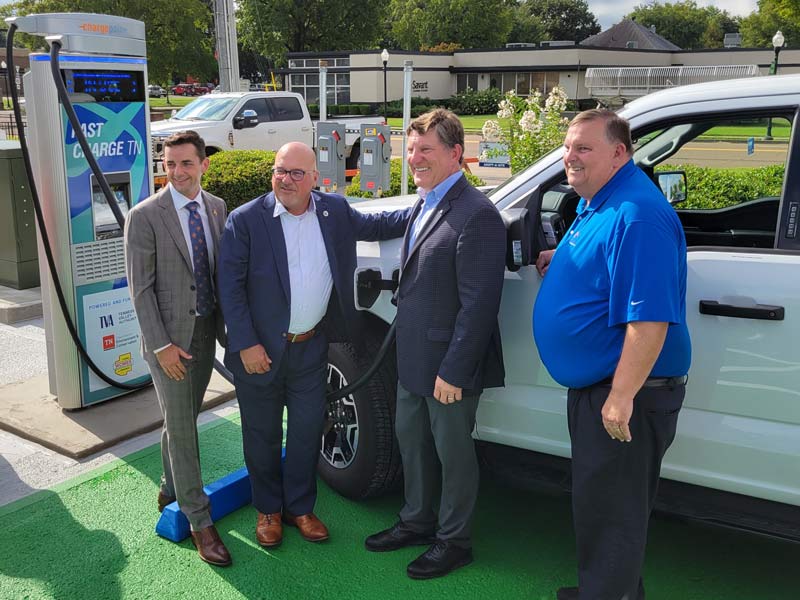 From left to right... Mayor Jake Bynum, Weakley County; TDEC Commissioner David Salyers; Jeff Lyash; Mayor Randy Brundige, City of Martin.
Fast Charging
The Martin fast-charging site and Fast Charge TN are part of TVA's broader Fast Charge Network, which aims to install chargers every 50 miles along major traffic corridors throughout the seven-state Tennessee Valley region.
This first Fast Charge TN installation, like 49 more to come across the state, proved to be a true collaboration: 80% paid for by TVA or TDEC, installed using Seven States Power's know-how, and at a location selected by the local power company.
WCMES officials chose the charging station location with driver convenience, power system benefits, and economic development in mind.
"We moved quickly to participate in Fast Charge TN," WCMES general manager Andrea Harrington said. "We wanted to make it easy to choose electric vehicles so our community can enjoy the economic development and environmental benefits electric transportation can offer."
Roving for Range
The Fast Charge Network takes aim at the primary reason folks are hesitant to drive an electric vehicle – they fear they'll run out of electricity on longer trips.
"Starting in 2019, we began studying barriers to owning EVs, and range anxiety was the No. 1 concern," said Drew Frye, TVA manager of Commercial Energy Solutions. "So, we started working with local dignitaries, state agencies such as TDEC, and local power companies to see how we could make a difference. And installing electric chargers emerged as the single most influential approach."
More chargers will certainly help ease the transition to electric, which is why the energy industry cooperative Seven States Power got involved.
"We had already installed more than 100 chargers throughout the region and it just made sense to share that experience and partner with local power companies to bring fast chargers to more locations throughout the Valley," said Betsey Kirk McCall, president, and CEO of Seven States Power.
"We are bringing expertise and bulk pricing benefits along with holistic project management," she added. "The local power companies are our member-owners we operate as an extension of their staff. We plug in to deploy new technologies that will move the Valley forward."
Another main factor in range anxiety is the time that used to be required to recharge. Instead of taking four to six hours as it did with past charger iterations, the fast-charge stations will get cars back on the road after just 20 to 30 minutes.
And that's a big win, McCall noted.
Clean Transportation
If range anxiety is addressed, partners in this endeavor believe more people will consider getting behind the wheel of an electric vehicle.
And that's a responsible choice for our environment, noted Ray Knotts, senior manager of Energy Services and Programs at TVA.
"We know that gas-powered transportation is the No. 1 source of pollution in the Valley—not industries or utilities," Knotts said. "Buying an EV is a true win-win-win, as drivers, local power companies, and communities all benefit."
In addition to helping the nation reduce its carbon emissions, EVs also boost the Valley's economy.
"The Tennessee Valley is becoming a mecca for EV and battery manufacturing," Knotts said. "We are the preferred location for Volkswagen in Chattanooga, GM in Spring Hill, Nissan in Smyrna … and Ford, which announced a major plant just 60 miles from Martin—they'll be making electric trucks there. And that's not to mention all the suppliers who are moving here to be close to these original equipment manufacturers."
Knotts also likes to share with others that EVs are fun to drive, save money, lower gas bills, and need less maintenance. While he understands this might not be all consumers' first choice now, EVs could be considered down the line.
"We're just preparing people for a future buying decision," he said. "We want them thinking about the advantages of electric cars when they are ready to purchase their next vehicle."
​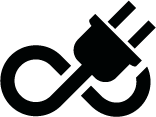 Explore
Why EVs?
Learn more about TVA's interest in EVs—and watch a compelling video—on our Electric Vehicles page.
Your EV Online Source Book
Need help deciding whether to buy an EV—and which one? Looking for a nearby charger? EnergyRight Solutions has answers to these questions and many others.
Sustainable Transportation
Read about how EVs are part of a long-term plan to decarbonize our nation in TVA's Sustainability Report.
​
Share this story:
​