Renewables All the Rage? We've Been Doing It Since 1933
Everyone is talking about renewables being the future of energy. TVA is the original green power since 1933 – using 29 power-generating dams and the pumped storage plant near Chattanooga, Tenn., to supply clean, low-cost reliable power to 10 million people across seven southeastern states.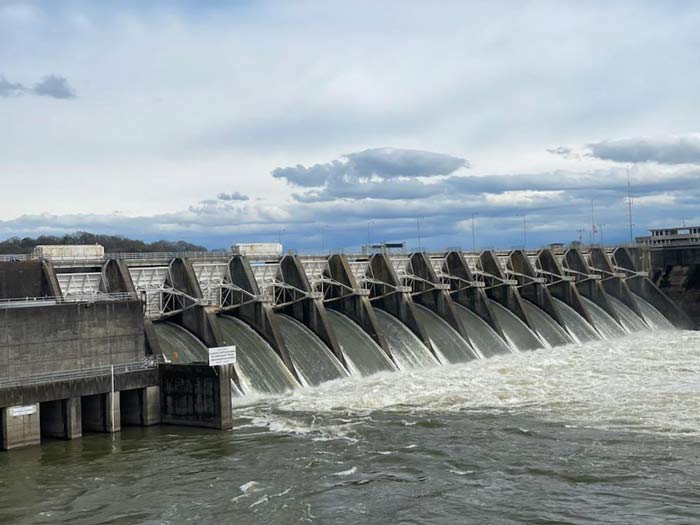 "We provide 5,394 megawatts with our 113 units across the Valley," said Stacey Parrott, general manager, Hydro Operations.
Hydroelectric power is the most clean, reliable, efficient and economical of all renewable energy sources. And thanks to Mother Nature and the Tennessee River system, we have plenty of water in our region.
It's also a crucial part of TVA's long-term plan for a cleaner, more flexible energy portfolio in the future.
Investing in the original green power
For almost 90 years, TVA has been operating and maintaining dams across our seven-state region. In the past five years, TVA has invested $500 million to upgrade these important assets with extensive efforts to replace major components, like the massive, ship-propeller-like turbines that make the clean power we use every day.
TVA plans to invest more than $1 billion by 2030 to ensure our original green-power-producing dams continue to operate for decades to come.
"The life-span between major maintenance cycles of a unit is 20 to 40 years depending on the unit type. TVA's current average unit lifespan between major maintenance is 57 years. With more than 100 units to juggle maintenance and outage work, this is why we are investing in refurbishing these units on a more sustainable cadence so they can continue to run for decades to come," said Parrott.
In the past five years, we've upgraded 10 units across the hydro fleet with plans to upgrade 25 more units in the next five years using the increased funding to ensure our fleet is operating at top performance.
"In the past, we've looked at upgrading the major components – the turbines and generators – that have the most lead time for repair/refurbishment to maximize megawatt output for those units," said Parrott. "Now we're looking at more of a life extension approach, where not only the major components but the minor or balance of plant supporting equipment is updated at the same time to increase flexibility and asset longevity."
A hydro unit can come online within five to ten minutes – which is exactly the kind of fast flexibility we need to react to fluctuating power demand every day. Keeping the plants well-maintained preserves this fast reaction time and keeps them running for the long-term.
Bonus Community Benefit
The hydroelectric dams and their reservoirs provide additional benefits to our region, including flood control, river navigation and popular recreational opportunities—all while minimizing effects on our environment. Learn more about how hydroelectric power works.
Last year, TVA averted more than $1 billion in flood damages after receiving a record amount of rainfall – 70.36 inches making 2020 the wettest year in history.
"Every year, TVA's reservoir management saves the region about $300 million on average," said David Bowling, vice president, gas & hydro, Power Operations. "Since the completion of TVA's oldest dam, Norris in 1936, TVA has averted $9 billion in flood damages."
In addition to protecting Valley residents from flooding, TVA enhances recreational opportunities, like boating and fishing, by raising lake levels in the spring and ensuring reservoir levels reach storage targets by June – for the ultimate summer on the lake. In contrast, TVA prepares reservoirs for flood storage in the winter in preparation for spring rains – for the reliable flood protection to protect our homes and businesses. All these changes occur while protecting the environment.
"The pumped storage plant at Raccoon Mountain is a prime example of the recreation opportunities and minimal environmental impact of hydroelectric power," said Parrott. "It produces 1,650 megawatts of power and yet the water and surrounding woods are tranquil enough to be designated a state wildlife observation area that's home to whitetail deer, woodchucks, gray foxes, bald eagles and raccoons."
What's Next in Hydro?
TVA has more than 100 dams across the Valley and with some reaching their 100 year anniversary soon, TVA is committed to keeping them structurally sound and safe for the Valley we serve. In addition, TVA is investigating innovative opportunities with hydro generation, such as pump-back technology, similar to Hiwassee Hydro plant, to maximize power output.
"At the time it was built, Hiwassee was the most powerful pumped storage unit in the world," said Parrott. "The pump-turbine can pump water from the river downstream and back up to the reservoir, which helps TVA's power system load balancing."
In addition, we are looking at placing small unit capabilities at existing dam sites to increase megawatt capability. For example, using a smaller generator in a current sluice-only area. TVA is also looking into restarting mothballed units, such as restoring three units at Wilbur dam, to increase megawatt output.
"Expanding its renewable portfolio is a goal for TVA, and maximizing the original and most economical of renewable resources by upgrading our hydro generating fleet is a critical step to getting there," said Bowling.
​ ​
Share this story:
​