Residents Lower Their Utility Bills Despite Summer Heat
JULY 14, 2019 — Memphians from Whitehaven to Cordova are beating the summer heat while saving money on their utility bills, thanks to Tennessee Valley Authority's free Home Energy Workshops. These one-hour discovery sessions offered at Memphis Public Library locations citywide this summer as a part of the library system's Explore Memphis Summer Reading Program. Back by popular demand, more workshops are coming soon, extending into the fall and including more communities throughout The Bluff City.
"The workshop was wonderful! I learned so much," said Kathy Scales, following one of the recent sessions. "I didn't know that some devices and appliances left plugged in – like cell phone chargers – still use electricity, even if you're not there. Some other things I learned were about caulking and window air stripping; I plan to do some when I get home."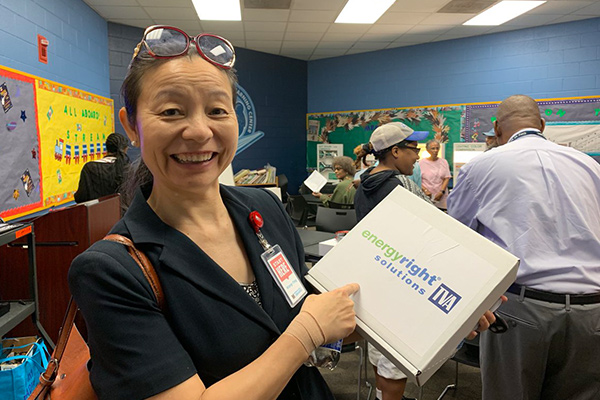 To jumpstart their DIY efforts, workshop attendees like Scales received more than no-cost and low-cost tips for weatherizing their homes. Each person went home with a free home energy kit to get started.
One of TVA' largest customers, MLGW, attended a recent energy workshop for kids to support, along with eager parents like Michelle Howard.
"Today was very interactive, which is always good for kids," Howard commented. "I'm hoping that my daughter will take seriously the information she learned, since it came from experts. I know a lot of people who would benefit from this."
To find out when TVA is hosting a Home Energy Workshop in your neighborhood, check for updates at tva.com/memphis, or call 901-577-2616.
​ ​
Share this story:
​