September 3, 2020 -- The TVA Retirees Association (TVARA), Memphis Chapter, made a donation today in the amount of $10,000 to the Mid-South Food Bank.
Mid-South Food Bank President & CEO, Cathy Pope, and TVARA Memphis Chapter President, David Teuton, along with TVA Executive Vice President and Chief External Relations Officer, Jeannette Mills, as well as TVA Memphis Customer Delivery Executive Director, Mark Creech, gathered at the food bank's Memphis offices for the formal donation ceremony.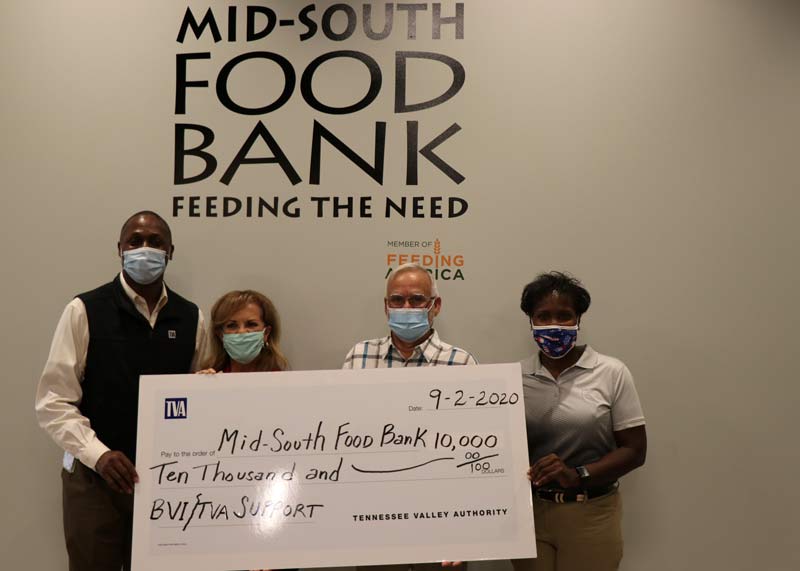 "Given the current pandemic crisis we're all struggling to contend with, this donation couldn't have come at a better time," said Pope. "The contribution by the Memphis Chapter of the TVARA illustrates their appreciation for the challenges we face in helping Memphians and folks in the surrounding 30 counties we serve put food on the table on a regular basis."
Today's donation builds off the $100,000 contribution TVA made last November to the Mid-South Food Bank to create six Healthy School Pantries in local schools. Last fall's donation also included the purchase of a minivan necessary for food bank personnel to deliver the food for distribution to the school pantries and emergency supplies.
The TVARA is the official organization of all TVA retirees. It was organized to serve the varied interests of TVA and its retirees and their beneficiaries, and to help keep them informed of TVA developments affecting their interests.
"While the TVRA certainly exists to keep retirees like me informed about organizational happenings, our focus on volunteerism and philanthropic efforts is core to our mission," said Teuton. "We work through BVI (Bicentennial Volunteers Inc.), a non-profit dedicated to helping all TVA retirees find ways to become active within their communities. In fact, today's donation is a result of TVRA and BVI coming together to identify a non-profit doing amazing work in our region, and we couldn't be prouder to assist."
TVA Executive Vice President and Chief External Relations Officer, Jeannette Mills, agreed with Teuton's sentiments and noted that many people may not realize TVA provides much more than power.
"From the beginning, TVA has delivered low-cost, reliable energy. As important as energy is, we also understood the vital roles economic development and environmental stewardship played in making lives better," added Mills. "As a result of this mission of service, our culture places a huge emphasis on volunteerism and giving back. We have an unwavering commitment to making people's lives better and our communities stronger."