MARCH 13, 2020 — TVA Dam Safety yesterday (Thursday, March 12) used sonar to assist TVA Transmission, Equipment Support Services and Diving Services teams and the U.S. Army Corps of Engineers locate and retrieve a downed transmission tower in the Cumberland River.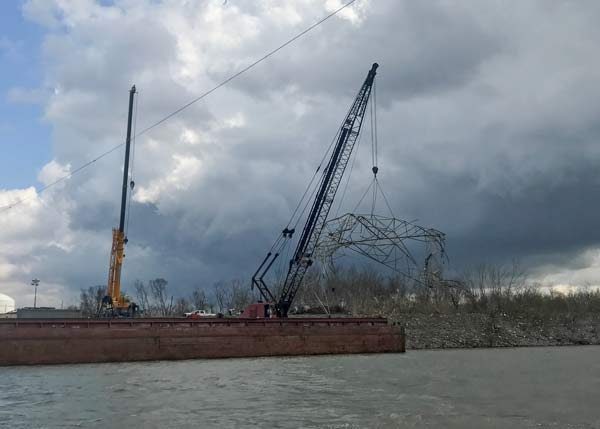 The tower was felled by tornadoes in Middle Tennessee last week which caused damages for 50 miles across Davidson, Putnam, Smith and Wilson counties. TVA worked with local power companies on restoration that included damage to 38 high-voltage electrical transmission towers, 17 lines down, and the tower submerged in the Cumberland River
The sonar technology allows TVA engineers and inspectors to assess the condition of dams, view underwater contour features, conduct detailed inspections and — in this case — locate a downed transmission tower.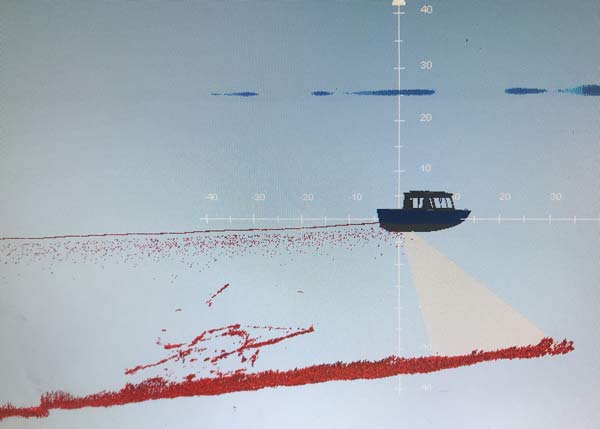 The image immediately above shows the tower beneath about 22 feet of water, while the photo at top shows a crane hoisting the tower from the water. The sonar system helped determine the location of the sunken tower so it could be removed and the river, which had been closed to navigation, be reopened for traffic.
"Our Transmission crews are doing a tremendous job to help restore power to the region after these devastating tornadoes," said Eric Edwards, TVA Dam Safety Inspections. "We are thankful to be able to support them in any way we can with this recovery and restoration effort."
In the past, dam safety inspections, repairs or underwater retrieval operations entailed climbing, crawling and diving under sometimes hazardous conditions. Sonar provides state-of-the-art technology to take 2D and 3D images of dams or underwater structures from a boat-mounted device to identify location, potential maintenance issues and other data in real time. The system has the capability to rotate 360 degrees and tilt plus or minus 45 degrees to provide a wide range of perspectives.
With safety of employees and the public as its top priority, TVA's Dam Safety team and independent structural experts work to ensure that TVA's 49 river dams—including many earthen structures—conform to federal design, operation, maintenance and repair guidelines