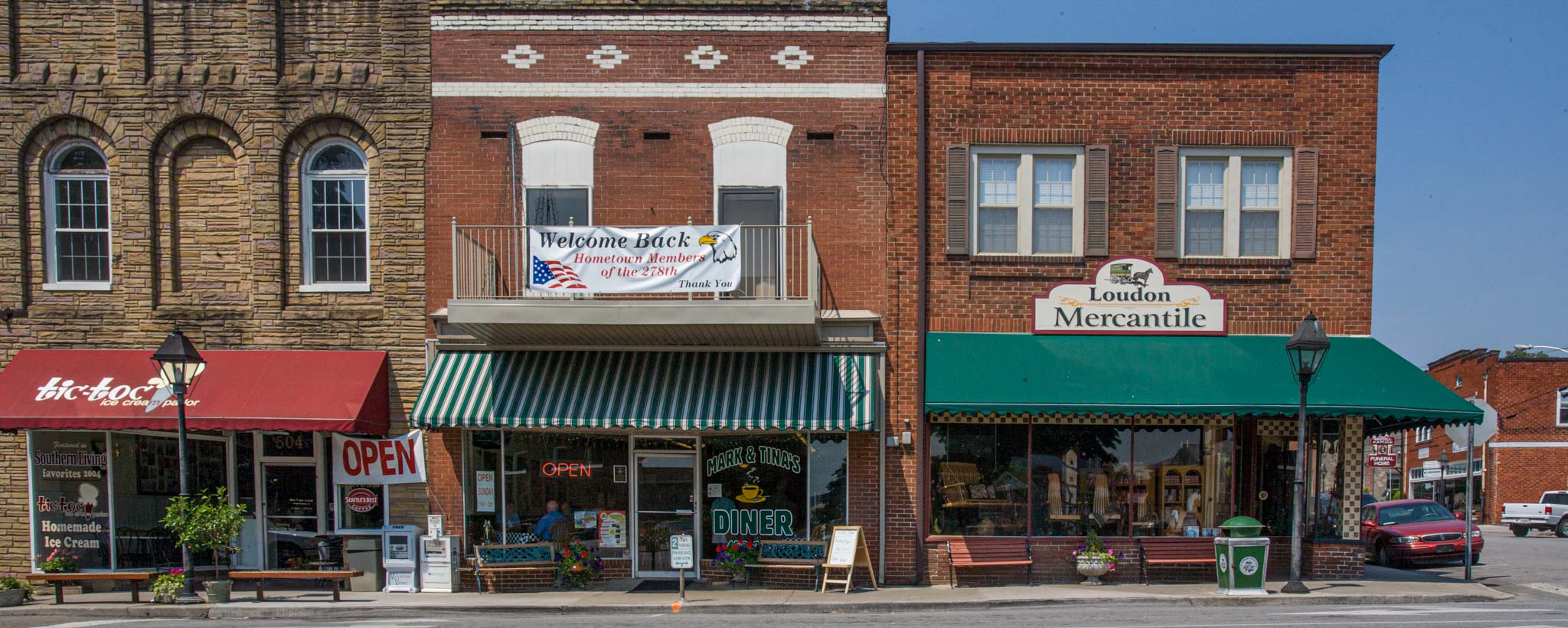 Tour the River Towns
Imagine a trail network that captures the natural beauty and unique history of the Tennessee River. A trail that puts you on the water, on a bike, hiking through the shoreline woods and stopping in riverfront communities for a meal at the places the locals frequent.
Welcome to the 652-mile Tennessee RiverLine (TRL). From a day trip to a multi-week adventure, the Tennessee RiverLine is an ambitious new campaign with the goal of drawing people to the beauty of the Tennessee Valley region and its river towns while expanding the many types of activities that can be enjoyed there.
"The traditional hiking, biking, and fishing are wonderful, and so many people enjoy the Valley through these activities," said Clay Guerry, TVA recreation strategy specialist. "But what if you have a wife who's a big mountain biker, a husband who's a big kayaker, and kids who love to do a little bit of everything? People are looking for an array of activities to satisfy their individual recreation interests while also enjoying the outdoors together as a group."
The Tennessee RiverLine is a vision for a continuous multimodal system of trail experiences from Knoxville to Paducah, Kentucky. Led by the University of Tennessee, with a $1.2 million dollar partnership from TVA, the project will deliver an outdoor journey for tourists that showcases the best places to paddleboard, kayak, fish, hike, bike, sightsee, and more, taking them from one hot spot to the next.
Through the Tennessee RiverTowns Program, TRL's website highlights these unique communities where people can read about each RiverTown and watch virtual experiences that spotlight the town's offerings before they pick a physical destination. According to Guerry, this gives each RiverTown an opportunity to showcase all they have to offer, including unique, off-the-map aspects of their community, such as a one-of-a-kind BBQ joint or museum.
Eco-tourism and Environmental Conservation
According to Tiffany Foster, senior program manager of Sustainability in the Environment and Energy Policy group and founding TRL project manager, the success of an eco-tourism project like this relies heavily on a healthy, clean environment, which means a dedicated focus on preserving the Valley's natural resources.
"Chattanooga has a strong riverfront presence with the River Walk and park, and RiverLine's goal is to amplify this and get people supercharged about the possibilities of riverfronts across the region," Foster says. "On the flip side, the project also supports sustainable tourism options that allow people to enjoy the environment but leave it in good shape for future generations. Because if we don't take care of the rivers and public lands, who's going to come back?"
Guerry agreed, noting that activities beyond the town's main attractions will be an important part of encouraging such preservation efforts.
"When someone visits a place, they spend a fair amount of time on a chosen activity, but the whole idea of eco-tourism is to attract and retain leisure travelers. Travelers may come for the trails, but they're going to stay for the good food, culture, and activities. That begins to benefit the communities economically, which in turn helps them to afford things like trail cleanups and restoration efforts."
To help the smaller towns along the TRL accomplish this, UT will hold an annual summit that allows them to meet and collaborate with TVA and the larger towns to share and tweak their strategies for success.
Regional Partnerships
According to Guerry, bringing river communities and partners like UT and TVA together on recreation projects like this is crucial for improving life in the Valley.
"The Tennessee River connects us by water, and the Tennessee RiverLine connects us by purpose," he says. "We all have the same goal — to make the Tennessee Valley a great place to live, work and play. We're better when we're all working together." Foster agrees.
"TVA has had a long-standing history of helping Valley communities and driving the expansion of recreation opportunities and tourism," she says. "And we do this with a regional mindset — we want the smaller communities to be just as successful as the larger ones. As long as we're TVA, I believe that we'll continue investing in communities and being strong community partners because it's just who we are."
"I was truly moved by the award," says Foster, who is no stranger to starting such projects from ground zero. She was also a founding member of the Tennessee River Valley Geotourism MapGuide project (ExploreTRV.org), done in collaboration with the National Geographic Society.
With Foster's recent transition from TVA Natural Resources to the Environment group, the TRL project manager torch will now be carried by Guerry. To date, the website has been designed and officially released to the public for access. The next steps include working on a comprehensive map and fielding the next year's applications for the RiverTown program.
"Our goal to lead the way in ecotourism has not changed," he says. "And our plan is to continue expanding our reach to more communities throughout TVA's seven-state region."
For more information about the Tennessee RiverLine project, visit tnriverline.org.
​ ​
Share this story:
​