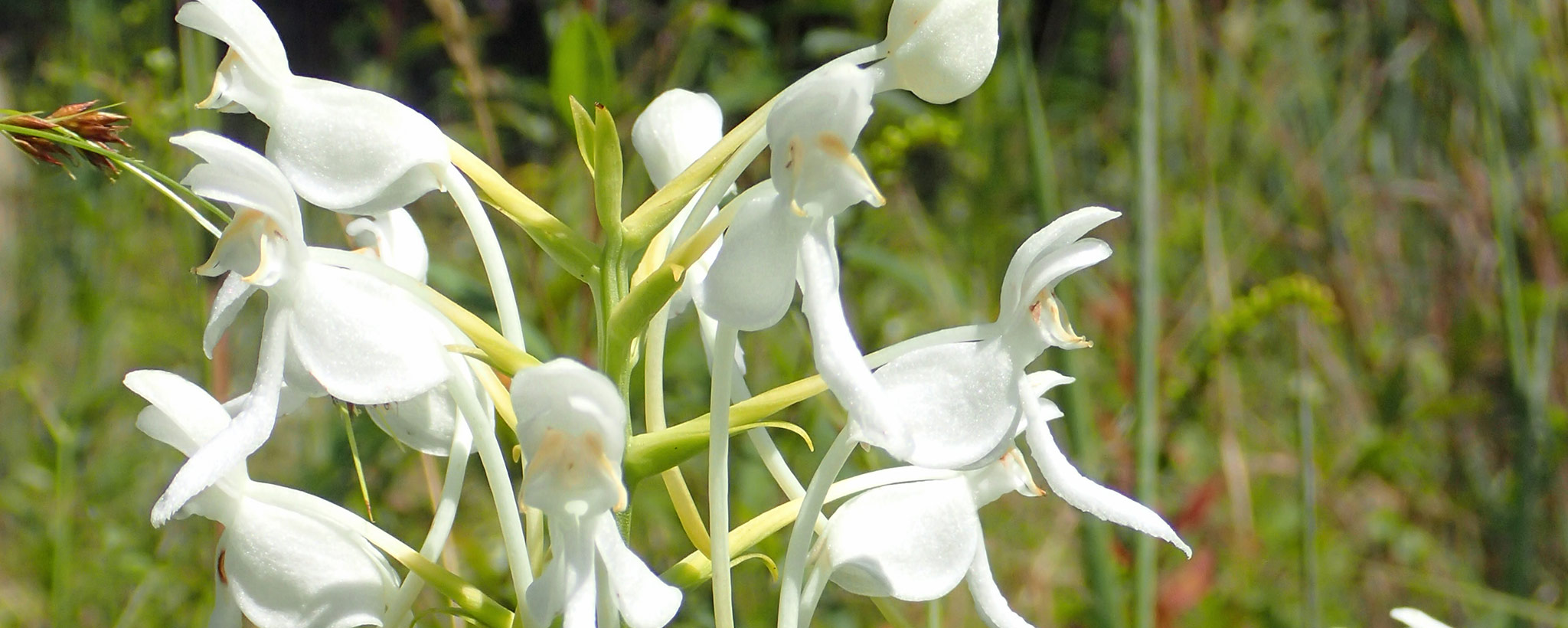 Saving Rare Beauties
The Tennessee Valley's sheer biodiversity means it includes endangered and threatened species. TVA helps care for such species in many ways. Here's an example: a rare, lovely orchid.
APRIL 9, 2019 — TVA botanist Adam Dattilo carefully read the environmental report, expecting it to be like any other. It came from a team of TVA contractors whose routine transmission right-of-way assessments it is his job to oversee. But something in this particular report immediately jumped out at him.
"I remember reviewing the report and talking to the team leader who was in the field," said Dattilo. "It was fascinating what he found."
What the crew had found in the fall of 2015 was about 30 dried flower stalks. To the untrained eye they looked like ordinary dying flowers. Think two-week-old Valentine's bouquet. But for Dattilo, the stalks were both puzzling and intriguing.
"It really didn't surprise me to find odd plant stalks because TVA's right-of-ways create habitat for a variety of species," Datillo said. "What's surprising is that we've had this power line in place since 1948 and never seen this type of plant before."
Back to the Field
That fall, Dattilo and the crew studied these strange stalks, which had been found outside Spencer, Tennessee, about 100 miles southwest of Nashville. They compared the species to other known nearby plant populations. "This gave us a reasonable level of certainty that the species we found was uncommon indeed," Dattilo said.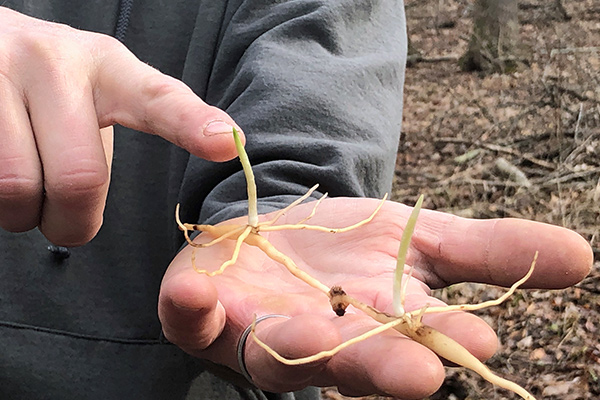 What they'd found was the rare, white fringeless orchid — a.k.a. the monkey-face orchid. White fringeless orchids are primarily found in very small patches of less than 100 plants, mostly in undisturbed wetlands across six Southeastern states, with the Cumberland Plateau in Tennessee being their last stronghold. The species is listed as threatened under the Endangered Species Act.
Dattilo's assumptions were confirmed in August, 2016, when he and a team of experts — university academics and state and federal wildlife personnel —finally saw the plants in full flower on the TVA land. That's when they knew for sure what they had found.
The clock was ticking, however; TVA's plans called for this power line to be removed and the land returned to forest. A new home would need to be found for the orchids
Call the Orchid Expert
It was time to call in an expert — one who knows everything there is about the subject.
There are only a few people on the planet who are rare orchid experts, but Dattilo happened to know one: Matt Richards, manager of conservation horticulture at the Atlanta Botanical Garden and a leading expert in the field.
The team dug up the Spencer plants to move them to the Botanical Garden for safeguarding. The 30 flowering stalks turned out to have more than a hundred plant roots underground. With this abundance of plants on hand, Richards had the opportunity to study different methods of growing the species in the lab.
According to Richards, orchids are extremely difficult to grow from seed because they require fertilization from a separate fungus. Only about one in a million seeds actually fertilize, and it would take years to grow enough orchids to transplant them that way.
To help speed up the growing process, Richards divided the root shoots of the harvested plants. By 2019, Richards' lab collection grew to about 400 plants.
While Richards was growing orchids, Dattilo needed to find a suitable location in Tennessee to replant them and someone to study them long-term.
Who You Gonna Call?
Dattilo received valuable help from Dr. Jennifer Boyd, associate professor of biology and environmental science at University of Tennessee Chattanooga and her protégé Savanna Wooten, graduate research assistant.
"Who's not up for a good rescue mission, especially when it comes to rare orchids?" said Boyd.
Dattilo then assembled a team from the Botanical Gardens, U.S. Fish & Wildlife, the Tennessee Wildlife Recourses Agency and the Tennessee Department of Environmental Conservation.
Out of thousands of square miles on the Cumberland Plateau, three sites were identified for transplantation. Dattilo, along with state and federal biologists, scouted each site to select the best home for Richards' orchids. The team agreed on a secret spot, about the size of a basketball court, within the Bridgestone-Firestone Centennial Wilderness.
Cages of PVC pipe and chicken wire were assembled for some plants to keep deer away. Other cages have small openings to see if other small animals, such as rabbits, affect the plants. The rest of the plants have been left open to grow naturally and fend for themselves.
Boyd said it's uncommon for a rare species to flourish in both high-light and low-light conditions. "We see orchids growing in both extreme high light conditions like under a sunny TVA power line and in the deep, shady forests," said Boyd. "We really don't know what ideal conditions these prefer, so we need to figure it out."
Teamwork is Key
In March, 2019, Dattilo and the team planted 480 orchids in their new home. The team will monitor the site and collect data throughout the coming months.
Dattilo doesn't think of the team as superheroes, but when it comes to conservation, they really are just that. Without an array of players bringing their specialized skills to the table, the reintroduction of these rare orchids would not have been possible.
"I think what we will learn from a research standpoint will be of enormous value," Dattilo said. "I just can't express enough how important it is to have so many conservation groups in the state working together on this project."
The team eagerly hopes to see the orchids bloom this coming August.
Boyd and Wooten hope the ongoing collaboration and the orchid's new home will give them plenty of data to study for years to come in order to save this beautiful rare flower.
​ ​
Share this story:
​