More than 80 TVA employees came to the aid of Duke Energy in the wake of Hurricane Florence, helping to restore power to 1.8 million Carolina residents hardest hit by the storm.
SEPTEMBER 25, 2018—More than 80 TVA Transmission & Power Supply, TVA Police & Emergency Management and Aviation Services employees who rushed to help restore electric service in North Carolina have returned to the Valley. They and utility workers from around the country traveled to restore power safely and effectively to residents in storm-ravaged areas of the Carolinas after Hurricane Florence made landfall near Wilmington.
According to a Duke Energy statement, more than 20,000 utility employees from across the U.S. were in place to restore power after the storm. "This is our largest mobilization of resources to date in the Carolinas in response to a severe-weather event," said the statement.
Florence came ashore along the North Carolina coast as a Category 1 hurricane, leaving 1.8 million Duke Energy customers without power. Duke Energy is one of the largest electric power holding companies in the U.S., providing electricity to 7.6 million retail customers in six states.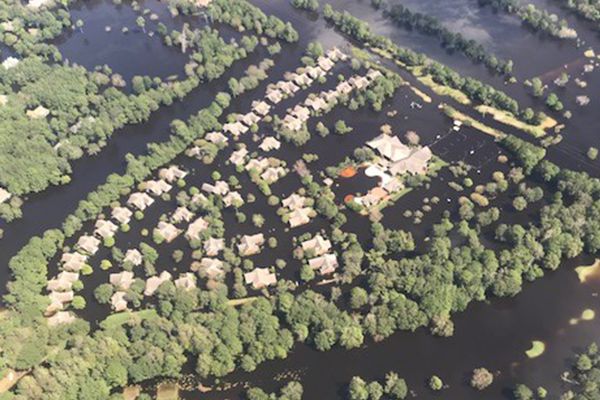 A Mission of Service
Members of TVA's Transmission & Power Supply organization, and two safety professionals, worked alongside the thousands of other restoration workers to repair or replace damaged transmission lines in hard-hit coastal and inland counties.
"Flooding, road closures and structural damage made power restoration unusually challenging," said Bret Renfroe, general manager, Transmission Lines. "In some instances, we used Duke's special equipment to gain access to swampy areas."
Officers from TVA Police & Emergency Management provided security for each of the four Transmission crews that traveled to the Carolinas. And, with local resources stretched thin, TVA Police officers were available to help with traffic and other law enforcement duties, if needed.
"Everybody from TVA worked together with the local agencies as a team to provide hurricane support in Wilmington and other areas," said TVA Police & Emergency Management Inspector Tim Dilbeck. "This storm was a severe event. We were fortunate that we were able to provide some help, and they were thankful to receive it."
Pilots and crew from Aviation Services provided much-needed aerial restoration support for areas where extensive flooding hampered ground restoration and recovery efforts.
"We were part of a large team of aviators who were flying power line inspections and surveys, as well as transported food, equipment and recovery personnel to areas with flood-restricted access," said Aviation Services Director David Hill. "We have a mission of service, so were happy to help Duke Energy restore power to the residents of North Carolina."
Preparing the Valley
James Everett, River Forecast Center senior manager, said TVA took action in advance to prepare for the storm by creating storage capacity in reservoirs to avert potential flooding.
"We moved a lot of water ahead of the storm in case it came in heavier than expected. Fortunately, it didn't," Everett said. "'We were progressively more aggressive with releases throughout the week as some forecasts expected about 15 inches of rainfall pushing into the eastern edge of the Valley. Once we had a clearer picture on actual rainfall, we began making reductions in flow accordingly."
Though the most-dire forecasts never materialized in the TVA region, proactive measures would have helped avert potential flooding in TVA's service area if Hurricane Florence had produced the heavy rainfall that was initially expected.
Everett also said another important TVA consideration was producing low cost hydropower to meet high peak demand during hotter than normal weather last week.
"Despite releasing large amounts of water ahead of Florence, pool levels were and are still well positioned to help meet peak energy demands during current hot weather," he said. "In fact on Thursday Sept. 20, we had every available hydro unit online and generating power."
Lake levels are normally higher during the summer season and lowered to winter pool levels in the fall, usually beginning after Labor Day. In total, TVA has helped avert more than $7 billion in flood damages across the Tennessee Valley.