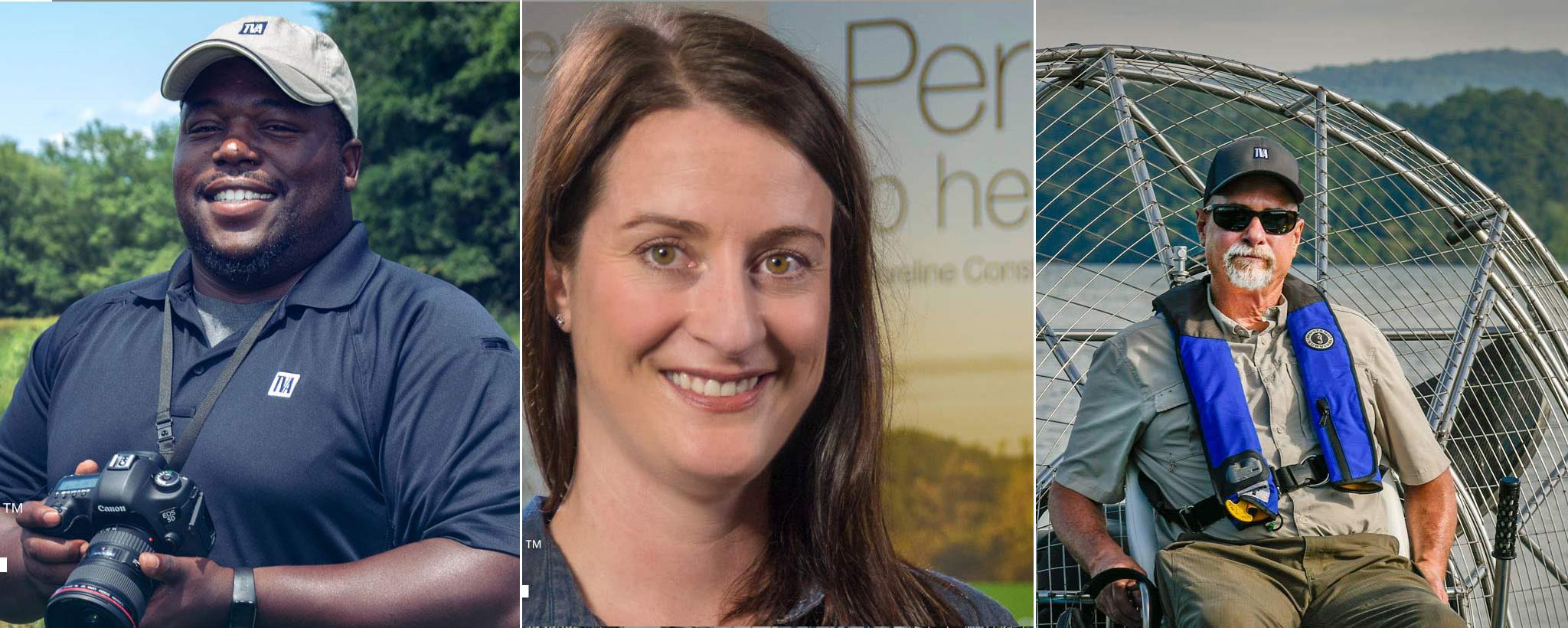 Serving the Valley - Your Child's Profession Awaits
Spending time outside is fun, but it can be educational, too. Read about three TVA employees who turned their passion for the outdoors into rewarding careers stewarding the Valley's natural resources.
OCTOBER 6, 2020—Families having fun outdoors is par for the course in the Tennessee Valley. Casting a line, trekking through the forest or having a picnic on the riverbank are activities that have been enjoyed on TVA public lands and waters for generations.
Treasured family time can also serve as learning time. The outdoors is a place where children can develop a passion for nature. Discussing the many possible professions associated with environmental stewardship helps them understand that caring for the environment could be their livelihood someday.
TVA's Natural Resources team works to protect, preserve and improve the Tennessee River System and its 293,000 acres of public lands that reach across seven states. The team focuses on ten areas, including Land and Habitat Stewardship, Recreation and Nuisance and Invasive Species Management.

Taking Care of the Land
Most Land Stewardship projects appeal to those who thrive outside, like Watershed Representative Kelvin Young, who helps manage public, undeveloped land around Guntersville Lake. In just a few days' time, he may work a prescribed burn, take part in a land assessment or drainage rehabilitation work.
That last task may not be familiar to many individuals. For drainage rehab, Young connects with a variety of partners to remove fallen trees and debris that are impeding drainage from TVA lands and affecting adjacent property owners, local farmers and public land managers.
Those who enjoy being in nature and like the idea of a wide variety of responsibilities should know about careers that focus on tending the forest or helping ensure that individuals are not encroaching on TVA public lands.
Young's bachelor's degree in Forest Science, a master's in Plant and Soil Science, as well as his work with the U.S. Forest Service have prepared him well for his position. "Everyone has their niche for a job and career," he says.

Creating Recreation

If there's one thing team members will tell you, it is that professional opportunities abound in Natural Resources. That's what Heather Hamilton Sellers found out.

With degrees in Environmental and Natural Resources, and Marketing, she began her career as a watershed representative working with shoreline property owners on small construction projects. This led to a job as a Land Use Specialist, which included larger projects, like barge terminals and bridge replacements.

These days, the outdoor enthusiast is in her element as a Recreation Agreement Specialist. "My job is helping marinas, campgrounds and municipalities located on TVA-managed property," she says.

Whether meeting with a campground owner about permission to add a playground or discussing a universally-accessible fishing pier with county officials, she believes that "each opportunity helps protect the public lands in TVA's care. That's TVA's mission."

Managing Nuisance and Invasive Species
Nuisance and invasive species can negatively affect outdoor activities, but more importantly, they threaten the valley's natural resources.
No one knows this better than Natural Resources Manager David Brewster, who's in charge of TVA's Western Region. A big part of his job is managing aggressive aquatic weeds, like water milfoil, and land plants, such as kudzu. He even deals with cormorants, invasive, aquatic birds that have taken up residency in large numbers on some TVA reservoirs and islands.
Working on nuisance and invasive species management is fascinating to Brewster. With a double major in geology and marine biology, he has great regard for the balance of nature and the education it takes to help care for the environment.
"People understand that TVA generates power, but maybe not that we manage all this land and shoreline," says Brewster. "If your family loves the outdoors, talk to them about career options. Maybe your child would like to help protect and enhance natural resources for future generations."
​ ​
Share this story:
​