Shannon O'Quinn Named Water Conservationist of the Year
Many of us enjoy skimming along the lakes and waterways of the Tennessee Valley, but TVA Senior Water Resource Specialist Shannon O'Quinn is also fascinated by what's under the surface. That fascination is part of the reason why the Tennessee Wildlife Federation recently honored O'Quinn with the Water Conservationist of the Year Award, recognizing his dedication to water resource management.
A 24-year employee of TVA, O'Quinn's focus is to improve and protect water quality and aquatic biodiversity in the Tennessee River watershed, which covers seven states. He accomplishes this by partnering with community groups and natural resource agencies to assess watershed conditions, develop improvement plans, leverage funding and implement water quality improvement projects.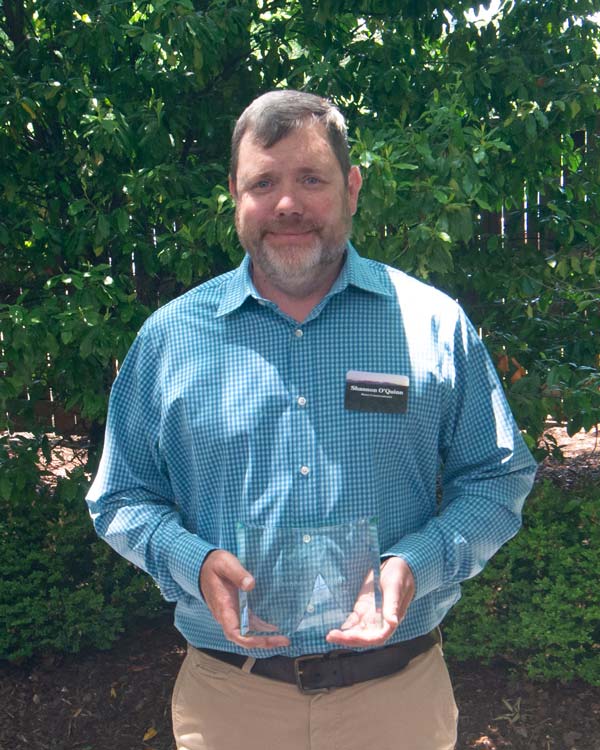 "Shannon's strength is pulling people together and holding space for discussions that come up with plans, many of them long-term, that require buy-in from all sides to address complex issues," said Rebecca Hayden, Director, Natural Resources. "The professionalism and creativity he brings is valuable to TVA and those we serve in the Tennessee Valley."
Throughout his career at TVA, O'Quinn has cultivated relationships with national and regional agencies and organizations to leverage funding and focus water quality improvement efforts within the Tennessee River watershed. In recent years Shannon worked with a team of professionals to develop TVA's Natural Resource Plan (NRP), a document looking 20 years ahead in natural resource management.
Over the past eight years, O'Quinn has managed over $10,000,000 in TVA NRP funding and worked with hundreds of partners to implement aquatic habitat improvement, such as the Tennessee Department of Agriculture and the Tennessee Riparian Incentive Program. His reach extends far beyond the Tennessee Valley, and his partnerships have created a strong, unified presence to support and protect natural resources and sustainable growth.
"Shannon has been in the water quality business for a long time," said Bucky Edmondson, TVA management representative, Natural Resources. "For most of those 24 years, I have worked with him personally. The thing I like about Shannon is his ability to partner with others, sharing the accomplishments. The issue of water quality and biodiversity is greater than one person, agency, or partnership. It takes many to accomplish these goals, and Shannon is focused on involving the many."
​ ​
Share this story:
​