OCTOBER 22, 2018—Over the next seven months, employees from Generation, Construction, Projects & Services will host a group of Chattanooga Girls Leadership Academy (CGLA) students with monthly mentoring opportunities. Each session will be a chance for TVA employees to share their skills and time with the students. The main objective is simple: expose the students to the multitude of opportunities at TVA.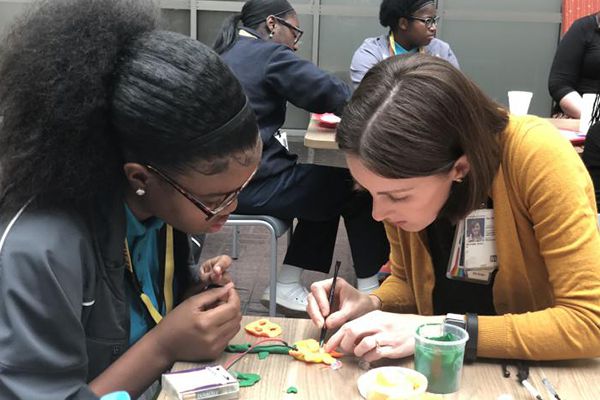 This is the fourth year CGLA and TVA have aligned for this exposure partnership. This year, the group consists of fourteen CGLA juniors who chose to dedicate time to learning more about TVA. "There is great value in bringing the students to TVA to see the different opportunities that exist for any college major they choose," says Nicci Brewer, manager of Facilities Projects. "We want to show them the possibilities and how to achieve them."
The focus of the October event was exposure to the various fields of engineering, including civil, electrical, mechanical, computer, environmental and nuclear. Students participated in hands-on demonstrations that included building bridges, deciphering binary code, simulations of erosion protection, conversions of mechanical energy into electricity and building electrical circuits using conductive Playdoh.
Lawanda Hayes, senior project manager in GCP&S notes, "We use hands-on demonstrations to illustrate real-world applications in hopes that it will spark the students' interest in careers they may not have previously considered."
Next month, the CGLA students will work with members of our Human Resources team to strengthen their soft skills and conduct mock job interviews.