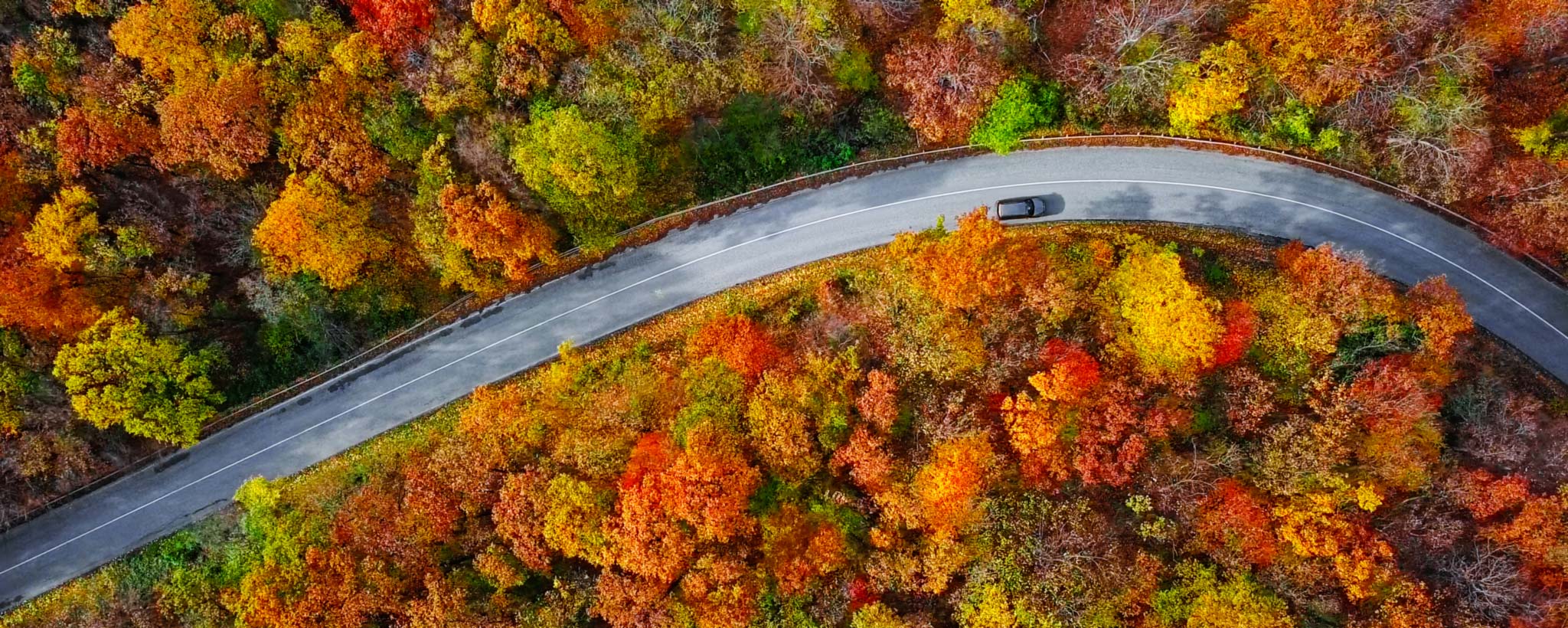 Social Distancing Meets Autumn Travel
Ready for some social distance? Use the Tennessee River Valley MapGuide to plan your next adventure.
Splashing through the water and playing in the woods are part of Tennessee Valley life in summer, but by September we long for cooler weather and its seasonal companion, dazzling color.
Taking road trips in search of vibrant leaves is a rite of autumn. As COVID-19 continues, the Tennessee River Valley MapGuide has become a valuable tool. It helps locate the best places to spend time in the great outdoors, where social distancing is natural and the colorful hillsides beg you to linger.
This trip winds through the southern portion of the valley and up the western side covering six states. Choose a small section to explore or complete the entire trip. Pack your fishing gear, camera, binoculars, hiking boots and a warm jacket. After all, it's fall!
Robbinsville, North Carolina, on the Cherohala Skyway is the perfect place to kick off your trip. This National Scenic Byway crosses two, stunning national forests and climbs 5400 feet above sea level before arriving in Tellico Plains in Southeast TN, 43 miles away. Filled with scenic overlooks and picnic areas, you'll want to take your time. Hop off for short hikes to cascading waterfalls.
Southwest of Tellico Plains in northwest Georgia is Cloudland Canyon State Park, where the name says it all. You don't have to leave your car to enjoy the splendor of Lookout Mountain, but the hiking is exceptional here with colorful trails, bluffs and rock formations. Relax by the waterfalls and perhaps catch a glimpse of a fox, deer or other wildlife.

Driving west, you'll cross the scenic Tennessee River and soon find yourself at the Huntsville Botanical Garden, a colorful destination any time of year. Social distance outdoors on the nature trail or in the numerous, specialized gardens before continuing to the hills of Northwest Alabama for something completely different.

The Coon Dog Cemetery in Freedom Hills, Alabama, is home to the graves of more than 300 beloved coon hounds. Old oaks tower above the cemetery where the epitaphs are often as colorful as the autumn leaves. Make a charcoal rubbing of your favorite tombstones and breathe in the crisp, fall air before striking out for Tishomingo, Mississippi.

Nature is on display at Tishomingo State Park where this gorgeous, tree-filled setting is punctuated by massive rock formations. The park offers everything from picnicking to hiking, disc golf, rock climbing, kayaking, fishing and even a swinging bridge across Bear Creek. The Natchez Trace Parkway bisects this park, offering even more leisurely travel options.

Due north is charming Savannah, Tennessee, where the town's rambling cemetery gives visitors time with nature, as well as the graves of several storied locals. Take a self-guided tour of the town then drive to nearby Shiloh National Military Park.

About an hour north, Mousetail Landing State Park sits on the east bank of the Tennessee River on 1247 heavily-wooded acres. Its campgrounds, creek, two gorgeous trails and backcountry shelters allow visitors time to relish in the glory of fall. Don't forget to ask the rangers how the park got its name.

A little further north, visitors to Land Between the Lakes visitors enjoy numerous scenic drives on 170,000 acres of public land nestled between the Tennessee and Cumberland Rivers, traversing Tennessee and Kentucky. The trails, water sports, fishing, picnicking, camping and stargazing offer social distancing at its best. Other enticing outdoor attractions include the 1850s Homeplace – A Working Farm and the Elk and Bison Prairie drive through loop. Take our travel trip - arrive early at the prairie for best viewing and a chance to hear the elk bugle!

That's just a smattering of the autumn adventures awaiting travelers in the valley. All trips can be easily adjusted based on available time and interests. Scroll down to the bottom of the Explore TRV pages to locate nearby lodging, eateries and other activities.

Note to travelers: Please call ahead, visit websites and social media pages to confirm COVID-19 updates and protocols.
​ ​
Share this story:
​