How a new solar development in Mississippi is infusing a small college town with affordable, reliable and renewable power—and all the benefits that come with it.
Starkville, Miss. is a small town that's home to Mississippi State University and its 24,000 students. They keep Starkville humming with new ideas. From an energy standpoint, Starkville's youthful vibe has helped create an environmentally progressive community. And they are clamoring alongside residential, commercial and industrial customers for more renewable energy—in particular, solar energy.
"Investing in renewable energy is the responsible thing to do for future generations," says Les Potts, Associate Vice President for Administration at Mississippi State University. "Mississippi State has committed to carbon neutrality by 2042 and we need access to affordable renewable energy to achieve that goal."
Starkville Utilities General Manager Terry Kemp is committed to understanding and meeting the needs of his customers. "We have many customers like Mississippi State who want renewable energy as part of their carbon reduction efforts. So, we have been looking for ways to incorporate solar into our long-term supply mix."
What to do about it? Turns out TVA's Green Invest program was a perfect solution to help Starkville Utilities invest in the renewable energy needed to support the sustainability goals of customers of the City of Starkville like Mississippi State. Last year, Starkville Utilities committed to 30 megawatts of solar from a proposed 200-megawatt facility that will be constructed in the nearby Golden Triangle Industrial Park. In addition to Starkville Utilities, the solar facility will serve several Green Invest customers including General Motors and Knoxville Utilities Board.
According to Kemp, Starkville's Green Invest commitment will reduce the city's local carbon footprint by about 15%. "In addition to the almost 60% carbon free energy mix provided by TVA, this investment takes us considerably further down the road," he says.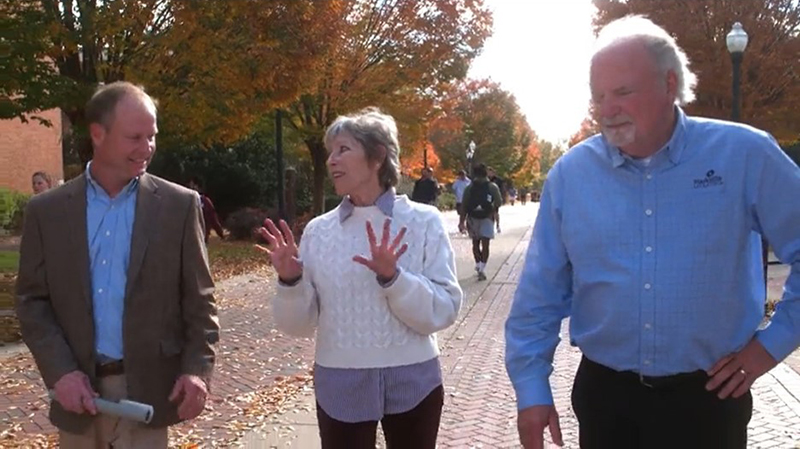 The Green Invest program made the benefits of utility-scale solar, including lowest-cost pricing, available to Starkville," says Kemp. "The program allows multiple utilities to partner together in a facility that is large enough to bring maximum value to the region. We are one of three customers that TVA has aggregated for the 200-megawatt Golden Triangle Solar project. Without this program, we would not have been able to make this kind of solar commitment to benefit our community."
TVA's Green Invest program helps match customer demand for renewable energy with new-to-the-world, commercial-scale solar projects located right here in the Valley. The result? Making affordable solar options more accessible to local power companies, business and organizational customers—and making the region attractive to businesses with sustainability goals that bring more jobs and investments to our communities. Regional Green Invest customers include Metro Government of Nashville, Vanderbilt University, Jack Daniel's and General Motors. Green Invest also helped attract Meta/ Facebook and Google to locate operations in the region.
"It's a concept whose time has come", says Mike Tagert, president and CEO of the Greater Starkville Development Partnership.
According to Tagert: "It's a way that we can show, as a community, that we value sustainability. And it's very affordable. To me, what's really important is small mom and pop businesses would not otherwise have the resources in order to invest in renewable energy. So, the partnership with Starkville Utilities and TVA through the Green Invest program enables us, as a community, to make that investment."
At TVA, we strive to provide reliable, low-cost and increasingly clean power in the seven-state area we serve. Green Invest is a proven solution that enables local power companies to use renewable energy to help their communities thrive.
Starkville Mayor Lynn Spruill is excited about the possibilities that Starkville Utilities has made available to the City through Green Invest.
"We have been considering sustainability options for many years," Spruill says. "Municipalities were doing some recycling, but we hadn't gotten into the different types of energy. With Green Invest, renewable energy is now an option for us. It's really exciting to see municipalities embracing sustainability and being able to use it as an economic development tool for our communities."
She sees the coming two or three years as a time for growth for Starkville that access to renewable energy will only enhance. "We want to grow in a way that's positive for the entire community. We don't want to expand beyond what we're able to handle. And quality of life is a huge piece of that. As we improve our quality of life, then we're going to find that people want to live here, and people want to have jobs here, and people want to have industries here. So that's the ultimate goal—I think it all wraps into the economic development opportunities that we have."
It also takes teamwork. "This is a small partnership, but a strong one," says TVA Customer Relation Manager Josh Wooten. "TVA's mission is to make life better in the Valley. And I think that mission is shared among the partners in this project."