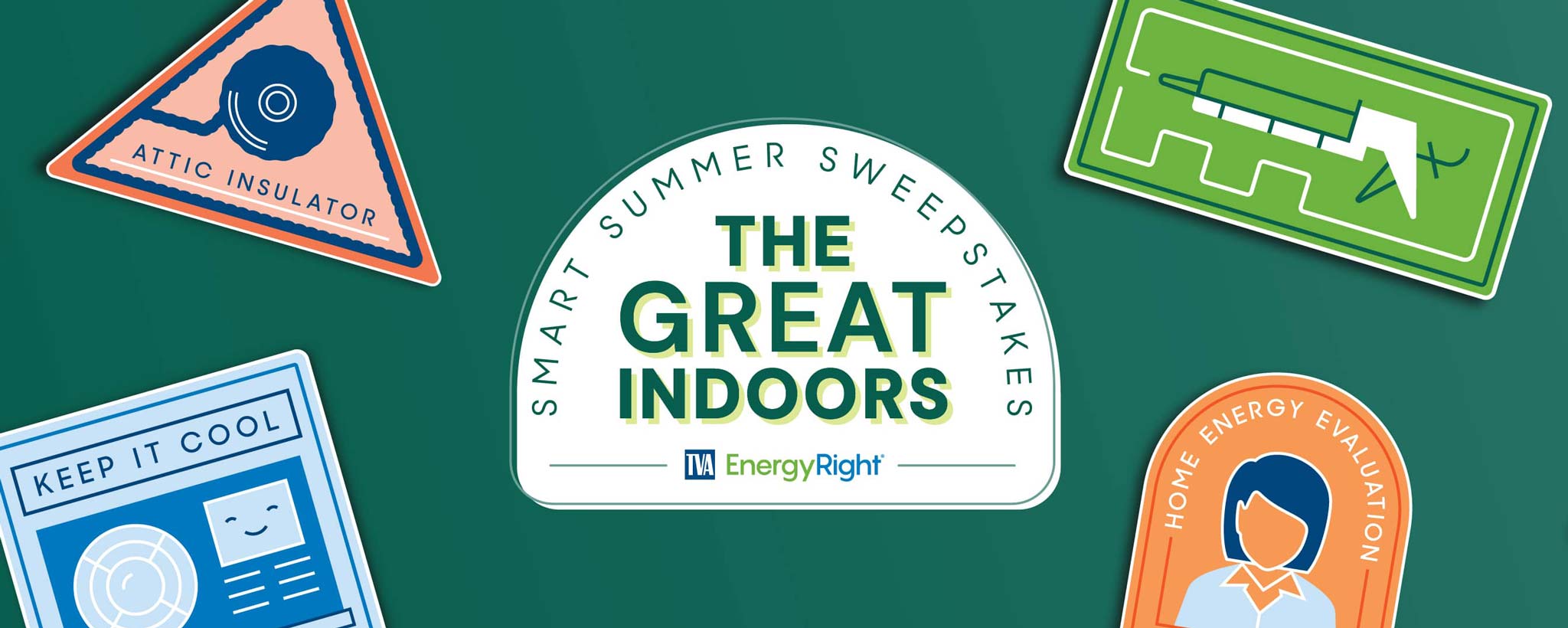 Stay Cool and Win Big: TVA's Great Indoors Summer Sweepstakes Is On
Temperatures are rising across the region, air conditioners are working overtime, and increased energy use and the resulting cost is on every homeowner's mind. Start saving energy today to lower your monthly bill with free or low-cost energy savings tips and resources from TVA EnergyRight®.
Saving Energy Has Never Been So Rewarding
This summer, TVA EnergyRight®️ and your local power company are making saving energy at home engaging and rewarding—with The Great Indoors Smart Summer Sweepstakes. As you set out on an adventure to explore your home's energy use with all the tips, tools and resources available at EnergyRight.com, you can rack up entries to win some pretty awesome weekly prizes along the way—plus, a $4,000 home appliance package grand prize for one lucky winner. The sweepstakes will run through August 8, 2021.
To enter, simply visit The Great Indoors Smart Summer Sweepstakes* and submit your email to get started. Then choose your energy efficiency adventure and complete for a chance to win weekly or grand prizes. Enter once, twice or many times through 8/8/21.
Ready to Start Lowering Your Energy Use Right Away?
There are plenty of simple, everyday ways to save energy at home. Here are some great ways to get started:
Filter it out. Make sure your air conditioner filter is clean—a dirty filter means the air won't get as cool and the unit uses more power than necessary.
Shut the doors! Keep cool air inside by minimizing the amount of times you open and shut your main doors leading outside. The same goes for your refrigerator door.
Put your fans to use. Use ceiling and floor fans to keep air moving in your home. They use a lot less power than setting your air conditioner lower. But remember to turn them off when the room is empty.
Unplug to power down. Unplug any unused or unnecessary electronic devices—even when they're turned off, they still use energy when plugged in. A power strip can make this even easier.
Lighten up. Make the switch to more energy-efficient LED light bulbs. They use 75 percent less energy and put off less heat.
Set your thermostat straight. Setting your thermostat between 75-78 degrees during the day can make a significant difference in your power bill. One Study showed that each degree you set your thermostat above 75⁰F could reduce energy usage by 10 to 15 percent.
Make your own shade. Keep curtains closed during the day on the south, west, and east sides of the house to block out sunlight.
Get smart in the kitchen. Plan meals that require less range or oven heat. Try using the microwave—or even the grill outside—more often.
Cool down. Lower the temperature of your water heater to 120⁰F. After all, most people don't want to take long, hot showers in summertime.
*NO PURCHASE NECESSARY. A PURCHASE WILL NOT INCREASE YOUR CHANCES OF WINNING. Open to legal residents of AL, GA, KY, MS, NC, TN, and VA in qualifying zip codes, 18 years of age and older. Void where prohibited. Sweepstakes begins 6/14/21 and ends 8/8/21. For Official Rules, prize descriptions and odds disclosure, click here. Sponsor: Tennessee Valley Authority. 400 West Summit Hill Drive. Knoxville, TN 37902.

​ ​
Share this story:
​