TVA President and CEO Jeff Lyash explains why nuclear energy will become increasingly important to decarbonization, low rates, and high reliability.
MARCH 25, 2021 — TVA, as one of the nation's largest and most innovative utilities, is a leader in the nuclear industry. While our portfolio includes hydroelectric, natural gas, coal, wind, and solar generation as well as significant energy storage resources, our nuclear fleet generates about 40 percent of the electricity used to power more than 4.5 million homes and businesses in the Tennessee Valley.
Jeff Lyash testified in front of the Senate Energy and Natural Resources Committee today emphasizing how nuclear energy is essential to our efforts to maintain reliability and low rates for our customers and to help decarbonize the economy.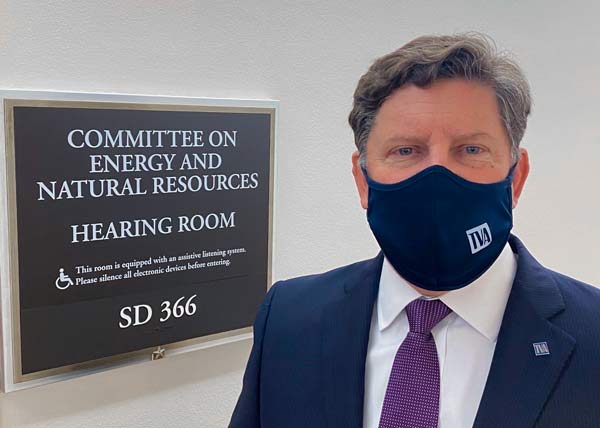 Here's what Jeff had to say about TVA's nuclear energy leadership:
As TVA leverages the strength of public power, continues to improve our operations, and further reduces carbon emissions, we know that efforts to achieve net zero carbon levels will require the preservation and extension of our existing nuclear fleet and the development of new technologies. This includes the development of energy storage options at a price significantly lower than the current market; carbon capture and sequestration; and advanced nuclear technologies such as small modular reactors.
Nuclear energy will be critical to speed the process of decarbonization without overtly sacrificing reliability or costs, and TVA is an industry leader in expanding nuclear generation. In 2016, TVA brought online the first new nuclear generation of the 21st Century, achieving commercial operation of the second unit at our Watts Bar Nuclear Plant – gaining an additional 1,150 megawatts of carbon-free energy for our system.
Today, our nearly 8,000-megawatt nuclear fleet is the backbone of our clean generation portfolio. We are investing in our existing fleet to continue to improve safety, increase power output, and extend unit operating life. As we operate our nuclear fleet safely and efficiently, we are also investing in maintaining and upgrading our plants to support extending plant life by decades.
While preserving and extending our current nuclear assets is critical, it is not sufficient, in my view. As a leader in nuclear energy, TVA is engaged today in developing new nuclear technology for tomorrow. We believe the deployment of new nuclear technology is an essential component of TVA's and the nation's decarbonization efforts. Enabling and accelerating new nuclear will take innovation and creativity, as well as old-school discipline and hard work.
TVA has long been a leader in technology innovation and deployment in the electric power industry. We are applying this heritage to the new challenge of identifying the best options for the next generation of advanced nuclear. This is not a path that we can take alone. TVA is committed to partnering and collaborating with the many players who must be involved in this effort. Small modular reactors are ready for demonstration now – with the first commercial operation possible by 2030, and multiple deployments possible throughout the 30s. This would enable advanced nuclear to make a meaningful contribution to carbon reduction within the next two decades.
We will work with others in our industry to support policies, regulations, and research that would further new nuclear development. And we will, through observation and some sweat equity, continue to monitor and support alternative technologies.
This comprehensive approach will increase the probability of TVA having a healthy array of options to meet our long-term decarbonization goals and perhaps move our nation closer to net zero emissions at a cost everyone can afford.