What once was a landfill off I-65 is now the site of Nashville's first community solar park, aptly named "Music City Solar."
AUGUST 6, 2018—Nashville Electric Service and Tennessee Valley Authority, along with community leaders and project partners, officially "plugged in" Nashville's first community solar park in a ceremony August 1. The commissioning marks the first solar project in TVA's Distributed Solar Solutions pilot program to become operational.
"Projects like this one make renewable energy accessible to more people while making the environment cleaner," says Dan Pratt, vice president of Customer Delivery for TVA.
The Music City Solar project will give NES customers access to local, green power generation in a sustainable, maintenance-free way that eliminates the hassle and costs associated with installing panels on their homes or businesses.
"We are thrilled to provide our customers with affordable access to clean energy," says Decosta Jenkins, NES president and CEO. "With the support of our project partners, city officials and TVA, Music City Solar will reshape the way renewable energy is created here in Middle Tennessee, and most importantly, create renewable energy that is accessible to all."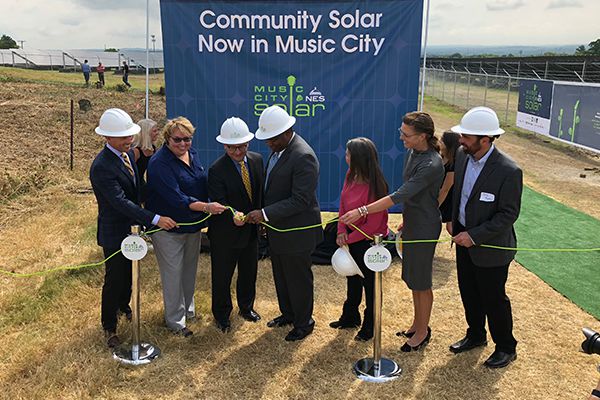 TVA Vice President of Customer Delivery Dan Pratt (left) joined Nashville Mayor David Briley and Nashville Electric Service President and CEO Decosta Jenkins (center), along with other dignitaries, August 1 to officially "plug in" Music City Solar, a community solar site in Nashville.
With the addition of the 17,020 panel two-megawatt Music City Solar, the Tennessee Valley is now home to six community solar sites that give residents a cost-effective renewable energy alternative, with four more under construction.
"Today more than 1.3 million Valley residents have the option to choose community solar," says Tammy Bramlett, TVA director of Distributed Energy Resources. "Partnering with local power companies to give consumers clean energy solutions fulfills TVA's core mission—caring for the environment and serving the people of the Tennessee Valley."
Bramlett explains that community solar removes many of the roadblocks for solar adoption—cost, shaded rooftops and home ownership. According to TVA's solar calculator, installing solar to offset 80 percent of your homes energy use could cost $17,000-$20,000 for an average home. In addition community solar provides a clean option for apartments or when trees/hills block the sun.
"We know consumers want a cleaner future and we want to give them smart energy choices," says Bramlett. "Community solar is a smart investment for people who care about the environment but cannot install solar on where they live or work."
NES designed the solar project to lift-up the whole community. NES customers have the option to purchase solar subscriptions to either help others by making a tax-deductible donation through the Solar Angel Fund at The Community Foundation of Middle Tennessee that will provide energy assistance for low-income customers to receive an energy credit on their monthly power bill.
"NES is helping our community move rapidly into the future, and we want to make sure we are delivering smart energy choices that align with the Nashville's values and business needs," says Jenkins. "Solar energy is a part of that future and when we work together, it's going to be powerful."
The addition of Music City Solar to the balanced generation portfolio of TVA falls in line with its mission of reduced carbon emissions. TVA began programs to grow solar energy early in the 2000s and, since 2008, has expanded from 29 valley solar installations to more than 3,300 in 2018. By 2020, the goal is to reduce carbon dioxide emissions by 60 percent, with 55 percent of total power generation coming from carbon-free sources.
"Nashville doesn't look the same as it did 10 years ago, and neither does TVA," says Pratt. "Partnerships like the one we have with NES become increasingly more important as we continue to make the Tennessee Valley a great place to call home."