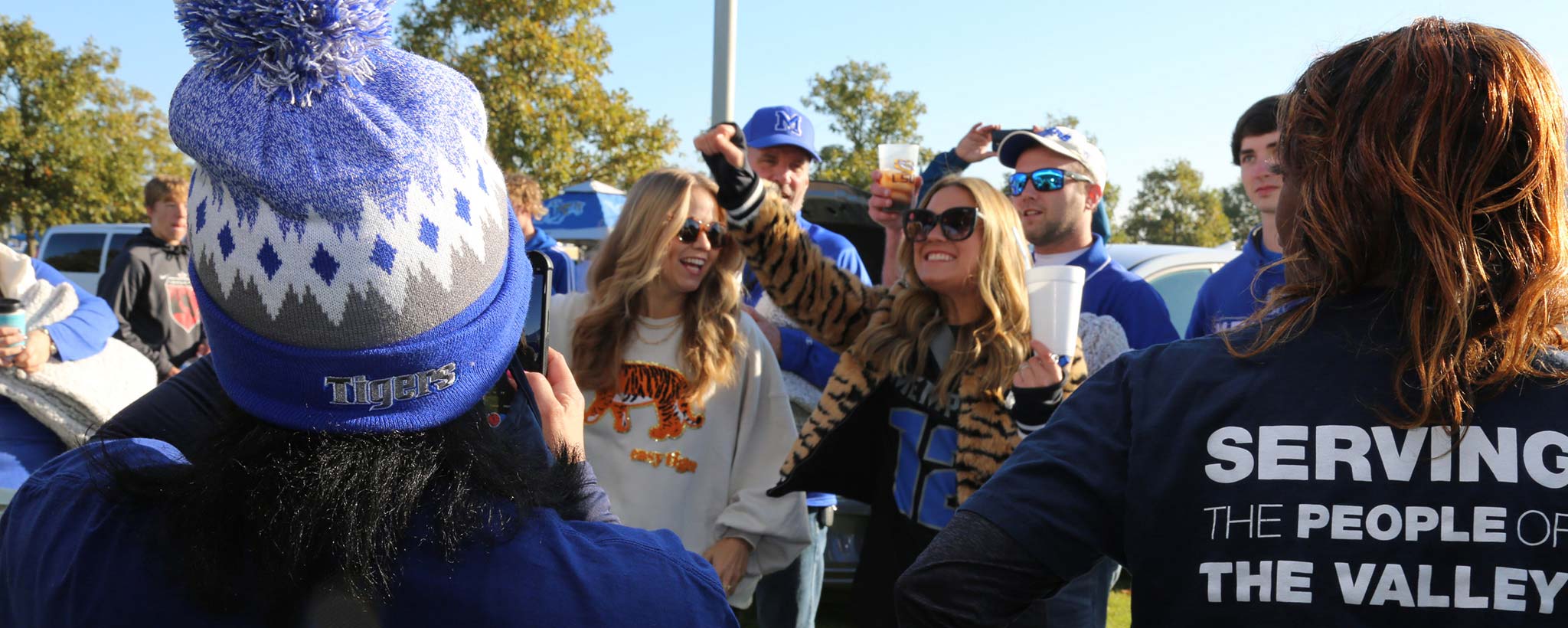 Tiger Tailgate Celebrates 87th Anniversary of TVA/MLGW Partnership
On Saturday, Nov. 6, 2021, under clear blue skies and a rainbow of fall-colored trees, TVA employees, retirees and contractors assembled on the Liberty Bowl Stadium campus just after sunrise to prepare for the University of Memphis homecoming game and to celebrate the 87th anniversary of the TVA/MLGW partnership.
"This is exciting," said Latonya Sneed, management assistant for TVA's West Region, as she pulled boxes of giveaways from the back of her vehicle. "My nephew is playing for Memphis today, and my TVA family came out to celebrate our relationship with MLGW. Today is going to be a good day!"
TVA set up two tents for the tailgate party. One was at the front of the stadium to greet fans, band and the football teams during the opening parade; it offered everything from backpacks, folding chairs, and leatherbound notebooks to blankets, stress balls and coloring books.
The larger tent in the middle of the tailgate party offered trinkets and networking opportunities where TVA leaders could talk with community members about weatherization programs, community partnerships and TVA's partnership with MLGW.
"It was a great day for a game," said Dedra Macklin, founder and CEO of WIND, CDC. "While the University of Memphis Tigers implemented a winning plan, WIND, CDC ran with an 'option play' to talk with TVA about a possible partnership. I came out today to find new ways to bring more resources to the 38109 communities for sustainability. Hopefully, the pass to TVA was well received and our community will benefit."
People interested in home weatherization and energy efficiency programs got a chance to speak with Frank Rapley, senior manager of TVA's residential EnergyRight program.
"I love talking to people about our programs," said Rapley, as he huddled with a group of fans by the front of the stadium. "We get the community excited about saving energy in their homes, and that leads to collaboration and eventually to helping community members lower their energy bills and, ultimately, their energy burdens, whether they own their homes or rent.
"In fact, we're about to celebrate our 500th Home Uplift milestone in Memphis in December. Events like this help us spread the word about our program and how our communities can join in."
TVA is the first utility in the southeast U.S. to launch virtual home energy evaluations, enabling residents across its seven-state region to benefit from money-saving energy advice, even during pandemic conditions.
TVA also successfully launched the Home Uplift program in Memphis in partnership with MLGW, the City of Memphis and CLEAResult. Home Uplift helps underserved community members weatherize their homes to save up to 30% on their power bills each year. And more important, it helps them have a better quality of life through cleaner air and more efficient energy use.
"We value our partnership with MLGW and the Memphis community," said Mark Creech with TVA's West Regional Relations, as he talked with tailgate partygoers. "We believe we're the best fit for MLGW because of our rates, our reliability and our commitment to making life better for the people we serve.
TVA has been committed to that service for over 87 years. In April 1934, Memphis officials met with TVA board director David Lilienthal about reliable, low-cost energy. Those officials returned to Memphis convinced that TVA power could make Memphis "a great city of prosperous, happy people." In a special election on Nov. 6, 1934, residents voted by a margin of 16-to-1 to join the TVA system. In fact, the popularity of the partnership was so celebrated, the city named a downtown street "November 6th" to commemorate the vote.
"Every time I walk past that street, I feel a deep sense of pride," said Angela Austin, construction manager for the Allen Restoration Plant. She has been with TVA over 25 years and raised both of her adult children here in Memphis. "This is my home, and I am proud of the work that I am doing in service to the people who depend on TVA every day."
As a part of the festivities, an electric vehicle was set up in the tailgating tent. Partygoers got a chance to look inside, crank it up and discuss the vehicle of the future with TVA employees.
"I brought both of my sons out with me today," said Gabe Franceschi, director of Government and Community Relations for the West Region. "They love the idea of electric vehicles being the dominant mode of transportation when they are adults. And I enjoyed telling them how TVA is contributing to that future."
TVA's Electric Vehicle Initiative has helped bring more than $8.2 billion to the region for EV and battery manufacturing, helping create almost 4,600 EV-related jobs even before the Ford announcement this fall. The Ford announcement includes a $5.6 billion investment at the Megasite of West Tennessee. The project will deliver almost 6,000 great jobs for people across the region, especially in Memphis.
"The relationship that we have with MLGW is reason to celebrate," said Mark Yates, TVA West Region vice president. "Together, we make a significant difference in Memphis. In the past decade, TVA brought over 47,000 jobs and $6 billion in capital investment to Memphis. We've invested over $72 million in our transmission assets in Shelby County to ensure 100% reliability, and we've stepped up like true partners when our city was hurting due to COVID, including providing $20 million in pandemic relief credits for MLGW and $200,000 in matching funds through the TVA Community Care fund for local agencies. And we showed up when neighbors needed help, like earlier this year when TVA distributed over 245,000 bottles of water during the 2021 Winter Vortex storms.
"I grew up here and I can tell you, jobs, investments, and outreach…all of these things matter. That's why this anniversary matters, because we're celebrating not only our partnership, but we're also celebrating the people we serve through that partnership.
​ ​
Share this story:
​