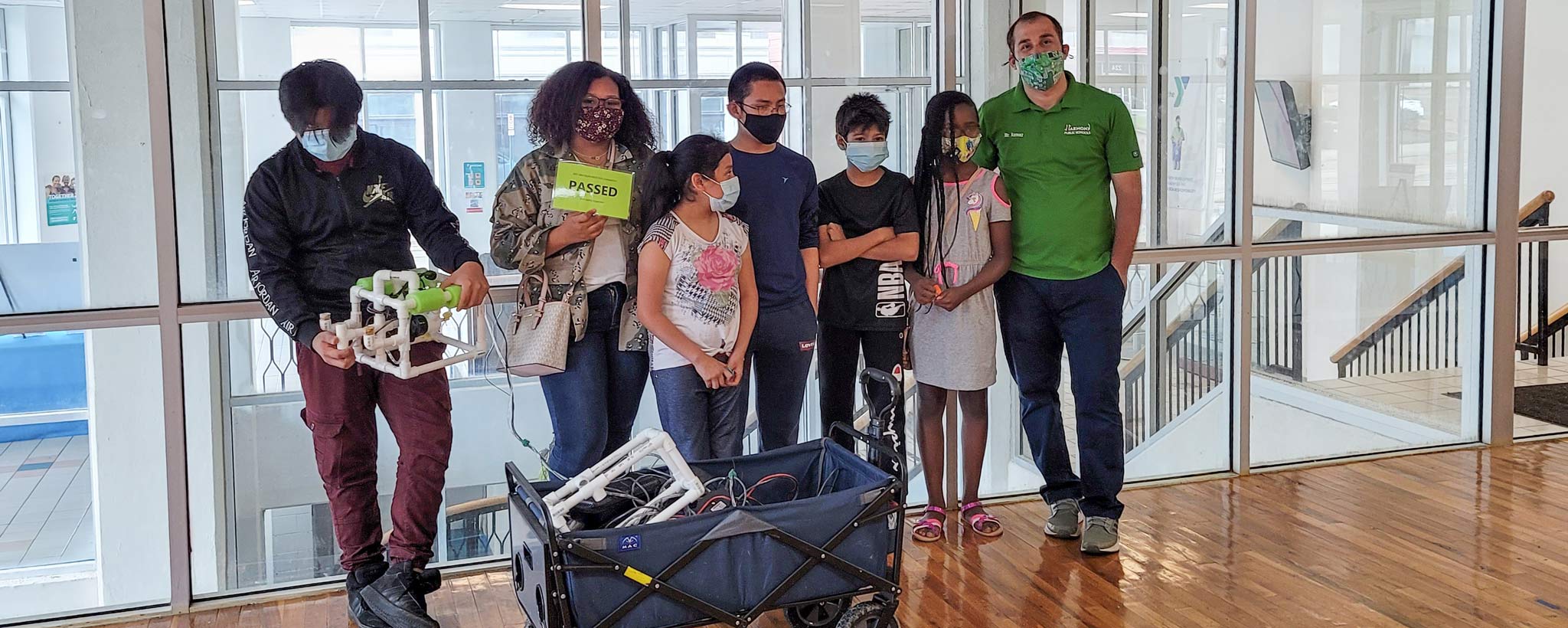 TN Valley Robotics and TVA Sponsor First MATE ROV Competition in Memphis
"STEM and Robotics are important to TVA. Today's students are tomorrow's engineers, doctors, architects, physicists, nuclear scientists, and robot designers." — Chair John Ryder
Young STEM enthusiasts around the city had an exciting weekend of healthy competition, mentorship, and teamwork during the 2021 MATE ROV competition at the Fogelman Downtown YMCA on June 11th and 12th.
The Marine Advanced Technology Education Remotely Operated Vehicle (MATE ROV) Competition is an underwater robotics challenge that engages a global community of learners each year. This year, however, it landed in Memphis thanks to a dedicated group from the University of Memphis ITE Student Chapter of the Department of Engineering, event sponsors Tennessee Valley Robotics and Tennessee Valley Authority, and students from Virginia Tech, who brought their incredible submarine for exhibition.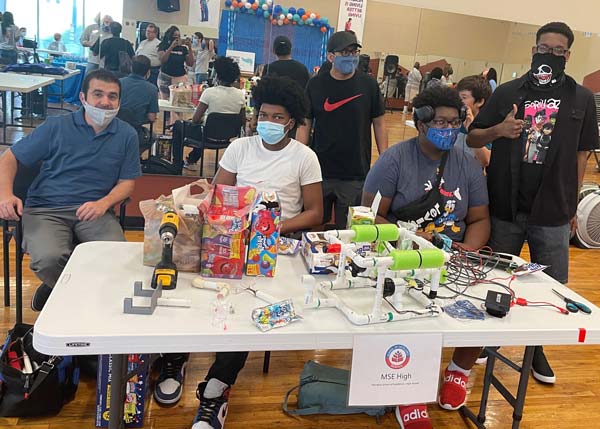 This year's underwater robotics competition focuses on removing plastic pollution, the impact of climate change on coral reefs, and the water quality and ecological health of the Delaware River and Bay. Through challenging mission tasks that reflect these real-world issues, students can creatively apply their knowledge of science, technology, engineering, and math (STEM) to create a remotely operated vehicle, aka an underwater robot.
Area students representing local schools ranging in age from Kindergarten to seniors in high school showed up to the event masked up, socially distanced, and ready to compete. They manned custom-built remote-controlled robots, which they took through a series of challenging precision maneuvers underwater in the YMCA's Olympic-sized swimming pool.
The Master of Ceremonies for the competition was Cedric Adams, Principal Project Manager for TVA's Allen Fossil Plant. In between ushering teams to the pool for competition and providing playful banter, he also reminded the students of their potential.
"I'm not just your hype man for today," said Adams to the students after taking them through a round of motivational cheers. "I'm here to tell you that you can be anything you want to be in this life. All you have to do is put your mind to it."
Over 40 students participated in seven groups, many working for over three months with their team members and coaches to prepare for the 15-minute competition and the chance to win several awards.
The regional coordination team for the MATE ROV event was led by Sharon Moore, who is also a West TN STEM hub ambassador. She and her team worked diligently with the volunteers, sponsors, and students to ensure the event's success.
"I firmly believe MATE provides a new and exciting path for students that allows them to discover the world of science and technology," said Moore, who is also a student at the University of Memphis.
According to their website, "The West TN STEM Hub serves as a resource for West Tennessee to increase students' interest in and preparedness for the STEM workforce."
Volunteers from across the TVA enterprise were rounded up by Tracy Hightower, Senior Consultant, COO, GPFS for TVA's Generation Projects & Fleet Services, and Allen Fossil Plant's Civil Engineering intern Rayven Covington, who is also a STEM HUB ambassador. TVA volunteers staffed the registration booth, served as judges, set up a table to give away trinkets, and worked in other service capacities through the event.
TVA's Dam Safety Team also provided an in-depth presentation. Students were encouraged to ask questions, watch the Dam rover in action in the YMCA pool and take turns operating the rover to understand the importance of robotics and teamwork.
TVA currently operates river dams at 49 sites, 29 of which generate hydropower. But the Dam Safety responsibility goes well beyond these traditional river dams to include coal ash storage sites, levees, and more — up to 142 structures in all. (Of these, 91 are listed on the National Inventory of Dams.)
Charley Spencer, Treasurer for Tennesee Valley Robotics, was also present for the event. The nonprofit provided training and equipment for local Shelby County teachers and University of Memphis STEM Fellows in preparation for the competition. They also underwrote the expenses of the competition.
"Established in 2017, TNVR was founded to be a nonprofit to supply robotics equipment and training for schools, 4H clubs, Boys/Girls Clubs, Boy and Girl Scouts in the seven-state TVA region that want to engage their students/participants with robotics," said Spencer. "Robotics is a great hands-on supplement to classroom curriculum in addition to after-school robotics competition clubs."
"The experience that you gain in competitions like this may help you get a job in the future," said TVA Board of Directors Chair John Ryder to students during the award portion of the event. "Studies show that by the time you finish college, there will be 2 million more STEM jobs in the workplace than they are today."
Congratulations to all the participating schools for a successful event: Brewster Elementary, Snowden Middle School, Memphis School of Excellence Middle School, Crosstown High School, East T-STEM High School, Memphis College High School, and Memphis School of Excellence High School.
MATE ROV 2021 Award Winners
Mission Award (ES/MS Bracket) - Memphis School of Excellence (H20 Eagles)
Mission Award (HS Bracket) - Memphis School of Excellence HS (MSE High)
Mission goes to the teams that score the most points during the product demonstration (solving mission tasks in the water).
Entrepreneur Award - Middle College High School (Aquabot)
Entrepreneur goes to the school that best demonstrates a business-oriented team, has strong entrepreneurial skills, and scored high in the Engineering & Communication components of the competition.
Engineering Award - Memphis School of Excellence High School (MSE High)
Team with the most unique and reliable design to get the job done. This team has engineered a solid ROV that requires little modifications to complete mission tasks on competition day and has fully embraced the engineering design process with documentation to prove it.
Judges Award - Crosstown High School (The XTH Explorers)
This award is the judges' favorite and has demonstrated that competition is about more than just winning and having a picture-perfect ROV. This team refused to give up, adapted to undesirable situations, had a great attitude, and most importantly, had fun!
Related Websites
​ ​
Share this story:
​