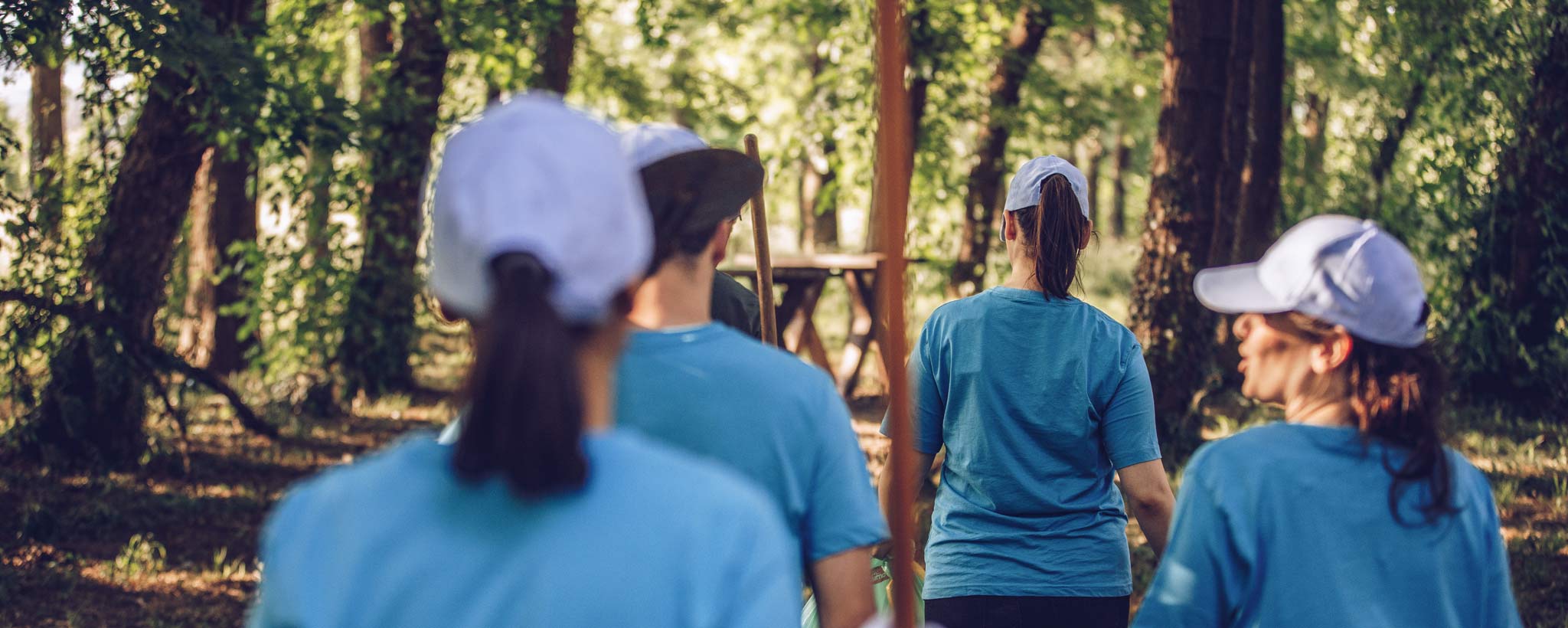 Trailing into Summer
From mighty trees to little shrubs, TVA trail maintenance never ends.
JUNE 11, 2020 -- The year 2020 will already go in the record books because of the global COVID-19 pandemic that has changed life for all of us. But TVA's Natural Resources staff and contractors know another reason: extremely heavy rainfall and frequent storms throughout the winter and spring that have resulted in a record year for hazardous tree responses and removals on the TVA public lands around our reservoirs.
"We had so many storms this year, and the ground got over-saturated," explains Chris Cooper, manager of Natural Resource Management, East Region. "The large tornadoes that hit the central part of Tennessee did a lot of tree damage, and there were straight-line winds in many other locations too."
His counterpart in the West region, David Brewster, agrees.
"We check our trails a couple of times a year, and sooner if we get a call about a fallen tree. Bicyclists often let us know about trees blocking the trails. In a normal year, we'd remove between 20 and 25 trees. Due to the storms and rain this year, though, our teams have cleared more than 100. Some were small, but some of them were so big we were able to actually cut steps into them for hikers to use."
When removing trees, TVA tries to make as little impact on the environment as possible. Usually crews will cut just the part of the fallen tree that is in the way, leaving the rest of it to become natural habitat. As it decays, it becomes home to insects, salamanders and fungi. And since it might have been bat habitat before being removed, it is examined and noted to help TVA scientists track potential bat habitat in the Valley.
"In addition to trails, there are at least 40 recreation sites that we inspect annually or respond to regularly for hazardous trees," said Cooper. "Wherever we have picnic tables, campgrounds, beaches and so on, we inspect for trees that are leaning, diseased and/or dying from insect infestation. We tag them and track them on a spreadsheet, then share that information with Facilities Maintenance so they can cut the trees down during the winter. By the time areas begin to open up in the spring, the trees have been removed, making the environment safer."
TVA and its partners work together
Trail users may never see it, but a lot goes on behind the scenes when it comes to trail maintenance. In addition to fallen trees, TVA and its partners constantly monitor for "eye pokers" and other intrusive brush and limbs that encroach on the path. Occasionally a trail must be retreaded because of water damage, but it's easier to prevent erosion than to fix it, so part of trail maintenance often involves diverting water away from where shoes, tires or horse hooves might slip on it.
But with 170+ miles of trails to maintain, TVA welcomes partnerships that provide additional eyes and ears. Bike clubs like the Southern Off-Road Bicycle Association (SORBA), regularly report on conditions, and in some cases they adopt stretches of trails and help with lower-level maintenance. Their expertise is valuable.
"Bikers know just how deep ruts can be before they make riding impossible," said Brewster. "They prefer rough terrain but not to the point where it's miserable. So they let us know so we can re-inspect that section of trail to see if it needs to be re-graded to prevent water damage. It's great cooperation between their teams and TVA."
"These partnerships are extremely valuable," Cooper confirms. "Bike clubs, local folks from cities or counties—they bring ideas to the table. It's extremely important that when we plan to build a new trail, we know we'll have help maintaining it.
"And Facilities Maintenance is a great internal partner. They help us out tremendously—we couldn't do it without them."
Trees don't care about quarantine!
Despite many public areas being closed by state and federal agencies during COVID-19 quarantine, the great majority of TVA's trails never closed.
"Only the ones attached to, or very close to, TVA facilities were closed down," explains Brewster. "That was done to help control the spread of the virus. But since most trails didn't close, neither did the maintenance. With these storms coming through, we've had an overload of work. The teams have worked hard, and we appreciate every member doing their part. These trails mean a lot to our communities, so they mean a lot to us as well."
Learn more about TVA trails (including maintenance closures).
Interested in volunteering to help a trail? Learn more here.
​ ​
Share this story:
​