TVA and Job Corps Partner to Train Next Generation of Line Workers
The Tennessee Valley Authority (TVA) is partnering with the Dr. Benjamin L. Hooks Job Corps Center in Memphis to provide Overhead Electrical Line and Underground Residential Distribution training to students and establish a pipeline of skilled workers for TVA's seven-state service area.
The Hooks Jobs Corps Center is part of the Job Corps program through the U.S. Department of Labor.
During a Feb. 23 signing ceremony and news conference with representatives from the Hooks Job Corps Center and TVA, leaders signed a Memorandum of Understanding. The electric utility agrees to lend technical expertise to develop the local curriculum for Job Corps students.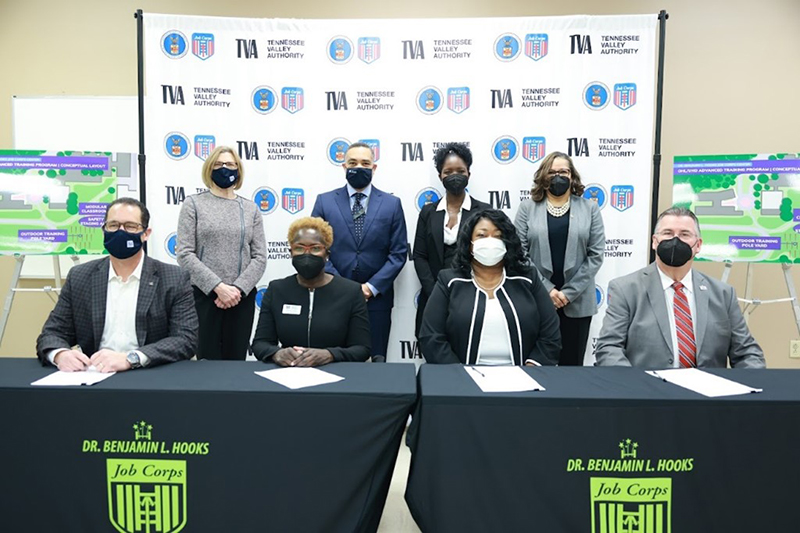 From L to R: Chief Operating Officer of TVA, Don Moul; Chief People and Communications Officer of TVA, Sue Collins; Executive Vice President and Chief External Relations Officer of TVA, Jeannette Mills; Regional Vice President of TVA, Mark Yates; Dr. Benjamin L. Hooks Center Director, Tracy Ingram; National Director of Job Corps, Rachel Torres; Atlanta Regional Director, Peni Webster-Lewis; President/CEO of Education Training Resources, Brian Fox.
"The future of the energy industry is founded upon the actions we take and investments we make today – and this partnership is a clear investment in our workforce of the future," said TVA President and CEO Jeff Lyash. "Our collaboration with the Dr. Benjamin Hooks Jobs Corp Center will offer our community professional resources, state-of-the-art training experiences, and access to educational programs to prepare a viable pipeline of well-trained talent as they enter the energy industry."
TVA will then help graduates enroll in the utility corporation's programs or the International Brotherhood of Electrical Workers (IBEW) Apprenticeship Program upon program completion.
The partnership will create a trained professionals pipeline to TVA and its subcontractors, vendors, and partners. Apprentices in overhead lineman positions typically earn more than $40,000 a year.
"The IBEW is committed to organizing electrical workers across North America and promoting on-the-job excellence, good wages and benefits, a safe workplace, and a voice on the job," Brent Hall, International Vice President of IBEW, said to attendees during the news conference. "We want students to know that upon we're here to support and welcome them into this industry."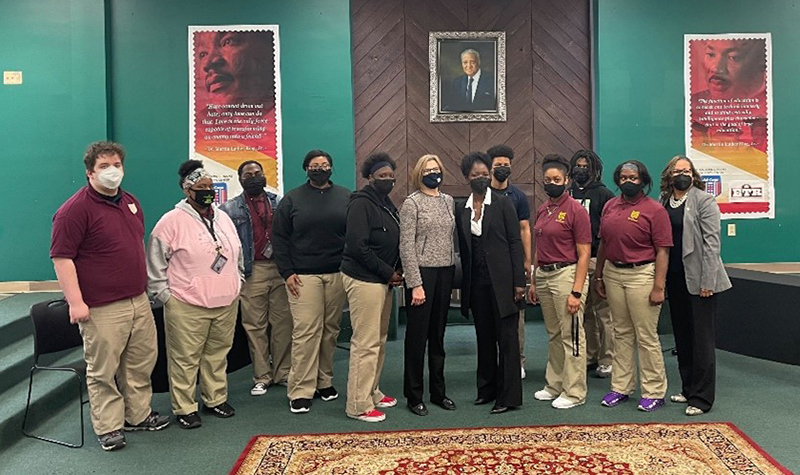 Students from the Dr. Benjamin L. Hooks Job Corps Center joined Executive Vice President and Chief People and Communications Officer of TVA, Sue Collins; National Director of Job Corps, Rachel Torres; and Atlanta Regional Director, Peni Webster-Lewis, for a roundtable discussion.
Job Corps expressed hopes that the new program will begin a broader relationship with TVA. Currently, there are 23 Job Corps centers in Tennessee, Alabama, Mississippi, Kentucky, Georgia, North Carolina, and Virginia that offer career training programs that align with job opportunities at TVA.
"Job Corps' partners benefit from our ability to modify our training programs to suit their specific needs," said Job Corps National Director Rachel Torres. "Customized training supports our partners' economic growth and creates more career opportunities for our students. It's a win-win for Job Corps and for the TVA. They need the next generation of overhead linemen. We've got them."
This partnership is just another example of the community focus of TVA's regional model, which is celebrating its first full year in existence.
"Our job is to create opportunities for synergy and growth," said Mark Yates, West Region vice president of the TVA. "This opportunity would not have been possible without the model put in place to allow TVA to listen to our unique communities and partner help to address the needs and challenges that we all face. We're proud to start this journey with the Benjamin Hooks Job Corps Center, and we're excited to help grow the futures of its graduates."
The discussion among many participants centered around the need for more workforce development initiatives in the Memphis area, like the Hooks Job Corps Center Lineworkers program, because of the city's shortage of skilled laborers in many industries.
"Workforce development is an important part of our civic responsibility," said Don Moul, Chief Operations Officer for TVA. "Through a people-first approach, partnerships like this focus on developing a skilled labor force to enhance the economic health and stability of the communities that we serve."
Founded in 1964, Job Corps is the nation's largest job training and education program. It provides students from 16 to 24 years of age with vocational training and academic experiences to increase opportunities towards gainful employment and career pathways. Mostly a residential program in urban and rural areas, Job Corps centers include dormitories and a campus environment like small colleges. Job Corps provides programs and services to students free of charge. The department's Employment and Training Administration administers the program.
​ ​
Share this story:
​