Minority contractors in Memphis can now take advantage of a new program designed to provide soft skills training and other certifications as needed to take their businesses to the next level.
Following a Tennessee Valley-wide model, the Building Futures pilot program is the result of a partnership between TVA and the Tennessee Urban League Affiliates (TULA), namely the Memphis Urban League (MUL) which hosted a recent kickoff event at their headquarters. With a room full of minority business owners, Building Futures was officially announced as a pathway for minority companies hoping to contract with TVA, especially in the areas of HVAC, home weatherization, heating and cooling.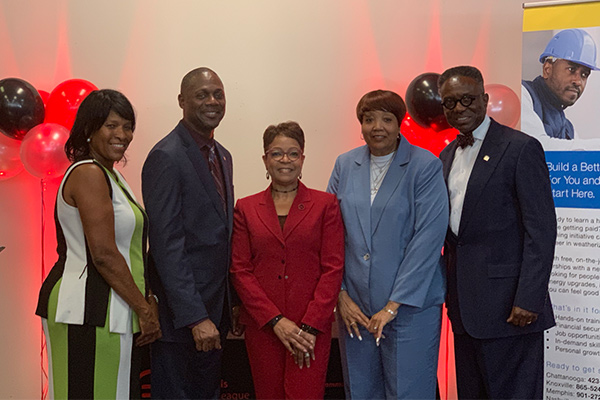 (From left to right) Memphis Urban League (MUL) Board Chair Felecia Bean Barnes, TVA-Memphis Executive Director Mark Creech, MUL President and CEO Tonja Sesley-Baymon, MLGW Energy Services Manager Margie Borrum-Smith and City of Memphis Office of Youth Services Director Ike Griffith celebrate the start of the Building Futures program in Memphis.
Jeremy Simpson, owner of Systems Technologies, Inc., attended the event and said he believes his company could benefit from participating. "This is a good program, not only for businesses but for individuals who will actually be doing the work. Weatherizing more homes will help communities because the savings will trickle down to where homeowners can buy more groceries, a car, or a lot of different things," Simpson said. "An event like this can help my company and, moving forward, I see an opportunity for growth. So, it's a win-win!"
Kicking off a mutually-beneficial program is no coincidence, however. It required lots of planning, research and listening to contractors' feedback. Julia Settles, EnergyRight Solutions program manager, was one of the TVA team members listening. "We spent the last year understanding the needs and barriers of more than 400 contractors within our Quality Contractor Network," she said. "All of the contractors surveyed indicated a need for quality help. The Building Futures program and the partnerships it creates will help to build a quality contractor pipeline for the future."
Eugenia Gray of the Memphis Urban League helped to plan the kickoff celebration in Memphis. "This program represents an increase of opportunities to create economic pathways for families. Individual business owners will also get the business enhancements and skillsets they need to develop as individuals."
During the ceremony, TVA-Memphis Executive Director Mark Creech spoke on behalf of TVA. "Today is the beginning of something great. It is the beginning of a ripple effect that starts with empowering people – minority contractors. Once you empower individual men and women, you also empower their families, their communities and, ultimately, the entire city of Memphis. This is the true definition of 'building futures." Through local partnerships, TVA has helped to attract or retain 28,000 jobs and made a $3.6B investment in the Memphis area since 2012.
Memphis Urban League President and CEO Tonja Sesley-Baymon agreed. "For me, it's about empowerment – empowering communities and changing lives. This is a great opportunity for those whom we serve, and it's important that minority businesses are positioned for opportunities when they come."
For more information about the Building Futures program, call 901-272-2491 or visit www.TVA.com.