TVA and MLGW Power Memphis Communities Through Service
Lending a helping hand, offering voluntary assistance or aid, the selfless giving of one's time and energy—no matter how you define it, "service" was at the heart of a recent volunteer event held at the Mid-South Food Bank in Memphis, Tennessee. About 40 employees from TVA and local power company Memphis, Light, Gas and Water (MLGW) teamed up to serve families in need by sorting and packing donated food.
The service project, held prior to TVA's EnergyRight® Solutions (ERS) employee-wide meeting, highlighted TVA's values and mission of making life better for the people of the Tennessee Valley.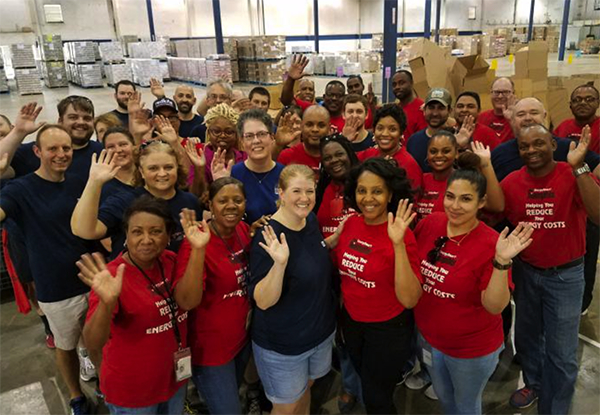 "We're here to serve. It's our purpose. It's why TVA was founded in 1933, and we're still doing it today," said Ashley Dickens, ERS program manager for Business and Industry as she packed more boxes. "It blesses us to be a blessing to the people of the Valley, and it makes you feel good to help others. I love being a part of a company that lets us do this."

Sweat rags in hand, TVA employees worked side by side with friends and employees from MLGW who mirrored the same spirit of service.

"We know that some of our customers could use the assistance from the Mid-South Food Bank, which provides food to other nonprofits," said Frank Fletcher, acting manager of customer relations for MLGW. "We thought it would be great to partner with TVA. It just makes sense to have partnerships like this one to help the people of Memphis."

Beth Parsons is team leader for the ERS Employee Engagement Team and program manager of ERS for the Home. Parsons said the importance of giving back to the community cannot be understated.

"TVA is happy to work with MLGW to help the Mid-South Food Bank, an organization that does such good for so many people," Parsons said. "Service is a core value of TVA, and today we got to live out that value."
Service is a gift that keeps on giving. TVA employees who would like to donate to the Mid-South Food Bank can do so through the Kroger Community Rewards Program, Amazon Smile, Operation Feed or other charitable programs.
Through TVA's strategic partnership with Feeding America food banks, TVA and local power company volunteers have provided over two million meals across the Valley to those that suffer from food insecurity.
​ ​
Share this story:
​