FEBRUARY 11, 2019 — Some of the smallest students in Memphis are learning to dream big, thanks in part to the new TVA Literacy Tour celebrating Black History Month.
Offered in partnership with Shelby County Schools, the area's largest school district, this series of black history story times enables TVA employees to connect with students, promote literacy and share information about their careers and the history of Tennessee Valley Authority.
The Literacy Tour was launched Monday, Feb. 4, 2019, at two elementary schools and will last throughout the month. At Goodlett Elementary, Memphis Executive Director Mark Creech read to nearly 80 fourth graders about prominent African-American figures in history and today. Then, he shared his own career story.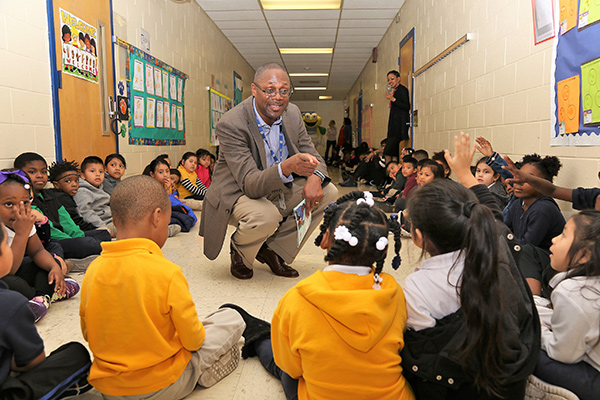 Students raced to answer questions and asked a few of their own. Their favorite part of the day, however, was perhaps the surprise visit from Louie the Lightning Bug, who brightened the room.
"We were so happy to see the diversity of students and their smiling faces," Creech later commented. "We want students to know that education is important, and they can be whatever their minds can conceive."
Schools with higher populations of minority students were selected for the tour, which was organized by Shelby County Schools' Community Engagement Specialist Ileanette Rosado-Wilson and Yesenia Ubaldo, advisor for the Division of Family Partnerships and School Support.
"In our community in particular, it is so important for young men and women who will become our future leaders to see what they can become. You cannot be what you cannot see, and our community partners bridge the gap between what students learn in the classroom and what they experience in the outside world," Rosado-Wilson said.
TVA employees of various races and nationalities in west Tennessee were invited to volunteer for the literacy initiative and Black History celebration. Next stop on the tour will be Friday, Feb. 15 at Double Tree Elementary School and Chickasaw Middle School. Then, on Friday, Feb. 22, TVA volunteers will visit Northaven Elementary School and Woodstock Middle School. For a complete tour schedule, call (901) 428-7984 or follow @TVA_Marcey on Twitter for tour updates.
"We really appreciate our community partners who come into our schools, talk to kids and inspire them to think about what they can become," Rosado-Wilson concluded. "That's the most powerful message we can send to our kids — that they can be whatever they want to be."