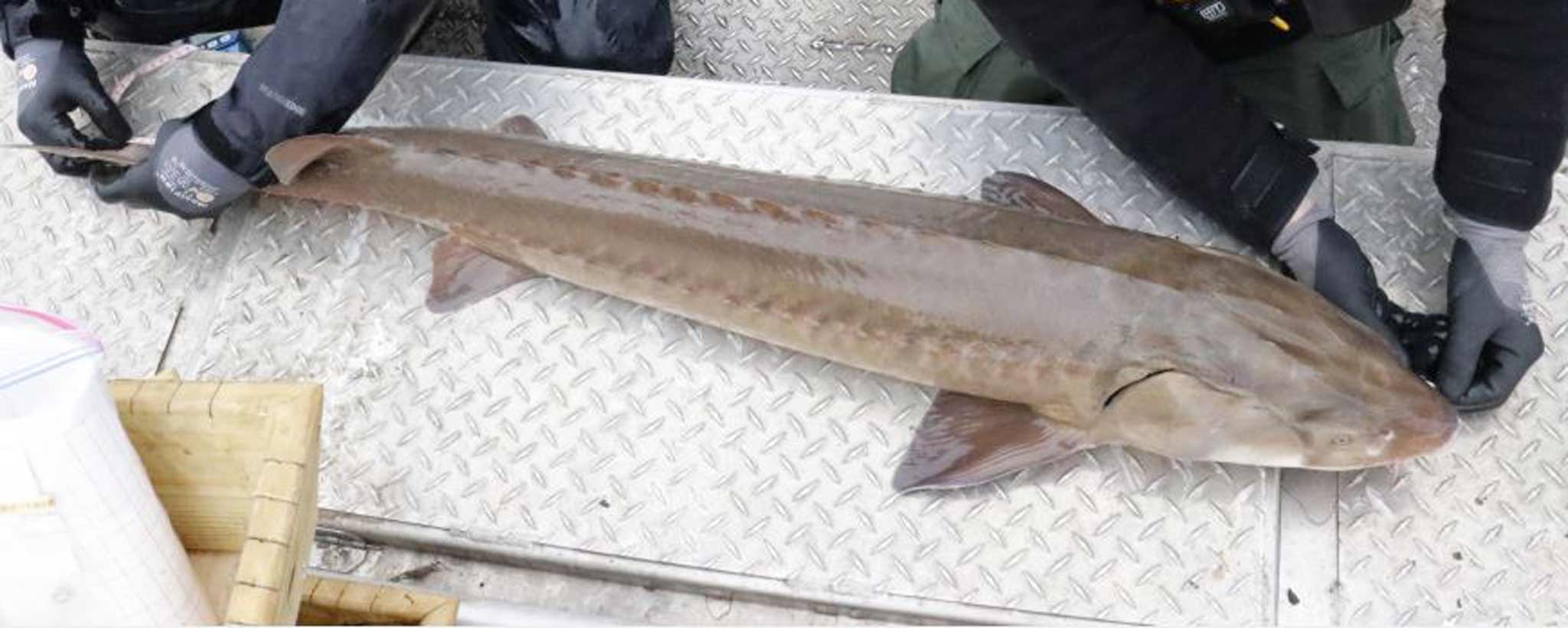 TVA Biologists Hook 53-inch Lake Sturgeon
TVA biologists landed a number of lake sturgeon on a set of trotlines near Kingston Fossil Plant as part of an annual sturgeon survey designed to monitor and map the overall health of the fishes in the Tennessee River. The native species was overfished and vanished from the Tennessee in the 1950s.
Today, lake sturgeon are being reintroduced through a multi-agency, 30-year partnership involving the U.S. Fish and Wildlife Service, TVA, Tennessee Wildlife Resources Agency, Tennessee Aquarium, University of Tennessee and multiple other stakeholders.
About 10,000-15,000 juvenile lake sturgeon are stocked each year in reservoirs from Fort Loudoun to Chickamauga. The fish are present throughout the entire Tennessee River chain, from the French Broad River to Kentucky Dam.
More than 250,000 lake sturgeon have been stocked since the program's inception in 2003.
Will lake sturgeon spawn in the Tennessee River?
TVA biologists don't know, but the answer could come as soon as 2023. According to lake sturgeon studies conducted by the Wisconsin Department of Natural Resources, it takes about 20 years for a female fish to reach egg-laying maturity. Through an agreement with WDNR, TVA and USFWS, biologists collect and transport fertilized eggs from Wisconsin to southern hatcheries each year.
Once hatched, the juvenile lake sturgeon are then stocked in the Cumberland, Tennessee and French Broad rivers, as well as Georgia's Coosa River.
According to TVA Aquatic Zoologist Dave Matthews, conditions on the Tennessee are expected to replicate the 20-year spawning milestone that continues to be observed 700 miles farther north.
"Do we have the same spawning habitat here? The answer is, 'Yes,' and I've got a feeling they're going to do really well here," Matthews said.
Matthews' hunch is based on the annual lake sturgeon survey that uses a number of trotlines to monitor the progress of the prehistoric fishes. Each fish that is caught is tagged with a tracking chip, which is similar to what a veterinarian inserts under the skin of pets. If a chipped fish is recaught during a future survey, the chip's record gives biologists a look inside the overall health and movements of the Tennessee's sturgeon population.
In addition to the chips, every lake sturgeon has a visual "birthmark."
Before any of the lake sturgeon are stocked, each fingerling is marked at the hatchery by removing one of the many boney plates — called scutes — that protrude from the fish's side. The following year, a different scute is chosen, and yet another the next. By removing different scutes to identify each year's class of stockers, biologists can readily tell their age.
Evidence of mature spawners has not been found to date. However, this year's survey did score a 10-year-old sturgeon that weighed 26 pounds and measured 53 inches.
If given 100 years, lake sturgeon can grow to more than six feet and tip the scales beyond 200 pounds, according to USFWS Biologist Carlos Echevarria.
The only Tennessee river monsters that compare are blue cats and paddlefish, which can hover above 100 pounds.
The Tennessee Valley's lake sturgeon still have a ways to go, but Matthews believes it's just a matter of time. "All they need from us is a little help to get there," he said.
"We've identified the 16-year class," Echevarria said. "That tells you every year we put fish in the river, a portion will survive."
History of Lake Sturgeon
Lake sturgeon are one of the oldest species of fishes in the world. They live longer than humans and are believed to have been in the waters of Pangea some 240 million years ago.
Even in Wisconsin, where lake sturgeon are not threatened, fishing for them is highly regulated.
The process is similar to a big-game quota hunt held by lottery. Anglers who are drawn are allowed to spear one fish. The strict regulations are in place to protect against overfishing of a species that only spawns once every three-to-four years.
According to Matthews, overfishing was one of the main reasons the Tennessee's native lake sturgeon went into irreversible decline some 70 years ago. Although the TVA's river management policies have since changed, Matthews says fluctuating flows, water pollution and habitat degradation during the 40s and 50s also played a large role in the species' disappearance.
Today's River Management
The good news is that the Tennessee's healthy lake sturgeon are one of the many bio-indicators that suggest TVA's efforts to improve water quality and restore the river's native species is working.
Today, the Tennessee flows much more like a natural river thanks to new river management policies TVA adopted in 1991, which take a more holistic approach in balancing the competing needs of the river.
Flood control still remains the top priority but is often achieved by balancing reservoir levels across the entire river chain, rather than at one impoundment, which would inevitably result in extreme water level fluctuations. TVA River Management also maintains minimum flows to keep the river cool and oxygenated.
"The way we ran the river 30 years ago was much different," Matthews said. "We didn't have the oxygen in the water and the flows that are necessary."
Although the final verdict remains unknown, Matthews is optimistic the ongoing endeavor to reintroduce lake sturgeon to the Tennessee will succeed. Plus, there's the evidence on the lines.
"When we see older fish like we are today, we know they are doing well," Matthews said.
​ ​
Share this story:
​