TVA is committed to innovation, continuous improvement and inclusion, and a recent event highlighted all three. TVA's Innovation Insights event, sponsored by employee resource groups Ignite and Spectrum, celebrated the way each notion plays together.
JULY 16, 2018—With a changing utility industry, the focus on continuous improvement and a more innovative mindset bring even more opportunity. A recent Innovation Insights event for two of TVA's employee resource groups (ERGs) helped to get ideas flowing.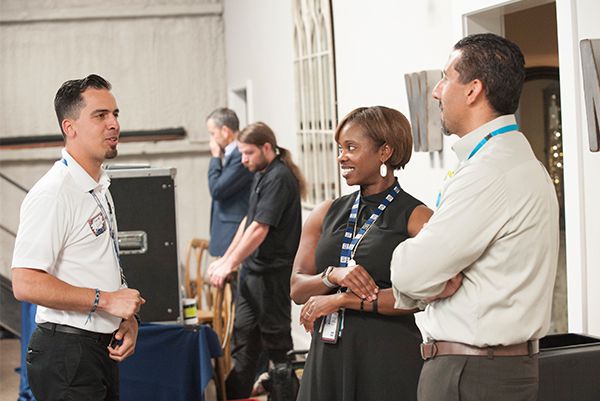 "Creating and embracing a more inclusive working environment leads to a deeper sense of trust and understanding. When employees feel they are valued and can bring their whole selves to work, they are more likely to lean in, speak out, ask questions, provide feedback, create and be curious," says Amy Edge, rotational management development, Customer Delivery and Ignite co-champion. The Ignite ERG serves as the platform for sharing ideas, best practices and skill-development opportunities.
TVA Director Eric Satz led the group through a rousing game of Simon Says to illustrate how various barriers can get in the way of innovation, progress, inclusion and ultimately performance. His presentation included the importance of taking risks and believing in yourself, and began with attendees jotting down a quick personal bio, then reflecting on their opportunity to control and change it.
"It is evident by the number of employees who participated in the event that individuals from across TVA continue to be dedicated to our mission and committed to making a difference," said executive vice president, Operations and Ignite executive sponsor Mike Skaggs. "This is an exciting time in our industry and TVA is leveraging the expertise and dedication of our employees via Impact and the various Continuous Improvement activities currently underway. Just last week we had another 31 green belts and one black belt graduate from lean six sigma training."
Executive vice president, Office of General Counsel, and Spectrum executive sponsor, Sherry Quirk shared her personal journey as a member of the LGBTQ community and commemorated Pride month. Sherry talked about how far the world has come in accepting those who are different from one's self, but how we still have a great deal of work to do.
"There is a direct correlation between working environments that are LGBTQ-supportive and those with elements essential to sparking creativity and a sustainable bias for action and innovation," said Mellisa Trotman, specialist in Power Operations and spectrum champion.
"The partnership between Spectrum and Ignite, as well as the collaborative partnership between all the ERGs across TVA, is a step in the right direction—leading us down the path of more radical collaboration, deeper understanding of those we serve with, and cross functional, boundaryless approaches to problem solving," shared Edge.