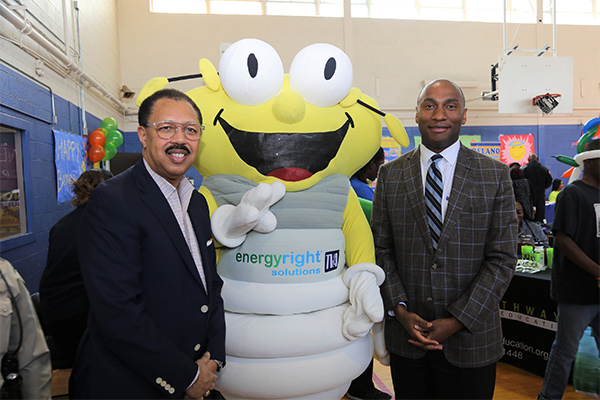 Louie is pictured with Shelby County Commissioner (District 6) Willie Brooks Jr. (left) and Shelby County Mayor Lee Harris (right).
Louie the Lightning Bug was a special guest during the recent Frayser Community Family Fun Day at Ed Rice Community Center. TVA co-sponsored the event, which doubled as a health fair and art unveiling. Hundreds of citizens attended and received information about TVA, energy efficiency and home weatherization for the summer.
In addition to cost-saving tips and information, TVA employees Shana Woods and Chuck Marquis shared other goodies, like coloring books and crayons for kids, TVA keychain holders and more to passersby.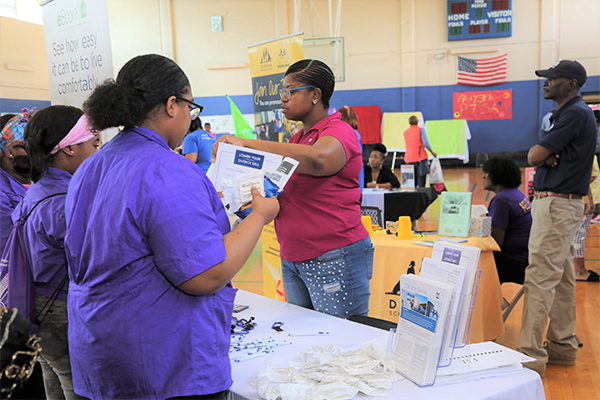 TVA's Shana Woods shares summer home weatherization information with Frayser community residents.
Louie the Lightning Bug — brought to life by engineer Brian Flagg — was perhaps the main attraction. Partygoers of all ages hugged, danced and took photographs and selfies with Louie, including City of Memphis Mayor Jim Strickland, Shelby County Mayor Lee Harris and Shelby County Commissioner Willie F. Brooks Jr. (District 6).
The bicentennial event was hosted by the Frayser Parent, Teacher, Student Association in celebration of Memphis' 200th birthday.