TVA Celebrates Memphis' Bicentennial with Memorable Memphis in May Events
Memphis in May highlights the essence of The Bluff City each year, this time focusing on Memphis and Shelby County's bicentennial.
Five TVA Memphis-based employees managed the month-long celebration and coordinated several events for visitors to TVA's tent, including Career Day, Executive Night and Family & Friends Night.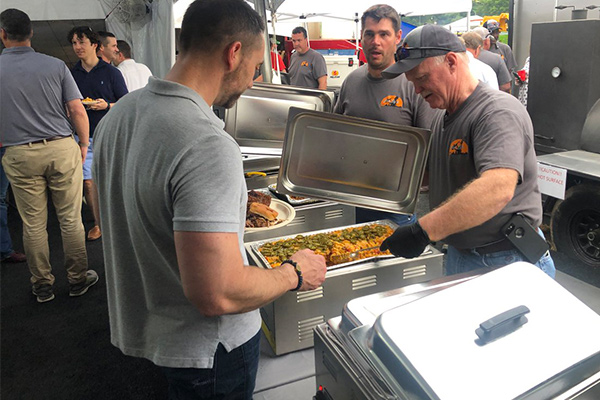 To kick off Career Day, TVA welcomed 40 high school students from G. W. Carver High School and MBA (Memphis Business Academy). Speakers included Wilson Taylor, TVA's vice president of human resources and operation services, and ombudsman; Dana Frazier, executive management assistant of Industrial Marketing; and Jesse Kriwox, Allen Combined Cycle Gas Plant technician trainee. Representatives from TVA's largest customer, MLGW (Memphis Light, Gas and Water), also participated in Career Day. MLGW Lineman Earnest Holiday and Energy Technician Morcellous Harris spoke to students and shared career advice.
"Each day was a great experience and a wonderful example of collaboration and unification. The volunteers and their commitment to sharing TVA's value to Memphis were stellar throughout the entire month," said TVA-Memphis Executive Director Mark Creech. "Everyone displayed a true level of professionalism as TVA participated in this historic celebration."
Other notable events during Memphis in May include the Beale Street Music Festival, World Championship Barbecue Cooking Contest and the Great American River Run.
TVA and MLGW partnered to sponsor the Memphis in May Hydration Station which provided water to the general public to beat the summer heat.
Several TVA employees also helped to ensure Beal Street Music Festivalgoers stayed cool and dry by handing out TVA-branded items like ponchos, water bottles, fans and cooling towels.
Thirteen of TVA's best cooks from throughout the Valley came together to compete in the World Championship Barbecue Cooking Contest. The team, called Blues City Q, offered a mouthwatering menu of food that included beef brisket, ribs, barbecue baked beans, banana pudding and cake.
"The cooking team's investment of time, energy and their unique expertise made everyone to TVA's tent feel welcomed. They did a phenomenal job of capturing what Memphis in May is all about," Creech concluded.
​ ​
Share this story:
​