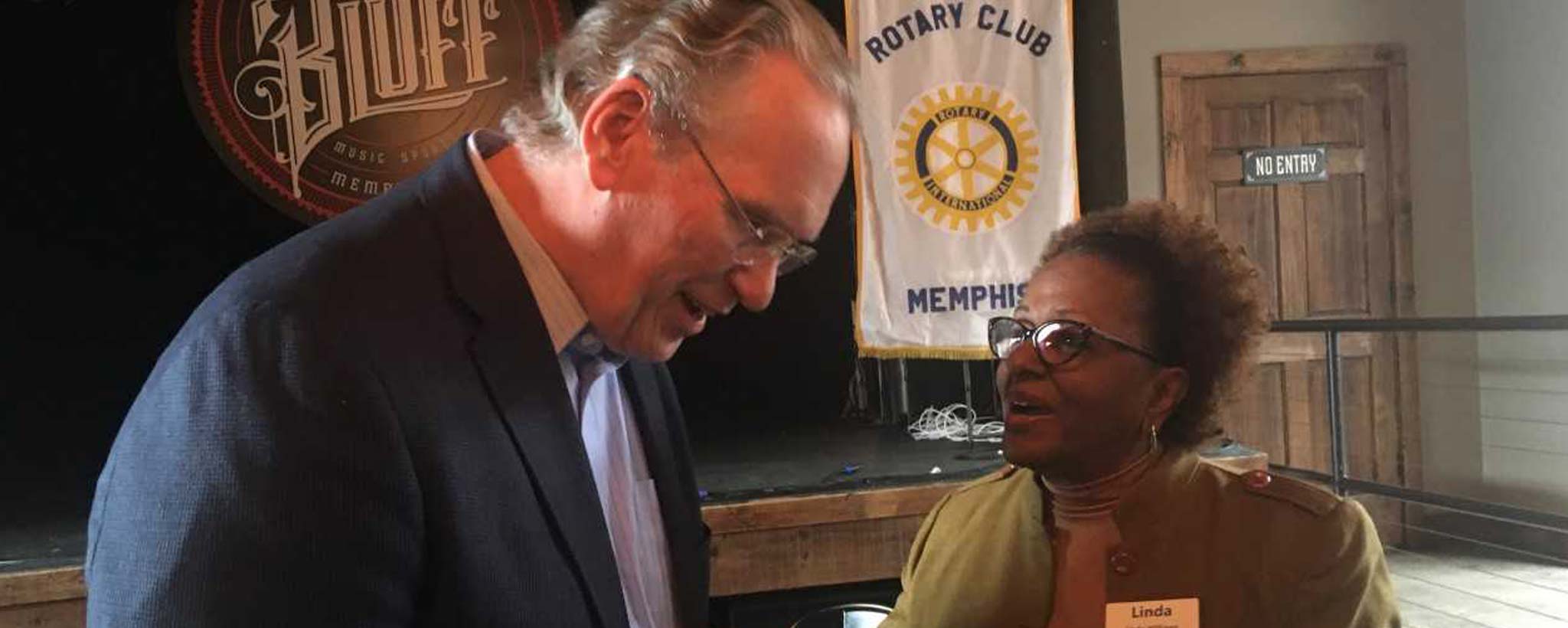 TVA CEO Highlights Service Over Self
Service above self. This mantra was the common thread that brought two service-minded organizations together in Memphis on Tuesday, Jan. 15, 2019. Tennessee Valley Authority President and CEO Bill Johnson served as keynote speaker at the Memphis Rotary Club, in what he referred to as his "curtain call" speech as TVA's CEO.
Former Memphis Light, Gas and Water (MLGW) Division Board Chairman and Highland Capital Management President Steve Wishnia introduced Johnson, fondly comparing Johnson's former college football career to his "charging ahead" style of leadership at TVA.
Upon taking the podium, Johnson commended Memphis Rotarians for their commitment to service, which is similar to TVA's mission. "Service is what Franklin Roosevelt had in mind in 1933, when he created TVA," Johnson began. Sharing a few historical facts, Johnson highlighted the long relationship between TVA, MLGW and the city of Memphis, along with the significance of the Downtown Memphis street called "November 6."
"This is the date Memphis decided to own its own destiny, its own infrastructure, make its own decisions and started buying power from TVA. Memphis is the first big entity to buy power from TVA and, for 80 years, TVA and MLGW have been partnering to do great things in the community," Johnson said.
Other topics discussed were rates, TVA's recent successes in economic development in West Tennessee, environmental issues surrounding the decommissioning of Allen Fossil Plant, the construction of the cleaner Allen Gas Plant, payments in lieu of taxes that TVA pays to Shelby County and other related subjects.
"Our focus is keeping rates low," he explained. "We partner in economic development, which Roosevelt defined as the purpose of TVA — 'To improve the quality of life for people. Power is a secondary matter.' So, we tend to think of ourselves, not as a utility, but a community development organization. Together, with MLGW, we've made a lot of good things happen here, and we plan to stay. Our relationship is historic, long-lasting and future-looking."
Johnson ended with the topic that was — perhaps — on everyone's mind: his upcoming retirement. "It's been a great privilege to work at TVA… with the good, smart and hard-working people who come to work every day. This may be the curtain call for me, but we look forward to another 80 years — at least — here in Memphis and with MLGW."
​ ​
Share this story:
​