NOVEMBER 19, 2019 — The performance of TVA employees helped pave the way for stable electric rates for the next decade, reduced TVA's long-term debt and strengthened the public power model through a new long-term partnership program, TVA President and CEO Jeff Lyash told the TVA Board of Directors last Thursday in Memphis.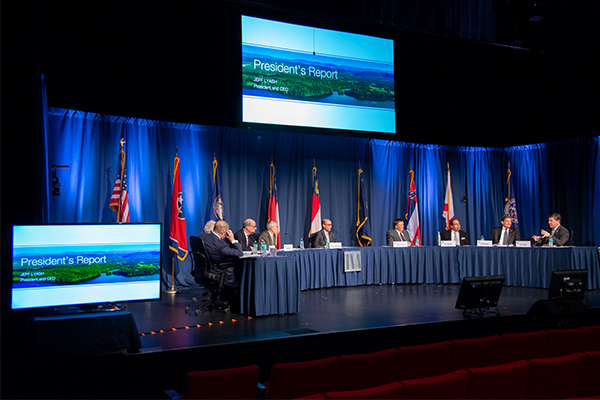 Lyash applauded employees during his President's report as part of the quarterly TVA Board meeting at the Halloran Centre. He highlighted TVA's performance in safety; carbon-free energy that includes the Browns Ferry extended power uprates; 99.999 percent reliability in delivering electrical power; flood control; and economic development across the Valley.
"I'd like to thank TVA employees — the 10,000 women and men across our system — for the performance that they delivered in 2019, and for what I know they are going to deliver in 2020," said Lyash. "Building the sustainable, flexible system that will make this region competitive for generations takes the commitment of our workforce, and I appreciate that they've delivered that."
"I think I speak for the entire Board when I say we are very proud of TVA's performance in 2019. I think we've accomplished a lot," said Director Kenny Allen.
Lyash said TVA's new long-term financial plan will require TVA employees to continue their strong performance in FY20 with a specific focus on service, leadership and innovation. He said TVA must continue:
Protecting public and employee safety
Further strengthening customer relationships
Managing coal combustion residual sites
Modernizing the transmission system
Bringing nuclear performance to the top of the industry
Driving energy costs lower
Finding efficiencies that continue to lower costs and enable debt reduction
Adding cost-effective renewable energy in line with the new Integrated Resource Plan
The TVA Board also held a public listening session in Memphis the day before the meeting, and heard a variety of comments and concerns from members of the public.
"TVA's debt is the lowest level in almost 30 years, and we have taken the actions necessary to keep power rates stable for customers going forward," said John Thomas, TVA's chief financial officer. "Our success in recent years is inspiring our customers to enter long-term partnership agreements with TVA, demonstrating strong confidence in our shared future and the public power model."
"The public power model is significantly different than anything else in the U.S.," added Lyash. "It is a system that is built for the people. It is focused on service. It is a powerful model that is the key to economic competitiveness in the long-term."
What does "public power model" mean? TVA was formed by President Franklin D. Roosevelt in 1933 to bring affordable power to the Tennessee River region. Learn more here.
Click here for details on TVA's fiscal year 2019 financial performance.
TVA also recently held its fourth quarter investor call. The replay and a transcript will be available for one year on TVA's website at http://www.tva.com/investors.