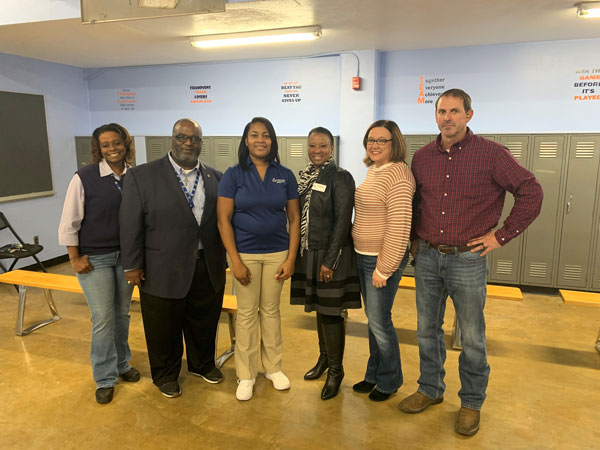 From Left to Right: Angela Austin, TVA Construction Manager; Cedric Adams, TVA Principal Project Manager; Tamika Williams, Student Support Specialist, Communities in Schools; Sonji Branch, CEO, Communities in Schools; Tracey Hightower, TVA Senior Program Manager; Reuben Massey, GUBMK Regional Construction Manager
On Dec. 5, representatives of TVA and Memphis' Community in Schools (CIS) gathered to unload almond-colored, sturdy wooden benches from a TVA community truck. The equipment was placed in the boys' and girls' locker rooms of the school by TVA volunteers, where they will have a second life for student-athletes.
"There is a unique story and history behind these benches," said J. Cedric Adams, TVA principal project manager of TVA. "We decommissioned the Allen Plant in 2019 and wanted to make this donation to ensure that we maintained some history of the plant in the community."
Just 12 miles away from the school, the benches originally had been used in the maintenance locker rooms for TVA employees, but after the decommissioning of the plant, the benches were collected, cleaned, refurbished and polished by TVA volunteers for the kids of Riverview, which serves kindergarten through 8th grade in South Memphis.
"It's important to TVA that the city knows that we truly care about our community and our children," said Adams. "This small gift is a reflection of our appreciation for both."
TVA is working in partnership with CIS, which is part of the nation's largest and most effective dropout prevention organization, empowering students to succeed in school and achieve in life.
"We believe that every child, regardless of their ZIP code or family circumstance, deserves a chance to live the American dream, "said Sonji Branch, CEO of CIS. "We are excited about our partnership with TVA to provide a warm, welcoming, safe space for students, where they can have a great academic and athletic experience."
"While we are excited about this donation, I can promise that this is not the first, nor will it be the last time that Riverview Elementary will see TVA on its campus," says Adams.