TVA Donates Backpacks, School Supplies to Local Students
August 26, 2019 -- School bells have sounded in Memphis and Shelby County, and thousands of students have returned to the classroom. Preparing for a successful year, Shelby County Schools recently hosted a Back-to-School Block Party for students of all ages, which included registration, immunizations and helpful information from a list of community agencies. TVA served as a premiere sponsor of the event, distributing hundreds of backpacks and school supplies to students.
On a daily basis, TVA supplies power for Memphis schools, homes and businesses to ensure that our local partners and community have the resources that they need to operate. As a premiere sponsor of the event, TVA continued its ongoing commitment to Memphis by providing backpacks and school supplies to students across the community.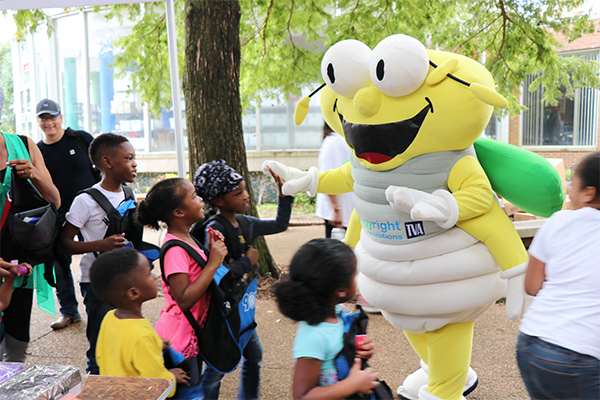 "Our objective is to support kids' education, and we want to provide the basic tools for success — not only for students but for educators as well," said TVA-Memphis Executive Director Mark Creech. "The impact of this day will reach far beyond the event itself. The expressions on students' faces when receiving their school supplies said it all. They could see that someone was willing to invest in their futures."
Nearly a dozen TVA volunteers greeted students and parents, while handing out free supplies, alongside other notable names like the Memphis Grizzlies, Cazateatro Bilingual Theatre Group, WKNO and Memphis Public Libraries.
"It feels great to give back to the community and help kids to get excited before going back to school," said Courtney Lapsley of the Memphis Grizzlies, who served as another premiere sponsor. "It means a lot to see the impact firsthand."
Illeanette Rosado-Wilson, Shelby County Schools' community and partnership development specialist, helped to coordinate the block party and TVA's growing partnership with the area's largest school district. "We are so appreciative of the support TVA brings," she said. "What started off as a reading tour last year has spawned into other partnership opportunities, which shows that TVA has a sense of duty toward students' success and the community."
As a part of the Memphis landscape for over 80 years, events like these offer an opportunity for TVA to continue its mission to support and engage the community. Whether it is supporting STEM education programs, literacy initiatives, food bank support, energy efficiency workshops, or weatherization for low-income communities, TVA is committed to the long-term success of Memphis.
​ ​
Share this story:
​