Due to a winter storm that swept the Mid-South last month, Memphis Light, Gas and Water took preventive action and issued its first-ever boil water notice to protect citizens as it worked to resolve water pressure issues throughout its service territory.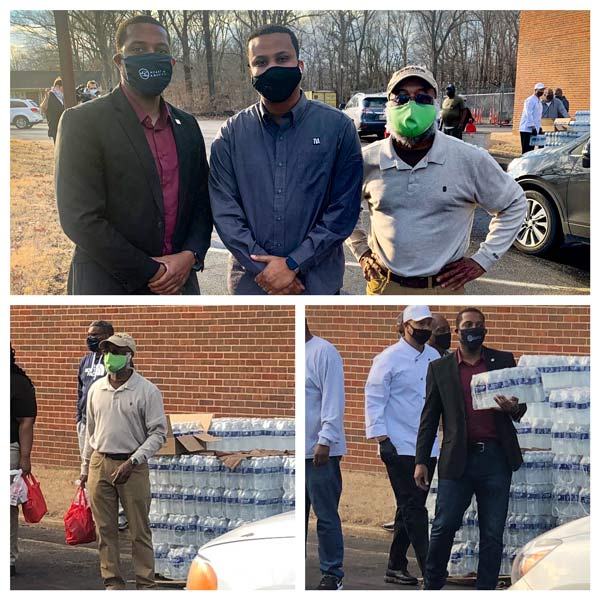 TVA coordinated with MLGW to support water conservation efforts by voluntarily reducing generation output at the Allen Combined Cycle Natural Gas Plant until the notice was lifted. By taking the steam turbine generator offline, the reduction of water for the combined cycle process helped MLGW better serve its residential customers.
"This action protects TVA's ability to continue to serve the load demand and provide power to the residents of Memphis," said Mark Yates, Vice President of TVA's West Region.
However, as a result of the boil water notice, many in the Mid-South were without drinking water. Hearing the call to action by members in the community, Yates pulled together a team and coordinated the delivery of 80,000 bottles of water in two semi-trucks, courtesy of WesCO, out of Nashville the same weekend that the boil water notice was issued. The water was shipped to TVA's Cordova Transmission Site on that Sunday morning for distribution to community partners starting the next day.
Over the course of the next two weeks, TVA provided 245,000 bottles of water to citizens of Memphis and the Mid-south during and immediately following the notice, thanks to the help of Charles Ewing and Ewing Moving Services. Ewing and his staff picked up the water from TVA's staging site and delivered it to community partners across the Mid-South. Distribution took place in Memphis, Arlington, Millington, and unincorporated Shelby County.
Partner organizations included:
Allworld Project Management, Black Lives Matter, Bloomfield Full Gospel Church, Champions Pharmacy, Christ Baptist Church, City of Memphis, City Councilman Ford Canale, City Councilman Edmund Ford Sr., City Councilman Martavious Jones, City Councilwoman Rhonda Logan, City Councilwoman Patrice Robinson, City Councilman JB Smiley Jr., City Councilwoman Michalyn Easter-Thomas, City of Lakeland, City of Germantown, Ewing Moving and Storage, Feels Like Home Senior Residences, Faith Heritage Church, Greater White Stone Baptist, Healing Cathedral Christian Church, Memphis Police Department, Memphis Shelter in Place, Monumental Baptist Church, Memphis NAACP, New Zion Missionary Baptist Church, Oak Grove Missionary Baptist Church, Oak Street Health, Serenity Towers, Shelby County Sheriffs Office, Shelby County Commissioner Amber Mills, State Representative London Lamar, Town of Arlington
"These organizations have great networks; they know the needs, and they do the work every day," said Yates. "They are the boots on the ground that keep our communities together. We are humbled to support them in this endeavor and proud to have them as partners. Our mission is to serve at TVA, and our focus is always on the people we serve. I am extremely proud of our TVA employees for their hard work and dedication and for continuing to fulfill our mission every day."