TVA, Electric Power Board (EPB) of Chattanooga and the Tennessee Urban Leagues Affiliates (TULA) recently teamed up to pilot a job skills training and minority candidate recruitment effort for positions supporting home construction and improvement. Their first class of 20 students completed the course in Chattanooga on Saturday, Oct. 20, 2018, and every participant received a job offer.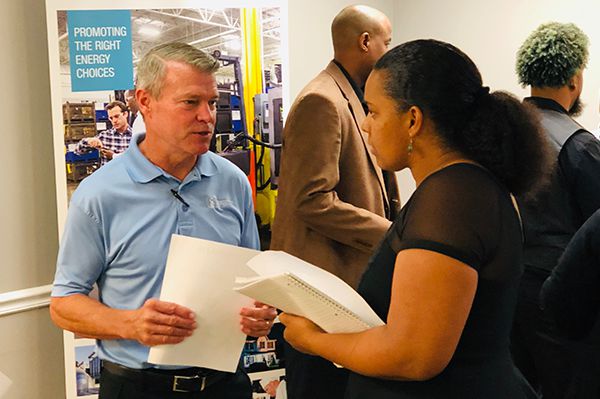 Participants network with contractors during a break.
The Tennessee Valley has experienced significant population growth over the past few years, and home construction and contracting firms report difficulty finding qualified workers to keep up with demand. Heeding the call, TVA's EnergyRight Solutions team launched a partnership with TULA to connect unemployed and underemployed residents with training and recruitment opportunities while also diversifying and enriching the local contractor network.
"This pilot class exceeded our expectations in that all participants secured a job," said Warren E. Logan, Jr., President and CEO of the Urban League of Greater Chattanooga and Chair of TULA. "The Urban Leagues hopes that it can continue working with TVA to address issues in energy conservation
The Approach
Recognizing the need for holistic skills for job success, TULA developed a recruitment strategy and curriculum that class focused on soft skills that will enable participants to succeed in any professional environment. Topics covered included effective communication, teamwork, self-management, critical thinking, work ethic, networking, job searching and career planning.
Guest speakers included representatives from the City of Chattanooga, University of Tennessee –Chattanooga, BlueCross BlueShield of Tennessee, TVA and EPB. As part of the training, TVA provided a workshop to educate participants on careers in energy efficiency building science and several members of TVA's Quality Contractor Network (QCN) were on hand to discuss career opportunities. EnergyRight Solutions partners with local power companies to offer the QCN, a group of contractors that are licensed and insured, and trained by TVA to help homeowners install energy upgrades the right way.
Lessons Learned
While all participants received job offers with local companies, only a few were interested in the building trades and energy-efficiency weatherization careers. Frank Rapley, senior manager of EnergyRight Solutions for the Home, said of the initiative, "This was a good first attempt and we learned a great deal about how to recruit and structure future classes. We look forward to working alongside TULA to strengthen our contractor workforce and make a difference in the lives of participants in the program."
In addition, EnergyRight Solutions plans to involve more minority QCN contractors to share their experience in the industry and help shine a light on the opportunities available.
For their part, participants shared their satisfaction with the course. Ashanti Woods said, "The class was very helpful in helping me brush up on skills that I forgot about…It also helped me identify how to communicate with others effectively." Another participant, Zechariah Smith, added, "This class was very good and I really liked the program. If I could, I would take it all over again."