TVA Fosters Next Generation of STEM Experts in Memphis
Students who recently attended the MLGW / TVA Robotics Showcase in Memphis are almost sure to agree. The event, which was held at Memphis Light, Gas and Water Division — the region's largest utility — featured youth from elementary through high school, offering them a chance to showcase their skills in science, technology, engineering and mathematics or STEM.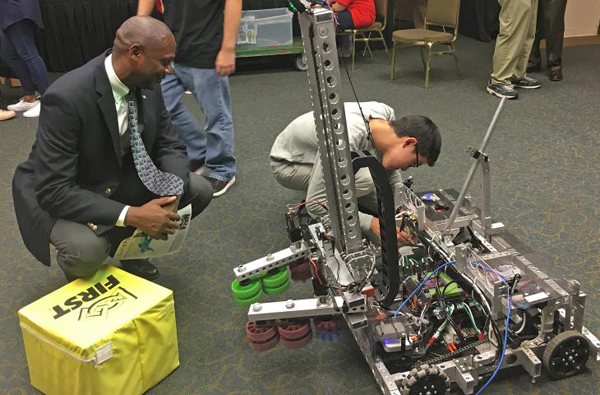 TVA Memphis Executive Director Mark Creech looks on as one White Station High School student explains the robot his team created during the MLGW / TVA Student Robotics Showcase.
Tennessee Valley Authority Board Member Ron Walter spoke at the event, and Memphis Executive Director Mark Creech greeted students and explored their mechanical creations.
"TVA is proud to partner with MLGW for such an awesome event benefiting Memphis youth, who are the workforce of tomorrow," Creech said. "While exciting, STEM events and programs like this one are much more than fun and games. They teach 21st century skills needed for 21st century careers."
Robotics expert and enthusiast Charles Spencer of Tennessee Valley Robotics helped to plan the event, alongside MLGW and TVA. Spencer calls events like this bridge builders to a brighter future.
"What's become important in education today is the hands-on part of learning, and robotics programs allow students to put together code and learn through trial and error. But, these programs go beyond that. They instill an excitement in education and promote teamwork. They teach children to express themselves and explain their programs. They are great learning experiences for any school."
Every day, in fun and exciting ways, students are learning a variety of skills that traditionally were only available in college or expensive career training programs. Instead of graduating with only a diploma or degree, young computer coders like Andrew Rutledge will also have the career experience they need to step into jobs and perform on day one.
Rutledge, who is a senior at White Station High School, already has five years of design and robotics experience. He said he plans to put these skills to work as a micro-mechanical engineer. "A lot of people don't go into mechanical engineering with technical experience," he said. "They just know that they like math or science, but I've been able to get a lot of the hands-on experience, instead of just theoretical applications of math and science. Being able to actually go into a job and have some type of technical background is really valuable."
Mentor Lien Nguyen, who is lovingly called "Robot Mom" by students who know her, has ushered two sons through a series of robotics programs. She said she has noticed her kids' growth both personally and professionally.
"It's not just about robotics. It's about all the soft skills: teamwork, critical thinking, team building, presentation skills and technical writing, which are really crucial in any area. My sons absolutely love it. My youngest son actually gives his teammates [robotics] homework over the weekend!"
Spencer concluded, "Today was just a taste of all that's happening around robotics in Memphis and Shelby County. This is an exciting time for education in West Tennessee. For companies like TVA and MLGW, this is where their future employees will come from. This is the future of Memphis and Shelby County! The more we can get behind the next generation, the better off we'll be."
​ ​
Share this story:
​