"TVA has welcomed interns for decades, but prior to 2017, no official internship program existed. The interns were less aligned and not necessarily part of a larger group," said Llisa Prater, program manager of Diversity & Inclusion.
Seeing that an organized, well-aligned program would add value to the internship experience, a pilot was launched in 2016. Learning from the pilot's structure and success helped shape the program as it exists today. Now the TVA internship program has three official start dates in the spring, summer and fall across twelve TVA locations.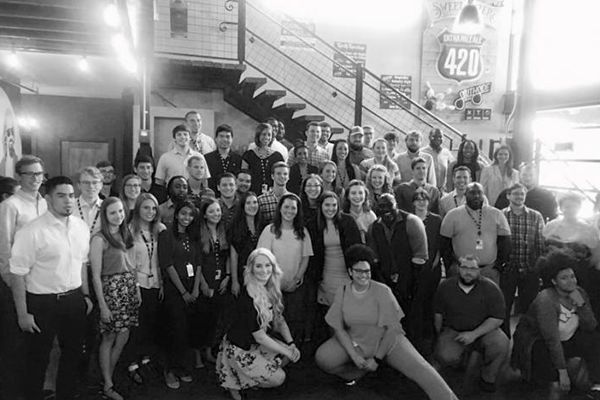 "Over the summer our interns have a full calendar of events," said Prater. "Our goal is to teach them about TVA—our mission and our culture, and have them really engage in it." This summer, 100 interns participated in a range of work throughout the Valley and also had opportunities to volunteer in the community and hear from TVA executive leaders.
"One highlight for the summer interns was executive conversations," said Prater. Through executive conversations, the interns met with President & CEO Bill Johnson, Senior Vice President of Transmission Bob Dalrymple, Vice President of Industrial Marketing & Services Gary Harris, and Chief Financial Officer John Thomas as they each spoke on topics pertaining to their careers. Interns asked questions and engaged with the executives, gleaning valuable insight and career advice.
Interns also had an opportunity to tour plants and see firsthand how reliable, low-cost power is produced across the Valley. Volunteering in the community is another aspect of the internship that TVA places an emphasis on. "We really try to select candidates that align with TVA's mission. In Chattanooga, interns volunteer at the community kitchen and in Knoxville they organize donations at a thrift store. All of these things tie into our mission of serving the people of the Valley to make life better."
Rounding out the internship was a capstone presentation in which students presented on the projects they worked on and what they learned, the program events they participated in, and their goals for the future. "The capstone presentations serve as a great opportunity for managers who may potentially make a hire to listen in," said Prater.
The program has already made an impact in TVA's workforce, with an increased conversion-to-employee rate from 20 percent before the intern program to a current 38 percent at the entry level.
If you know a student who may be interested in a TVA internship, they can reach out to [email protected] for more information.